Spaceflight Now +





Premium video content for our Spaceflight Now Plus subscribers.

NASA budget
NASA Administrator Sean O'Keefe, in his final press conference appearance, presents the 2006 budget information and answers reporters' questions on Hubble, the exploration plan and shuttle return-to-flight. (86min 37sec file)
Play video

Meet the next ISS crew
Expedition 11 commander Sergei Krikalev, flight engineer John Phillips and Soyuz taxi crewmember Roberto Vittori hold a pre-flight news conference in Houston. Topics included problems with the shuttle safe haven concept. (42min 23sec file)

Play video:
Dial-up | Broadband

Download audio:
For iPod

Final Atlas 3 launched
The last Lockheed Martin Atlas 3 rocket launches from Complex 36 at Cape Canaveral Air Force Station at 2:41 a.m. EST carrying a classified spy satellite cargo for the U.S. National Reconnaissance Office. This movie follows the mission through ignition of Centaur. (5min 30sec file)
Play video

Atlas 3 onboard
A camera mounted on the Centaur upper stage captured this dramatic footage of the spent first stage separation, deployment of the RL10 engine nozzle extension, the powerplant igniting and the rocket's nose cone falling away during launch.
Play video

Become a subscriber
More video





NewsAlert





Sign up for our NewsAlert service and have the latest news in astronomy and space e-mailed direct to your desktop.


Privacy note: your e-mail address will not be used for any other purpose.







Ring beholds a delicate flower, Spitzer reveals
SPITZER PHOTO RELEASE
Posted: February 14, 2005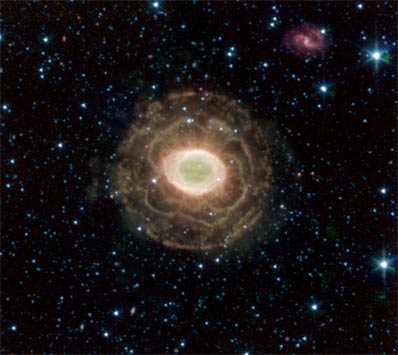 Credit: NASA/JPL-Caltech/Harvard-Smithsonian CfA
Download larger image version here



NASA's Spitzer Space Telescope finds a delicate flower in the Ring Nebula, as shown in this image. The outer shell of this planetary nebula looks surprisingly similar to the delicate petals of a camellia blossom.

A planetary nebula is a shell of material ejected from a dying star.

Located about 2,000 light years from Earth in the constellation Lyra, the Ring Nebula is also known as Messier Object 57 and NGC 6720. It is one of the best examples of a planetary nebula and a favorite target of amateur astronomers.

The "ring" is a thick cylinder of glowing gas and dust around the doomed star. As the star begins to run out of fuel, its core becomes smaller and hotter, boiling off its outer layers. The telescope's infrared array camera detected this material expelled from the withering star.

Previous images of the Ring Nebula taken by visible-light telescopes usually showed just the inner glowing loop of gas around the star. The outer regions are especially prominent in this new image because Spitzer sees the infrared light from hydrogen molecules. The molecules emit infrared light because they have absorbed ultraviolet radiation from the star or have been heated by the wind from the star.