Spaceflight Now +





Premium video content for our Spaceflight Now Plus subscribers.

NASA budget
NASA Administrator Sean O'Keefe, in his final press conference appearance, presents the 2006 budget information and answers reporters' questions on Hubble, the exploration plan and shuttle return-to-flight. (86min 37sec file)
Play video

Meet the next ISS crew
Expedition 11 commander Sergei Krikalev, flight engineer John Phillips and Soyuz taxi crewmember Roberto Vittori hold a pre-flight news conference in Houston. Topics included problems with the shuttle safe haven concept. (42min 23sec file)

Play video:
Dial-up | Broadband

Download audio:
For iPod

Final Atlas 3 launched
The last Lockheed Martin Atlas 3 rocket launches from Complex 36 at Cape Canaveral Air Force Station at 2:41 a.m. EST carrying a classified spy satellite cargo for the U.S. National Reconnaissance Office. This movie follows the mission through ignition of Centaur. (5min 30sec file)
Play video

Atlas 3 onboard
A camera mounted on the Centaur upper stage captured this dramatic footage of the spent first stage separation, deployment of the RL10 engine nozzle extension, the powerplant igniting and the rocket's nose cone falling away during launch.
Play video

Farewell to Complex 36
Following the 145th and final Atlas rocket liftoff from Cape Canaveral's Complex 36, officials "toast" the historic two-pad site and its blockhouse. Then the spotlights illuminating the pads are turned off as the complex "goes dark." (10min 50sec file)

Play video:
Dial-up | Broadband

Download audio:
For iPod

Shuttle crew in training
Astronauts Soichi Noguchi and Steve Robinson go under water in the Neutral Bouyancy Lab's gigantic pool to practice spacewalk activities for the upcoming STS-114 return-to-flight space shuttle mission. (3min 45sec file)
Play video

Visiting the Cape
The STS-114 return-to-flight space shuttle crew visits Kennedy Space Center to inspect Discovery and the new sensor boom that will look for orbiter launch damage. (2min 22sec file)
Play video

Day of Remembrance
NASA pays tribute to those lost while furthering the cause of exploration, including the Apollo 1, Challenger and Columbia crews, during this Day of Remembrance memorial from agency headquarters on Jan. 27. (38min 58sec file)

Play video:
Dial-up | Broadband

Download audio:
For iPod

Become a subscriber
More video





NewsAlert





Sign up for our NewsAlert service and have the latest news in astronomy and space e-mailed direct to your desktop.


Privacy note: your e-mail address will not be used for any other purpose.







Beginnings of 'mini' solar system discovered
JET PROPULSION LABORATORY NEWS RELEASE
Posted: February 8, 2005


Moons circle planets, and planets circle stars. Now, astronomers have learned that planets may also circle celestial bodies almost as small as planets.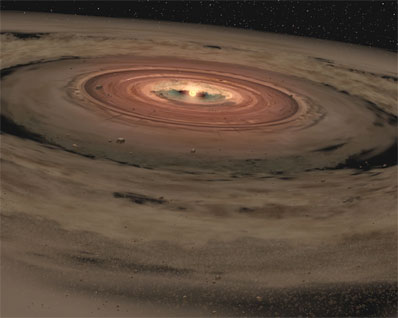 This artist's concept shows a brown dwarf surrounded by a swirling disc of planet-building dust. Credit: NASA/JPL-Caltech
Download larger image version here



NASA's Spitzer Space Telescope has spotted a dusty disc of planet-building material around an extraordinarily low-mass brown dwarf, or "failed star." The brown dwarf, called OTS 44, is only 15 times the mass of Jupiter. Previously, the smallest brown dwarf known to host a planet-forming disc was 25 to 30 times more massive than Jupiter.

The finding will ultimately help astronomers better understand how and where planets - including rocky ones resembling our own - form.

"There may be a host of miniature solar systems out there, in which planets orbit brown dwarfs," said Dr. Kevin Luhman, lead author of the new study from the Harvard-Smithsonian Center for Astrophysics, Cambridge, Mass. "This leads to all sorts of new questions, like 'Could life exist on such planets?' or 'What do you call a planet circling a planet-sized body? A moon or a planet? '"

Brown dwarfs are something of misfits in the astronomy world. These cool orbs of gas have been called both failed stars and super planets. Like planets, they lack the mass to ignite and produce starlight. Like stars, they are often found alone in space, with no parent body to orbit.

"In this case, we are seeing the ingredients for planets around a brown dwarf near the dividing line between planets and stars. This raises the tantalizing possibility of planet formation around objects that themselves have planetary masses," said Dr. Giovanni Fazio, an astronomer at the Harvard Smithsonian Center for Astrophysics and a co-author of the new study.

The results were presented at the Planet Formation and Detection meeting at the Aspen Center for Physics, Aspen, Colo., and will be published in the Feb. 10th issue of The Astrophysical Journal Letters.

Planet-forming, or protoplanetary, discs are the precursors to planets. Astronomers speculate that the disc circling OTS 44 has enough mass to make a small gas giant planet and a few Earth-sized, rocky ones. This begs the question: Could a habitable planet like Earth sustain life around a brown dwarf?

"If life did exist in this system, it would have to constantly adjust to the dwindling temperatures of a brown dwarf," said Luhman. "For liquid water to be present, the planet would have to be much closer to the brown dwarf than Earth is to our Sun."

"It's exciting to speculate about the possibilities for life in such as system, of course at this point we are only beginning to understand the unusual circumstances under which planets arise," he added.

Brown dwarfs are rare and difficult to study due to their dim light. Though astronomers recently reported what may be the first-ever image of a planet around a brown dwarf called 2M1207, not much is understood about the planet-formation process around these odd balls of gas. Less is understood about low-mass brown dwarfs, of which only a handful are known.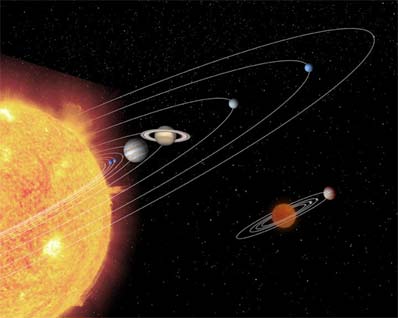 This artist's conception shows the relative size of a hypothetical brown dwarf-planetary system (below) compared to our own solar system. A brown dwarf is a cool or "failed" star, which lacks the mass to ignite and shine like our Sun. Credit: NASA/JPL-Caltech



OTS 44 was first discovered about six months ago by Luhman and his colleagues using the Gemini Observatory in Chile. The object is located 500 light-years away in the Chamaeleon constellation. Later, the team used Spitzer's highly sensitive infrared eyes to see the dim glow of OTS 44's dusty disc. These observations took only 20 seconds. Longer searches with Spitzer could reveal discs around brown dwarfs below10 Jupiter masses.

Other authors of this study include Dr. Paola D'Alessia of the Universidad Nacional Autonoma de Mexico; and Drs. Nuria Calvet, Lori Allen, Lee Hartmann, Thomas Megeath and Philip Myers of the Harvard-Smithsonian Center for Astrophysics.

NASA's Jet Propulsion Laboratory, Pasadena, Calif., manages the Spitzer Space Telescope mission for NASA's Science Mission Directorate, Washington, D.C. Science operations are conducted at the Spitzer Science Center, Pasadena, Calif. JPL is a division of Caltech. The infrared array camera, which spotted the protoplanetary disc around OTS 44, was built by NASA Goddard Space Flight Center, Greenbelt, Md.; its development was led by Fazio.