Spaceflight Now +





Premium video content for our Spaceflight Now Plus subscribers.

NASA budget
NASA Administrator Sean O'Keefe, in his final press conference appearance, presents the 2006 budget information and answers reporters' questions on Hubble, the exploration plan and shuttle return-to-flight. (86min 37sec file)
Play video

Meet the next ISS crew
Expedition 11 commander Sergei Krikalev, flight engineer John Phillips and Soyuz taxi crewmember Roberto Vittori hold a pre-flight news conference in Houston. Topics included problems with the shuttle safe haven concept. (42min 23sec file)

Play video:
Dial-up | Broadband

Download audio:
For iPod

Final Atlas 3 launched
The last Lockheed Martin Atlas 3 rocket launches from Complex 36 at Cape Canaveral Air Force Station at 2:41 a.m. EST carrying a classified spy satellite cargo for the U.S. National Reconnaissance Office. This movie follows the mission through ignition of Centaur. (5min 30sec file)
Play video

Atlas 3 onboard
A camera mounted on the Centaur upper stage captured this dramatic footage of the spent first stage separation, deployment of the RL10 engine nozzle extension, the powerplant igniting and the rocket's nose cone falling away during launch.
Play video

Farewell to Complex 36
Following the 145th and final Atlas rocket liftoff from Cape Canaveral's Complex 36, officials "toast" the historic two-pad site and its blockhouse. Then the spotlights illuminating the pads are turned off as the complex "goes dark." (10min 50sec file)

Play video:
Dial-up | Broadband

Download audio:
For iPod

Become a subscriber
More video





NewsAlert





Sign up for our NewsAlert service and have the latest news in astronomy and space e-mailed direct to your desktop.


Privacy note: your e-mail address will not be used for any other purpose.







NASA budget proposal kills Hubble repair mission
BY JEFF FOUST
SPACEFLIGHT NOW
Posted: February 8, 2005


President George W. Bush's proposed 2006 budget would give NASA a modest funding increase, but would cancel a proposed robotic servicing mission to the Hubble Space Telescope as well as a nuclear-powered spacecraft to explore the moons of Jupiter.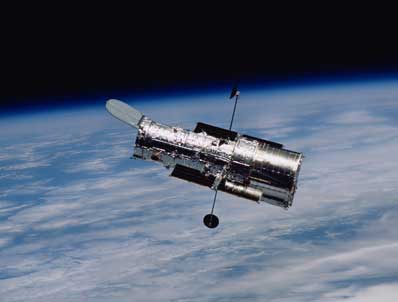 NASA is scrubbing plans for a final servicing flight to the Hubble Space Telescope. Credit: NASA



The budget proposal, released by the Bush Administration February 7, would give NASA $16.45 billion in fiscal year 2006, which starts on October 1 of this year. That is about 2.4 percent more than the agency received for 2005, and also makes the agency one of the few in the federal government outside of the military to get a budget increase. That increase, however, falls short of the $17 billion NASA was expecting for 2006 based on the original plans for the Vision for Space Exploration, the agency's new exploration initiative announced last year.

"The fiscal 2006 NASA budget reaffirms the President's commitment to the Vision for Space Exploration and provides us the next step in implementing it," outgoing NASA administrator Sean O'Keefe said in a statement accompanying the budget. "We are transforming NASA and making great progress."

While the proposed budget contains sufficient funding for the space shuttle, International Space Station, and other key programs that are part of the exploration initiative, most of the attention on the budget is on what it does not contain: funding for a repair mission to the Hubble Space Telescope. Instead, the budget includes $75 million to work on a deorbit module to safely dispose of the telescope once it shuts down, and about $20 million more to extend the life of critical components, like its batteries and telescopes, without mounting a repair mission.

NASA officials said they decided not to include money for a robotic repair mission for the telescope because of growing concerns, including a recent report by the National Academy of Sciences, that such a mission would not be ready before the telescopes irretrievably fails.

"While I remain convinced that this is not necessarily an accurate view, it is nonetheless a position that has made it incredibly difficult to demonstrate to the contrary," O'Keefe said

Also missing from the budget is funding for the Jupiter Icy Moons Orbiter (JIMO), a large nuclear-powered spacecraft that would have explored Jupiter's moons Callisto, Europa, and Ganymede.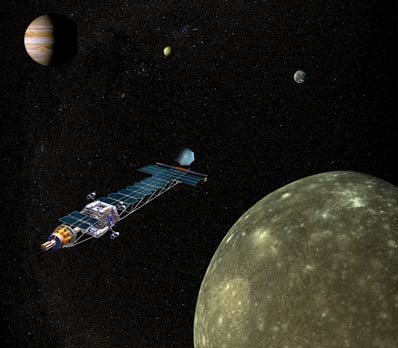 An artist's concept shows the JIMO spacecraft at Callisto. Credit: Boeing



JIMO, whose launch had already been pushed back from around 2012 to 2015, faced what NASA called "concerns over costs and technical complexity," leading the agency to effectively cancel the mission. JIMO was intended to be the cornerstone of Project Prometheus, a nuclear power and propulsion program; NASA will instead seek a less-complex alternative mission to demonstrate those technologies.

Initial reaction from Congress about the budget was lukewarm.

"I would love to save the Hubble, but the decision needs to be made in the context of the overall NASA budget," said Congressman Sherwood Boehlert, chairman of the House Science Committee. "Congress will have to make a decision about Hubble very soon‹probably no later than the end of March‹if a servicing mission of any kind is to have a realistic chance of moving forward."