Spaceflight Now +





Premium video content for our Spaceflight Now Plus subscribers.

Final Atlas 3 launched
The last Lockheed Martin Atlas 3 rocket launches from Complex 36 at Cape Canaveral Air Force Station at 2:41 a.m. EST carrying a classified spy satellite cargo for the U.S. National Reconnaissance Office. This movie follows the mission through ignition of Centaur. (5min 30sec file)
Play video

Atlas 3 onboard
A camera mounted on the Centaur upper stage captured this dramatic footage of the spent first stage separation, deployment of the RL10 engine nozzle extension, the powerplant igniting and the rocket's nose cone falling away during launch.
Play video

Farewell to Complex 36
Following the 145th and final Atlas rocket liftoff from Cape Canaveral's Complex 36, officials "toast" the historic two-pad site and its blockhouse. Then the spotlights illuminating the pads are turned off as the complex "goes dark." (10min 50sec file)

Play video:
Dial-up | Broadband

Download audio:
For iPod

Shuttle crew in training
Astronauts Soichi Noguchi and Steve Robinson go under water in the Neutral Bouyancy Lab's gigantic pool to practice spacewalk activities for the upcoming STS-114 return-to-flight space shuttle mission. (3min 45sec file)
Play video

Visiting the Cape
The STS-114 return-to-flight space shuttle crew visits Kennedy Space Center to inspect Discovery and the new sensor boom that will look for orbiter launch damage. (2min 22sec file)
Play video

Day of Remembrance
NASA pays tribute to those lost while furthering the cause of exploration, including the Apollo 1, Challenger and Columbia crews, during this Day of Remembrance memorial from agency headquarters on Jan. 27. (38min 58sec file)

Play video:
Dial-up | Broadband

Download audio:
For iPod

Shuttle's new inspector
The Orbiter Boom Sensor System is loaded into space shuttle Discovery's payload bay. The arm will be used to inspect the shuttle for damage following the return-to-flight launch. (4min 18sec file)
Play video

Spacewalk highlights
The Expedition 10 conducts a successful spacewalk outside the International Space Station to mount a German robotic arm and Russian science package to the Zvezda service module's exterior. (5min 07sec file)
Play video

Huygens science update
One week after the Huygens probe landed on Saturn's moon Titan, scientists hold a news conference to announce additional results and describe more pictures from the mission. (69min 02sec file)

Play video:
Dial-up | Broadband

ISS spacewalk preview
The upcoming spacewalk by the International Space Station's Expedition 10 crew is previewed by NASA officials at the Johnson Space Center on Jan. 21. (25min 04sec file)

Play video:
Dial-up | Broadband

Launch of Deep Impact!
A Boeing Delta 2 rocket blasts off from Cape Canaveral carrying NASA's comet-smashing probe called Deep Impact. This extended clip follows the mission through second stage ignition and jettison of the rocket's nose cone. (5min 37sec file)
Play video

Press Site view
A camera located at Cape Canaveral's Press Site 1 location offers this view of the Delta rocket's ascent. (1min 24sec file)
Play video

Become a subscriber
More video





NewsAlert





Sign up for our NewsAlert service and have the latest news in astronomy and space e-mailed direct to your desktop.


Privacy note: your e-mail address will not be used for any other purpose.







Saturn has strange hot spot
W. M. KECK OBSERVATORY NEWS RELEASE
Posted: February 4, 2005


Astronomers using the Keck I telescope in Hawaii are learning much more about a strange, thermal "hot spot" on Saturn that is located at the tip of the planet's south pole. In what the team is calling the sharpest thermal views of Saturn ever taken from the ground, the new set of infrared images suggest a warm polar vortex at Saturn's south pole -- the first to ever be discovered in the solar system. This warm polar cap is home to a distinct compact hot spot, believed to contain the highest measured temperatures on Saturn. A paper announcing the results appears in the Feb. 4th issue of "Science."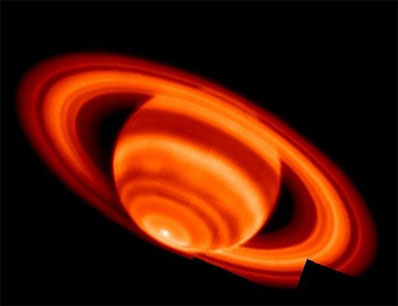 Mosaic false-color image of thermal heat emission from Saturn and its rings taken on February 4, 2004, with the Keck I telescope at 17.65 micron wavelengths. The black square at 4 o'clock represents missing data. Credit: W. M. Keck Observatory/NASA/JPL-G. Orton
Download larger image version here



A "polar vortex" is a persistent, large-scale weather pattern, likened to a jet stream on Earth that occurs in the upper atmosphere. On Earth, the Arctic Polar Vortex is typically located over eastern North America in Canada and plunges cold artic air to the Northern Plains in the United States. Earth's Antarctic Polar Vortex, centered over Antarctica, is responsible for trapping air and creating unusual chemistry, such as the effects that create the "ozone hole." Polar vortices are found on Earth, Jupiter, Mars and Venus, and are colder than their surroundings. But new images from the W. M. Keck Observatory show the first evidence of a polar vortex at much warmer temperatures. And the warmer, compact region at the pole itself is quite unusual.

"There is nothing like this compact warm cap in the Earth's atmosphere," said Dr. Glenn S. Orton, of the Jet Propulsion Laboratory in Pasadena and lead author of the paper describing the results. "Meteorologists have detected sudden warming of the pole, but on Earth this effect is very short-term. This phenomenon on Saturn is longer-lived because we've been seeing hints of it in our data for at least two years."

The puzzle isn't that Saturn's south pole is warm; after all, it has been exposed to 15 years of continuous sunlight, having just reached its summer Solstice in late 2002. But both the distinct boundary of a warm polar vortex some 30 degrees latitude from the southern pole and a very hot "tip" right at the pole were completely unexpected.

"If the increased southern temperatures are solely the result of seasonality, then the temperature should increase gradually with increasing latitude, but it doesn't," added Dr. Orton. "We see that the temperature increases abruptly by several degrees near 70 degrees south and again at 87 degrees south."

The abrupt temperature changes may be caused by a concentration of sunlight-absorbing particulates in the upper atmosphere which trap in heat at the stratosphere. This theory explains why the hot spot appears dark in visible light and contains the highest measured temperatures on the planet. However, this alone does not explain why the particles themselves are constrained to the general southern part of Saturn and particularly to a compact area near the tip of Saturn's south pole. Forced downwelling of relatively dry air would explain this effect, which is consistent with other observations taken of the tropospheric clouds, but more observations are needed.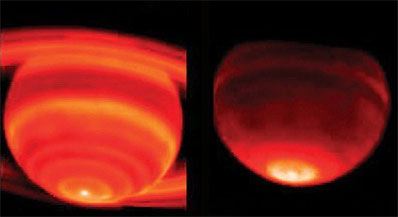 False-color mosaics of Saturn's infrared heat emission taken with the Keck I telescope. Credit: W. M. Keck Observatory/NASA/JPL-G. Orton
Download larger image version here



More details may be forthcoming from an infrared spectrometer on the joint NASA/ESA Cassini mission which is currently orbiting Saturn. The Composite Infrared Spectrometer (CIRS) measures continuous spectral information spanning the same wavelengths as the Keck observations, but the two experiments are expected to complement each other. Between March and May in 2005, the CIRS instrument on Cassini will be able to look at the south polar region in detail for the first time. The discovery of the hot spot at Saturn's south pole has prompted the CIRS science team, one of whom is Dr. Orton, to spend more time looking at this area.

"One of the obvious questions is whether Saturn's north pole is anomalously cold and whether a cold polar vortex has been established there," added Dr. Orton. "This is a question that can only be answered by the Cassini's CIRS experiment in the near term, as this region can not be seen from Earth using ground-based instruments."

Observations of Saturn were taken in the imaging mode of the Keck Long Wavelength Spectrometer (LWS) on February 4, 2004. Images were obtained at 8.00 microns, which is sensitive to stratospheric methane emission, and also at 17.65 and 24.5 microns, which is sensitive to temperatures at various layers in Saturn's upper troposphere. The full image of the planet was mosaicked from many sets of individual exposures.

Future work observing Saturn will include more high-resolution thermal imaging of Saturn, particularly due to the fact that the larger polar vortex region may change in the next few years. The team has also discovered other phenomena which could be time dependent and are best characterized by imaging instruments at Keck, such as a series of east-west temperature oscillations, most prominently near 30 degrees south. These effects appear to be unrelated to anything in Saturn's relatively featureless visible cloud system, but the variability is reminiscent of east-west temperature waves in Jupiter which move very slowly compared to the rapid jets tracked by cloud motions.

Funding for this research was provided by NASA's Office of Space Sciences and Applications, Planetary Astronomy Discipline, and the NASA Cassini project. The Cassini-Huygens mission is a cooperative project of NASA, the European Space Agency and the Italian Space Agency. The Jet Propulsion Laboratory, a division of the California Institute of Technology in Pasadena, manages the Cassini-Huygens mission for NASA's Science Mission Directorate, Washington, D.C.

The W.M. Keck Observatory is operated by the California Association for Research in Astronomy, a non-profit scientific partnership of the California Institute of Technology, the University of California, and NASA.