Successful Christmas arrival at the space station
BY WILLIAM HARWOOD
STORY WRITTEN FOR CBS NEWS "SPACE PLACE" & USED WITH PERMISSION
Posted: December 25, 2004


The Russian Progress M-51 (ISS 16P) supply ship, launched Thursday from Kazakhstan, successfully docked with the international space station Christmas day, ending an unexpected food shortage that had raised the prospect of an evacuation.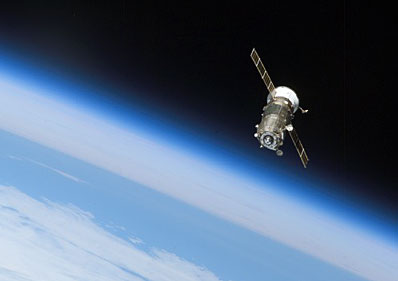 File image of Russian Progress cargo freighter in space. Credit: NASA



The linkup occurred at 6:58 p.m. EST (2358 GMT) as the spacecraft flew across central Asia, about a half hour later than originally planned.

The docking had been scheduled to occur in orbital darkness over the south Atlantic Ocean just east of Brazil, out of contact with Russian flight controllers.

But at the last minute, flight director Vladimir Solovyev decided to delay the maneuver until the spacecraft could move back into range of Russian ground stations to provide telemetry and television views.

Flight engineer Salizhan Sharipov was standing by, ready to take over by remote control if any problems cropped up, but the docking was uneventful.

"Hip, hip hooray! Congratulations," a flight controller radioed from Moscow.

If the supply ship had been unable to dock for some reason, Expedition 10 commander Leroy Chiao and Sharipov would have been forced to shut the station down and return to Earth by the end of the first week in January at the latest. That would have ended more than four years of continuous occupation since the first crew moved aboard in November 2000.

In an interview earlier this week, Chiao blamed the food shortage on an inventory management problem and the hearty appetites of the previous crew, Expedition 9 commander Gennady Padalka and flight engineer Michael Fincke.

"The last crew kind of got into our food and the biggest problem with that was that somehow they failed to communicate accurately to the ground what exactly had happened, particularly on the Russian side," Chiao told an interviewer earlier this week.

"So consequently, we did not bring enough food with us (in October) on our Soyuz to make up for what they had taken. Unfortunately, we didn't know that right away, it took a month and a half or so of living on the station before we realized our stocks were getting a little low."

The supply ship will be carrying 5,047 pounds of cargo, including 1,234 pounds of propellant, 110 pounds of oxygen, 926 pounds of water and 2,777 pounds of dry goods.

The latter category includes repair equipment and spare parts, experiment hardware, clothing and about 70 food containers, 41 of which include American choices and 29 of which feature Russian menu items. That's enough food for 67 days of operations at one full ration per day per crew member and another 45 days at a consumption rate of 0.8 rations per crew member per day.

That's nearly twice as much food as the crew would need before the next Progress arrives in early March.


Additional coverage for subscribers:


VIDEO: CAMERA ON SHIP SHOWS FINAL APPROACH AND DOCKING QT


SUBSCRIBE NOW