Desperately needed station supply ship launched
BY WILLIAM HARWOOD
STORY WRITTEN FOR CBS NEWS "SPACE PLACE" & USED WITH PERMISSION
Posted: December 23, 2004 @ 5:45 p.m. EST


KENNEDY SPACE CENTER, Fla. (CBS) - An unmanned Russian supply ship blasted off from Kazakhstan Thursday evening on a critical flight to deliver two-and-a-half tons of equipment, spare parts, water and the fresh food the lab's two-man crew needs to stay in orbit beyond the first week in January.


| | |
| --- | --- |
| | The Soyzu rocket with the Progress freighter was moved to the Baikonur launch pad on Wednesday. Credit: Energia |
Because of an inventory control problem - and the hearty appetites of the crew that preceded them - station commander Leroy Chiao and flight engineer Salizhan Sharipov are almost out of food.

But if all goes well, the Progress M-51 (ISS 16P) spacecraft will reach the space station Christmas evening, delivering enough fresh food to last the crew another 112 days.

"The Progress has been successfully launched," a Russian flight controller radioed the station crew moments after the supply ship reached orbit. "The only thing remaining is to successfully dock."

"Very good. Good news," one of the crew members replied.

"So now you have every chance to have a good rest during the night and get ready to work tomorrow."

"Very good. Excellent," the station crew said. "Thanks a lot, Moscow, we're very happy. Good news."

But the drama is not yet over.

If the supply ship fails to dock successfully, Chiao and Sharipov will be forced to shut the station down and return to Earth by the end of the first week in January at the latest, ending more than four years of continuous occupation since the first crew moved aboard in November 2000.

"Of course, we're trained in backup procedures," Chiao told a reporter earlier this week. "If there's something wrong with the docking operation, the automatic mode, Salizhan ... has been practicing the manual flying and he, of course, docked the Soyuz manually. So I have every confidence he'll be able to bring the Progress on board.

"Now, if the Progress is a total loss ... we will have no choice but to evacuate the station. (But) it won't be an emergency evacuation. We'll have plenty of time, several days or weeks, to shut down all the systems and return to Earth. Of course, that's not something we want to do. The reason we have a crew on board is because we can maintain the station and keep it going. Without a crew on board, there's a much higher possibility of a malfunction, basically knocking the station out of attitude (orientation) and getting us into a bad situation."

Engineers say it would take two days to shut down critical station systems prior to an evacuation aboard the lab's Soyuz re-entry craft. The best upcoming Kazakhstan landing opportunities occur between Dec. 30 and Jan. 4, all of them at night.

But Russian Progress supply ships are among the most reliable spacecraft ever built and there has not been a failure in recent memory. Although a Progress crashed into the Mir space station in 1997, that was the result of a remote piloting test that went awry.

As expected, today's launching went by the book. Right on time, at 5:19:31 p.m. EST (2219:31 GMT), the Progress M-51's Soyuz-U booster rocket roared to life at the Baikonur Cosmodrome in Kazakhstan and nine minutes later, the craft was safely in orbit. Docking is targeted for 6:31 p.m. EST (2331 GMT) Saturday.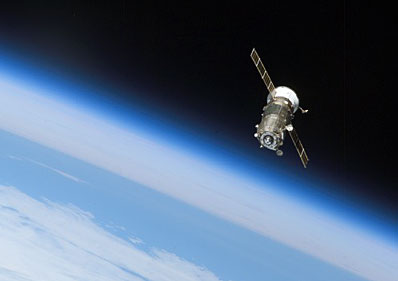 File image of Russian Progress cargo freighter in space. Credit: NASA



In a somewhat unusual departure from normal practice, the docking will occur when the station, off the east coast of Brazil, is out of contact with Russian ground stations. But NASA video will be relayed to mission control in Moscow and by the time hooks and latches engage to firmly lock the Progress in place, Russian telemetry should be restored.

The supply ship will be carrying 5,047 pounds of cargo, including 1,234 pounds of propellant, 110 pounds of oxygen, 926 pounds of water and 2,777 pounds of dry goods.

The latter category includes repair equipment and spare parts, experiment hardware, clothing and about 70 food containers, 41 of which include American choices and 29 of which feature Russian menu items. That's enough food for 67 days of operations at one full ration per day per crew member and another 45 days at a consumption rate of 0.8 rations per crew member per day.

That's nearly twice as much food as the crew would need before the next Progress arrives in March.

Chiao and Sharipov, the station's 10th full-time crew, arrived at the outpost in mid October, replacing Expedition 9 commander Gennady Padalka and flight engineer Michael Fincke. The food shortage was discovered last month and since then, "we've been kind of cutting back on our rations to conserve our food so that we could stretch things out until the Progress can arrive," Chiao said. "So we've been successful in doing that and we're nonetheless very much looking forward to the arrival of the Progress and with it, a new pantry full of food."

He blamed the widely reported shortage on "a problem with inventory where the last crew kind of got into our food and the biggest problem with that was that somehow they failed to communicate accurately to the ground what exactly had happened, particularly on the Russian side."

"So consequently, we did not bring enough food with us (in October) on our Soyuz to make up for what they had taken. Unfortunately, we didn't know that right away, it took a month and a half or so of living on the station before we realized our stocks were getting a little low."

Chiao said NASA managers looked at the issue as a lesson learned.

"You know, we're up here in space and especially on a longer duration mission where we're heading out towards Mars or something, we've got to have everything planned out and execute the procedures properly to make sure something like this doesn't happen," he said. "So this is a learning experience, certainly, and I think we've all learned lessons from this and I don't think it will happen again."

Chiao said he and Sharipov had lost "5 or 10 pounds" while rationing their food even though they have been making up for lost calories by eating more candy and other sweets than usual.

"I would estimate that we're eating about half the amount of real food that we were before we went on the rationing and we've been making up part of that deficit with the sugars," he said. "So it's not an ideal diet, but it's certainly one we can sustain for a while."

On Christmas Day, however, "we've got a special meal," Chiao said. "I squirreled away a few special items that we'll break into and enjoy a nice holiday meal."

Along with fresh food, Progress M-51 (ISS 16P) spacecraft also is carrying medical equipment, environmental equipment, exercise gear, spare parts for the station's thermal control system, three new laptop computers, clothing, CDs for the crew and other gear.