Spaceflight Now +





Premium video content for our Spaceflight Now Plus subscribers.

Launch of Atlas 5
The Lockheed Martin Atlas 5 rocket launches at 7:07 a.m. EST from Cape Canaveral carrying the AMERICOM 16 communications spacecraft. (6min 22sec file)
Play video

Press site view
The sunrise launch of Atlas 5 is shown in this view from the Kennedy Space Center press site at Complex 39. (QuickTime file)
Play video

Rocket rollout
Riding on its mobile launching platform, the Atlas 5 rocket is rolled from its assembly building to the launch pad at Complex 41 just hours before the scheduled liftoff time carrying AMC 16. (4min 41sec file)
Play video

Atlas 5 news briefing
Mission officials hold the pre-launch news conference in Cape Canaveral on Thursday, Dec. 16 to preview the flight of Atlas 5 with AMC 16. (40min 41sec file)
Play video

AMC 16 launch preview
Preview the launch of Lockheed Martin's Atlas 5 rocket carrying the AMERICOM 16 communications spacecraft with this narrated animation package. (2min 52sec file)
Play video

The AMC 16 spacecraft
This narrated movie provides an overview of the Lockheed Martin-built AMC 16 spacecraft for operator SES AMERICOM. (3min 30sec file)
Play video

Become a subscriber
More video







New spy satellite launch added to Atlas 5 lineup
BY SPACEFLIGHT NOW
Posted: December 22, 2004


Lockheed Martin's Atlas 5 rocket has won another flight assignment under the U.S. Air Force's Evolved Expendable Launch Vehicle program, bringing the next-generation booster's military backlog to 19 missions.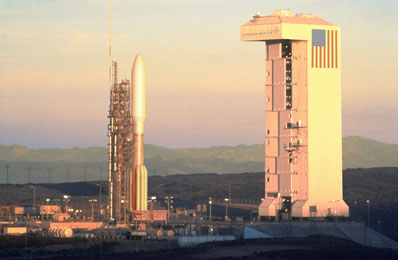 This artist's concept shows how SLC 3-East will appear with Atlas 5. Credit: Lockheed Martin



This newly added launch will carry a classified National Reconnaissance Office payload into space from Vandenberg Air Force Base, California, in 2006.

A 500-series Atlas 5 configuration featuring a five-meter fairing and two strap-on solid rocket boosters is scheduled to be used, according to International Launch Services. ILS is the marketer of Atlas and Russian Proton rockets.

Lockheed Martin is in the process of overhauling the Space Launch Complex 3-East pad at Vandenberg, transforming the site to support Atlas 5 missions. Construction is nearing completion in advance of the first rocket's arrival early next year to begin a series of pathfinder tests and checks.

An overview of the pad is available in a story written earlier this year.

Atlas 5 has six West Coast missions on the launch manifest, including a military weather satellite and five for the NRO, which is the government agency that operates the nation's fleet of spy spacecraft.

The first launch -- a classified satellite deployment mission for the NRO -- had been expected in the second half of 2005. But the mission is being slipped to the spring of 2006 to accommodate the payload's schedule.