Spaceflight Now +





Premium video content for our Spaceflight Now Plus subscribers.

Deep Impact overview
Rick Grammier, NASA's Deep Impact project manager from the Jet Propulsion Laboratory, provides a detailed overview of the spacecraft and its mission. (4min 54sec file)
Play video

Science preview
Deep Impact principal investigator Michael A'Hearn explains how the comet collision will occur and what scientists hope to learn. (7min 11sec file)
Play video

Pre-flight news briefing
The pre-flight news conference is held at NASA Headquarters on December 14 to preview the Deep Impact mission to intercept a comet and blast a projectile into it. (54min 19sec file)
Play video

Mars rover update
Steve Squyres of Cornell University, the rovers' principal investigator, discusses the latest discoveries from Spirit and Opportunity.
Play video

Station status report
International Space Station program officials hold a status briefing Dec. 9 on the progress of Expedition 10. They discussed the food supply concerns and many other topics. (52min 53sec file)
Play video

John Young tribute
A gala at the National Air and Space Museum pays tribute to retiring space pioneer John Young. America's most experienced astronaut is leaving NASA this month after an extraordinary 42-year career. (1hr 24min file)
Low | High bandwidth

Shuttle program update
Space shuttle program manager Bill Parsons, deputy program manager Wayne Hale and integration manager John Casper hold a news conference in Houston on Monday to provide an update on Return to Flight work. (61min 35sec file)
Play video

Shuttle work
This collection of footage illustrates activities underway throughout NASA on the external tank, orbiter in-flight inspection techniques and pre-launch processing work at the Cape. (9min 05sec file)
Play video

This date in history
The Space shuttle Endeavour lifts off at 4:26 a.m. on December 2, 1993 for the daring mission to fix the flawed vision of NASA's Hubble Space Telescope. (3min 44sec file)
Play video

Become a subscriber
More video







Symphony of colors in the Tarantula Nebula
HUBBLE EUROPEAN SPACE AGENCY INFORMATION CENTRE RELEASE
Posted: December 15, 2004


The Tarantula Nebula is the most vigorous star forming region known in the local Universe. Using the power of the freely available ESA/ESO/NASA Photoshop FITS Liberator package a young amateur astronomer has created this amazing panorama of the centre of the Tarantula. The original image was taken by the NASA/ESA Hubble Space Telescope and subsequently retrieved from the ESO/ST-ECF Science Archive in Munich, Germany.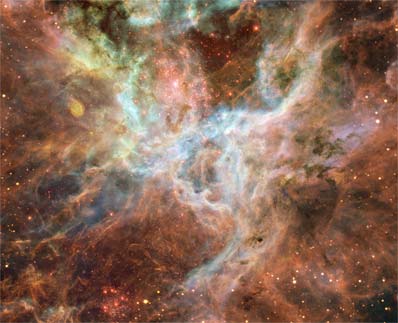 Image credit: ESA/NASA, ESO and Danny LaCrue
Download larger image version here



The Tarantula Nebula, also known as 30 Doradus, is situated 170,000 light-years away in the Large Magellanic Cloud (LMC) in the Southern sky and is clearly visible to the naked eye as a large milky patch. Astronomers believe that this smallish, irregular galaxy is currently going through a violent period in its life cycle. It is orbiting the Milky Way and has had several close encounters with it. It is believed that the interaction with the Milky Way has caused an episode of energetic star formation - part of which is visible as the Tarantula Nebula. The Tarantula is the largest stellar nursery we know in the local Universe. In fact if this enormous complex of stars, gas and dust were at the distance of the Orion Nebula it would be visible during the day and cover a quarter of the sky.

Over the years the NASA/ESA Hubble Space Telescope has returned again and again to observe this interesting region of the sky and in this way Hubble has built up an archival treasure of more than a thousand images and spectra of the Tarantula. A few weeks ago 23 year old amateur astronomer Danny LaCrue sifted through the data and found that 15 of the exposures made with Hubble's Wide Field and Planetary Camera 2 could be combined to create a beautiful mosaic of the central parts of the unique Tarantula.

Danny submitted his image to the Hubble European Space Agency Information Centre in the hope that the image could be shared with a wider audience. "I always wondered what it would be like to create the pictures from Hubble, but I never imagined that I would one day actually get to make one myself".

Driven by his interest in astronomy and graphical design and excited at the prospect of processing real images taken by Hubble, Danny recently downloaded the ESA/ESO/NASA Photoshop FITS Liberator from the Spacetelescope.org website. The FITS Liberator is a software tool released 6 months ago that enables laypeople to work with the somewhat special format of astronomical images (called the FITS format, short for Flexible Image Transport System).

"Once I became familiar with all the steps of creating colour images from raw astronomical data, I was able to have fun with the details of the process. Desperately wanting more objects to process, I realized I needed to learn how to navigate and use the somewhat intimidating ESO/ST-ECF Hubble archive. However after trying a few object queries and requests for data, the whole process became much less daunting", says Danny LaCrue.

"The Liberator is an invaluable tool and does a splendid job at giving normal people access to the wonderful resource that Hubble has been for the scientific community for almost 15 years. Converted to a colour image those inaccessible 1's and 0's in the original data appeal to our visual sense, and connect us, on a very personal level, to the universe around us," he adds.