Reports: NASA chief Sean O'Keefe may leave agency
BY WILLIAM HARWOOD
STORY WRITTEN FOR CBS NEWS "SPACE PLACE" & USED WITH PERMISSION
Posted: December 11, 2004


NASA Administrator Sean O'Keefe, a self-described "budgeteer" who was brought in to curb space station cost overruns and who later helped formulate a new presidential initiative to send astronauts back to the moon and on to Mars, may be considering a job in academia, according to newspaper and internet accounts.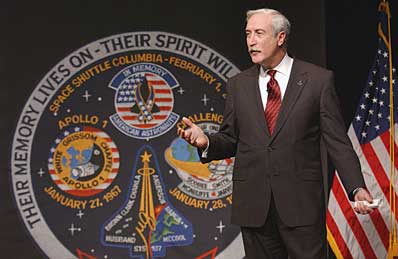 Administrator Sean O'Keefe. Credit: NASA/Renee Bouchard



Florida Today reported in today's editions that O'Keefe, a New Orleans native who was at the helm of the civilian space agency when the shuttle Columbia went down in February 2003, is being courted by Louisiana State University to become the school's next chancellor.

NASA Watch, an internet site devoted to coverage of the space agency, said O'Keefe is, in fact, stepping down. A senior NASA spokesman in Washington could not confirm or deny either report, but said by telephone today that no statements to that effect were in work.

Florida Today quoted O'Keefe saying he was under consideration for the post and quoted school officials as saying the White House was expected to announce O'Keefe's departure from NASA on Monday.

The timing of any such departure was unclear, but presumably O'Keefe would remain in place through the planned May launching of the shuttle Discovery on the first post-Columbia mission.

If the administrator does, in fact, bow out, the stage would be set for the potential reversal of one of his most controversial decisions: Cancellation of a final shuttle mission to overhaul the Hubble Space Telescope.

O'Keefe claimed a Hubble flight would be too risky, in part because the shuttle's crew could not seek refuge aboard the international space station if the ship endured Columbia-type damage that might make a safe re-entry impossible. Instead, he said NASA would undertake a robotic repair mission, with a price tag of $2 billion or more, if Congress so desired.

But an independent assessment by the National Academies of Science found that a shuttle mission was only slightly more risky than a space station flight and much more cost effective than a robotic mission with unproven technology.

"The committee recommends that NASA pursue a shuttle servicing mission to HST," the panel concluded. "A robotic mission approach should be pursued solely to de-orbit Hubble after the period of extended science operations enabled by a shuttle astronaut servicing mission."

Congressional hearings to debate the issue are scheduled early next year.

If O'Keefe's decision ultimately is reversed, a Hubble servicing flight is unlikely before 2006 at the earliest. Without a servicing mission, engineers believe Hubble has a 50-50 chance of being sidelined by equipment failures by mid 2007.

"The leading item will be making the complex decision of where in the international space station (assembly) flow you want to insert this mission," said a senior manager with the Hubble project. "We're completely convinced Hubble will be there patiently waiting. I believe all the estimates of when you'd lose Hubble (due to breakdowns) are quite conservative."

The Hubble decision aside, O'Keefe will be remembered for drastic reductions to make up for a projected $4.8 billion cost overrun in the station project and for working with the Bush administration to develop the new moon-Mars initiative.

That initiative, announced by the president last January in a speech at NASA headquarters, calls for NASA to retire the space shuttle by around 2010, after completion of space station assembly; to develop a new manned spacecraft that could carry astronauts to and from low-Earth orbit and, in some form, onto the moon; to establish permanent bases on the lunar surface; and to eventually send astronauts on to Mars.

The president promised $1 billion in new money over the next five years and called for NASA to come up with another $11 billion from existing agency programs.

While the issue never came up during the presidential campaign, Congress voted last month to give NASA virtually everything the Bush administration asked for in the agency's $16.2 billion 2005 budget, giving the administrator wide leeway in how the money can be spent.

While many NASA insiders never warmed to O'Keefe's bureaucratic style, one said today "we've got a vision and the funding to go with it and we wouldn't have had it without him."

"As far as what he brought to the agency, he brought the agency closer to the administration, got us support from the administration, got the administration's backing for the funding to go with it," he said. "So for that, you've got to give him high marks."

O'Keefe was nominated by President Bush on Dec. 21, 2001, to replace Daniel Goldin, who was nominated by the president's father and who directed the space agency for a decade.

O'Keefe, a former Navy secretary, came to the NASA post from the White House Office of Management and Budget, where he served as deputy director.

While at OMB, O'Keefe was closely involved in trying to determine what caused a projected $4.8 billion cost overrun in the station program. And he left no doubt about what NASA should do to correct the problem.

"The administration is very proud of the technical accomplishments of (the space station) program, as we all should be," O'Keefe said in testimony before the Science Committee of the U.S. House of Representatives.

"However, technical excellence at any cost is not an acceptable approach," he said. "Managing the program within cost and schedule must be elevated in importance particularly within the culture of NASA's Human Space Flight activities to be on a par with technical excellence."

O'Keefe moved quickly after taking over at NASA to reign in those cost overruns, stopping work on a planned crew habitation module, a propulsion system and a crew emergency re-entry vehicle, which effectively restricted crew size to three astronauts.

He embraced the conclusions of the Columbia Accident Investigation Board, vowing to implement the panel's recommendations sight unseen. The CAIB said non space station flights should have an autonomous repair capability if possible. O'Keefe cited the recommendations as justification for stopping work on the final planned Hubble servicing mission.

But few other agency managers agreed and the decision remains one of his most unpopular.