Spaceflight Now +





Premium video content for our Spaceflight Now Plus subscribers.

Soyuz leaves ISS
The Russian Soyuz TMA-5 spacecraft with the Expedition 10 crew undocks from the International Space Station's Pirs module for the capsule's relocation to another docking port. (2min 19sec file)
Play video

Earth views
Spectacular views of the Russian Soyuz capsule flying over the Earth were captured by station cameras during the move between docking ports. (3min 35sec file)
Play video

Successful docking
Expedition 10 returns to the space station with a successful docking to the Zarya control module's Earth-facing docking port, completing the Soyuz relocation. (1min 50sec file)
Play video

Become a subscriber
More video







Fire reported in the Vehicle Assembly Building
BY SPACEFLIGHT NOW
Posted: December 2, 2004


A small fire broke out this afternoon inside Kennedy Space Center's cavernous Vehicle Assembly Building. The 52-story landmark facility was built in the 1960s to assemble the giant Saturn 5 moon rockets and has been used for the past quarter-century for space shuttles.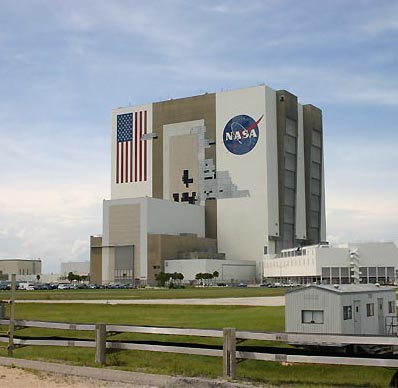 File image of the Vehicle Assembly Building shows the facility after it was damaged by Hurricane Frances earlier this year. Photo: Steven Young/Spaceflight Now



NASA said the incident occurred at approximately 1 p.m. EST (1800 GMT). The fire was quickly extinguished. No injuries were reported and the space agency said there are no indications of damage to spaceflight hardware.

Workers in the VAB have begun stacking the segments making up the solid rocket boosters that will launch space shuttle Discovery on the first post-Columbia mission next spring.

"KSC fire and rescue personnel quickly responded to the scene," a statement from Kennedy Space Center public affairs said. "As a precautionary measure, employees were evacuated from the building. The cause of the incident is under investigation and more information will be released as it becomes available."