Spaceflight Now +





Premium video content for our Spaceflight Now Plus subscribers.

X-43A launch preview
NASA officials preview the third and final test launch of the X-43A hypersonic vehicle during this news conference from Dryden Flight Research Center. (29min 47sec file)
Play video

Deep Impact arrives
NASA's Deep Impact comet spacecraft arrives at the Astrotech Space Operations Facility near Kennedy Space Center to begin final launch preparations for blastoff December 30 aboard a Boeing Delta 2 rocket. (2min 53sec file)
Play video

Veterans Day
Aboard the International Space Station, commander Leroy Chiao offers his thoughts in this downlinked message in honor of Veterans Day.
Play video

Delta rocket lofts GPS
The Boeing Delta 2 rocket lifts off Saturday morning with the GPS 2R-13 satellite from pad 17B at Cape Canaveral, Florida.
Play video

Launch in full
This longer-length clip follows the Delta 2 rocket during its late-night ascent carrying the latest Global Positioning System satellite. (2min 25sec file)
Play video

Delta scrub
A red alarm triggers Friday morning's countdown to launch of Boeing's Delta 2 rocket carrying a GPS satellite to be scrubbed at Cape Canaveral, Florida. (1min 52sec file)
Play video

Swift preview
Mission scientists preview NASA's Swift gamma-ray burst detection satellite being readied for launch into Earth orbit. (39min 49sec file)
Play video

Voting from space
International Space Station Expedition 10 commander Leroy Chiao talks about the election and voting from orbit with CNN's Paula Zahn. (10min 20sec file)
Play video

Delta 4-Heavy preview
Preview what a Boeing Delta 4 rocket launch will be like with this animation package of a "Heavy" configuration vehicle. (1min 41sec file)
Play video

Cassini science update
Radar imagery of Saturn's moon Titan and other new data from the Cassini spacecraft is presented during this JPL news conference on Thursday. (54min 48sec file)
Play video

Post-flyby briefing
Scientists and mission officials discuss the initial pictures and data obtained during Cassini's flyby of Titan during this JPL news conference on Wednesday. (55min 18sec file)
Play video

First pictures
The first pictures taken by Cassini during this close encounter with Titan are received at the Jet Propulsion Laboratory to the delight of the mission's imaging leader. (2min 21sec file)
Play video

Become a subscriber
More video







Martian moon Phobos in color for close-up look
EUROPEAN SPACE AGENCY NEWS RELEASE
Posted: November 12, 2004


These images, taken by the High Resolution Stereo Camera (HRSC) on board ESA's Mars Express spacecraft, are Europe's highest-resolution pictures so far of the Martian moon Phobos.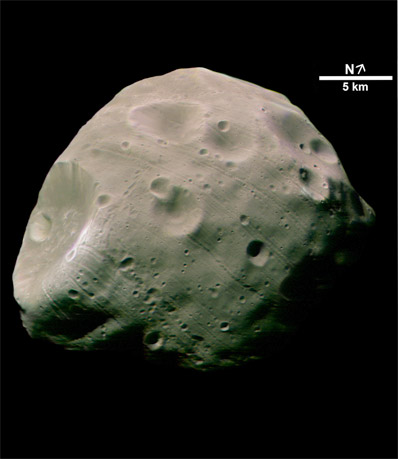 Credits: ESA/DLR/FU Berlin (G. Neukum)
Download larger image version here



These HRSC images show new detail that will keep planetary scientists busy for years, working to unravel the mysteries of this moon. The images show the Mars-facing side of the moon, taken from a distance of less than 200 kilometres with a resolution of about seven metres per pixel during orbit 756.

Images of Phobos as shown here had already been taken at lower resolution in previous orbits (413, 649, 682, 715 and 748). In the coming months, these first pictures will be followed by a series of images taken in subsequent fly-bys.

The Mars Express spacecraft periodically passes near Phobos about one hour before it flies at an altitude of only 270 kilometres above the Martian surface, just above the atmosphere. Within minutes, the orbiting spacecraft turns from its attitude where it points at Mars to train its camera on this little world.

The HRSC provided an unprecedented near-simultaneous group of 10 different images of the surface, enabling the moon's shape, topography, colour, 'regolith' light-scattering properties, and rotational and orbital states to be determined. The regolith is the small-grained material covering most non-icy planetary bodies, resulting from multiple impacts on the body's surface.

These images have surpassed all previous images from other missions in continuous coverage of the illuminated surface, not blurred and at the highest resolution. The US Viking Orbiter obtained a few small areas sampled at an even higher resolution of a few metres per pixel, but these were not so sharp due to the close and fast fly-by.

The global 'groove' network is seen in sufficient detail to cover the Mars-facing surface continuously from near the equator up to the north pole with regular spacing between the grooves. It now may be possible to determine whether the grooves existed before the large cratering events, and exist deep within Phobos, or came after the cratering events and were superimposed on them.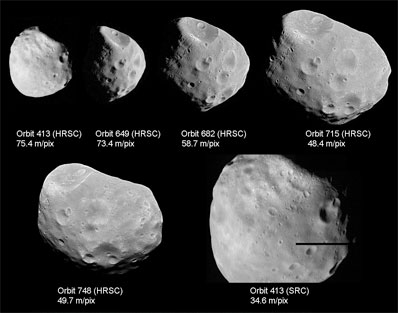 These images were taken by the High Resolution Stereo Camera (HRSC) on board ESA's Mars Express spacecraft. Credits: ESA/DLR/FU Berlin (G. Neukum)
Download larger image version here



Much more detail is seen inside the various-sized craters, showing some with marked albedo variations. Some craters have dark materials near the crater floors, some have regolith that slid down the crater walls, and some have very dark ejecta, possibly some of the darkest material in our Solar System.

This tiny moon is thought to be in a 'death spiral', slowly orbiting toward the surface of Mars. Here, Phobos was found to be about five kilometres ahead of its predicted orbital position. This could be an indication of an increased orbital speed associated with its secular acceleration, causing the moon to spiral in toward Mars.

Eventually Phobos could be torn apart by Martian gravity and become a short-lived ring around Mars, or even impact on the surface. This orbit will be studied in more detail over the lifetime of the Mars Express.