Spaceflight Now +





Premium video content for our Spaceflight Now Plus subscribers.

X-43A launch preview
NASA officials preview the third and final test launch of the X-43A hypersonic vehicle during this news conference from Dryden Flight Research Center. (29min 47sec file)
Play video

Deep Impact arrives
NASA's Deep Impact comet spacecraft arrives at the Astrotech Space Operations Facility near Kennedy Space Center to begin final launch preparations for blastoff December 30 aboard a Boeing Delta 2 rocket. (2min 53sec file)
Play video

Veterans Day
Aboard the International Space Station, commander Leroy Chiao offers his thoughts in this downlinked message in honor of Veterans Day.
Play video

Delta rocket lofts GPS
The Boeing Delta 2 rocket lifts off Saturday morning with the GPS 2R-13 satellite from pad 17B at Cape Canaveral, Florida.
Play video

Launch in full
This longer-length clip follows the Delta 2 rocket during its late-night ascent carrying the latest Global Positioning System satellite. (2min 25sec file)
Play video

Delta scrub
A red alarm triggers Friday morning's countdown to launch of Boeing's Delta 2 rocket carrying a GPS satellite to be scrubbed at Cape Canaveral, Florida. (1min 52sec file)
Play video

Swift preview
Mission scientists preview NASA's Swift gamma-ray burst detection satellite being readied for launch into Earth orbit. (39min 49sec file)
Play video

Voting from space
International Space Station Expedition 10 commander Leroy Chiao talks about the election and voting from orbit with CNN's Paula Zahn. (10min 20sec file)
Play video

Delta 4-Heavy preview
Preview what a Boeing Delta 4 rocket launch will be like with this animation package of a "Heavy" configuration vehicle. (1min 41sec file)
Play video

Cassini science update
Radar imagery of Saturn's moon Titan and other new data from the Cassini spacecraft is presented during this JPL news conference on Thursday. (54min 48sec file)
Play video

Post-flyby briefing
Scientists and mission officials discuss the initial pictures and data obtained during Cassini's flyby of Titan during this JPL news conference on Wednesday. (55min 18sec file)
Play video

First pictures
The first pictures taken by Cassini during this close encounter with Titan are received at the Jet Propulsion Laboratory to the delight of the mission's imaging leader. (2min 21sec file)
Play video

Become a subscriber
More video







Astronomers make a star
CALTECH NEWS RELEASE
Posted: November 12, 2004


The Hale Telescope on Palomar Mountain has been gathering light from the depths of the universe for 55 years. It finally sent some back early last week as a team of astronomers from the California Institute of Technology, the Jet Propulsion Laboratory and the University of Chicago created an artificial star by propagating a 4-watt laser beam out from the Hale Telescope and up into the night sky.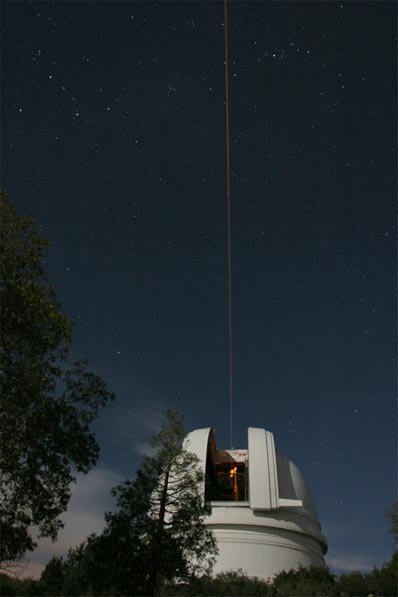 Credit: Caltech



The laser was propagated as the first step in a program to expand the fraction of sky available to the technique known as adaptive optics. Adaptive optics allows astronomers to correct for the fuzzy images produced by earth's moving atmosphere, giving them a view that often surpasses those of smaller telescopes based in space.

"We have been steadily improving adaptive optics using bright natural guide stars at Palomar. As a result, the system routinely corrects for atmospheric distortions. Now we will be able to go to the next step," says Richard Dekany, associate director for development at Caltech Optical Observatories. Currently astronomers at Palomar can use the adaptive-optics technique only if a moderately bright star is sufficiently close to their object of interest. The adaptive-optics system uses the star as a source by which astronomers monitor and correct for the distortions produced by earth's atmosphere.

Employing the laser will allow astronomers to place an artificial corrective guide star wherever they see fit. To do so, they shine a narrow sodium laser beam up through the atmosphere. At an altitude of about 60 miles, the laser beam makes a small amount of sodium gas glow. The reflected glow from the glowing gas serves as the artificial guide star for the adaptive-optics system. The laser beam is too faint to be seen except by observers very close to the telescope, and the guide star it creates is even fainter. It can't be seen with the unaided eye, yet it is bright enough to allow astronomers to make their adaptive-optics corrections.

The Palomar Observatory currently employs the world's fastest astronomical adaptive optics system on its 200-inch Hale Telescope. It is able to correct for changes in the atmosphere 2,000 times per second. Astronomers from Caltech, JPL, and Cornell University have exploited this system to discover brown dwarf companions to stars, study the weather on a moon of Saturn, and see the shapes of asteroids.

"This is an important achievement that brings us one step closer to our goal," says Mitchell Troy, the adaptive optics group lead and Palomar adaptive optics task manager at the Jet Propulsion Laboratory. The goal, achieving adaptive-optics correction using the laser guide star, is expected next year. This will place Palomar in elite company as just the third observatory worldwide to deploy a laser guide system. This laser will greatly expand the science performed at Palomar and pave the way for future projects on telescopes that have not yet been built.

"This a terrific technical achievement which not only opens up a bold and exciting scientific future for the venerable 200-inch telescope, but also demonstrates the next step on a path toward future large telescopes such as the Thirty Meter Telescope, " says Richard Ellis, Steele Family Professor of Astronomy and director of the Caltech Optical Observatories. "The next generation of large telescopes requires sodium laser guide-star adaptive-optics of the type being demonstrated at Palomar Observatory," he adds.

Currently in the design phase, the Thirty Meter Telescope (TMT) will eventually deliver images at visible and infrared wavelengths 12 times sharper than those of the Hubble Space Telescope. The TMT project is a collaboration between Caltech and the Associated Universities for Research in Astronomy, the Association of Canadian Universities for Research in Astronomy, and the University of California.

The Caltech adaptive optics team is made up of Richard Dekany (team leader) and Viswa Velur, Rich Goeden, Bob Weber, and Khanh Bui. Professor Edward Kibblewhite, University of Chicago, built the Chicago sum-frequency laser used in this project. The JPL Palomar adaptive optics team includes Mitchell Troy (team leader), Gary Brack, Steve Guiwits, Dean Palmer, Jennifer Roberts, Fang Shi, Thang Trinh, Tuan Truong and Kent Wallace. Installation of the laser at the Hale Telescope was overseen by Andrew Pickles, Robert Thicksten, and Hal Petrie of Palomar Observatory, and supported by Merle Sweet, John Henning, and Steve Einer.

The Palomar adaptive optics instrument was built and continues to be supported by the Jet Propulsion Laboratory as part of a Caltech-JPL collaboration.

Support for the adaptive-optics research at Caltech's Palomar Observatory comes from the Gordon and Betty Moore Foundation, the Oschin Family Foundation, and the National Science Foundation Center for Adaptive Optics.