Spaceflight Now +





Premium video content for our Spaceflight Now Plus subscribers.

X-43A launch preview
NASA officials preview the third and final test launch of the X-43A hypersonic vehicle during this news conference from Dryden Flight Research Center. (29min 47sec file)
Play video

Deep Impact arrives
NASA's Deep Impact comet spacecraft arrives at the Astrotech Space Operations Facility near Kennedy Space Center to begin final launch preparations for blastoff December 30 aboard a Boeing Delta 2 rocket. (2min 53sec file)
Play video

Veterans Day
Aboard the International Space Station, commander Leroy Chiao offers his thoughts in this downlinked message in honor of Veterans Day.
Play video

Delta rocket lofts GPS
The Boeing Delta 2 rocket lifts off Saturday morning with the GPS 2R-13 satellite from pad 17B at Cape Canaveral, Florida.
Play video

Launch in full
This longer-length clip follows the Delta 2 rocket during its late-night ascent carrying the latest Global Positioning System satellite. (2min 25sec file)
Play video

Delta scrub
A red alarm triggers Friday morning's countdown to launch of Boeing's Delta 2 rocket carrying a GPS satellite to be scrubbed at Cape Canaveral, Florida. (1min 52sec file)
Play video

Swift preview
Mission scientists preview NASA's Swift gamma-ray burst detection satellite being readied for launch into Earth orbit. (39min 49sec file)
Play video

Voting from space
International Space Station Expedition 10 commander Leroy Chiao talks about the election and voting from orbit with CNN's Paula Zahn. (10min 20sec file)
Play video

Delta 4-Heavy preview
Preview what a Boeing Delta 4 rocket launch will be like with this animation package of a "Heavy" configuration vehicle. (1min 41sec file)
Play video

Cassini science update
Radar imagery of Saturn's moon Titan and other new data from the Cassini spacecraft is presented during this JPL news conference on Thursday. (54min 48sec file)
Play video

Post-flyby briefing
Scientists and mission officials discuss the initial pictures and data obtained during Cassini's flyby of Titan during this JPL news conference on Wednesday. (55min 18sec file)
Play video

First pictures
The first pictures taken by Cassini during this close encounter with Titan are received at the Jet Propulsion Laboratory to the delight of the mission's imaging leader. (2min 21sec file)
Play video

Become a subscriber
More video







Hubble tracks asteroid
SPACE TELESCOPE SCIENCE INSTITUTE NEWS RELEASE
Posted: November 11, 2004


While analyzing NASA Hubble Space Telescope images of the Sagittarius dwarf irregular galaxy (SagDIG), an international team of astronomers led by Simone Marchi, Yazan Momany, and Luigi Bedin were surprised to see the trail of a faint asteroid that had drifted across the field of view during the exposures. The trail is seen as a series of 13 reddish arcs on the right in this August 2003 Advanced Camera for Surveys image.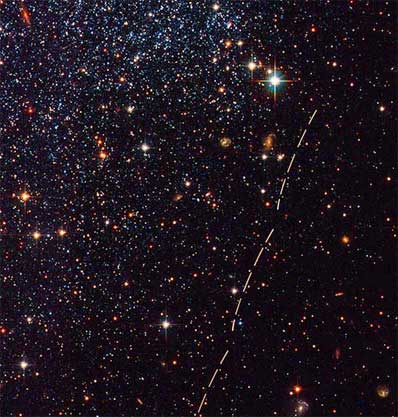 Credit: NASA, ESA and Y. Momany (University of Padua)
Download larger image version here



As the Hubble telescope orbits around the Earth, and the Earth moves around the Sun, a nearby asteroid in our solar system will appear to move with respect to the vastly more distant background stars, due to an effect called parallax. It is somewhat similar to the effect you see from a moving car, in which trees by the side of the road appear to be moving much more rapidly than background objects at much larger distances.

If the Hubble exposure were a continuous one, the asteroid trail would appear like a continuous wavy line. However, the exposure with Hubble's camera was actually broken up into more than a dozen separate exposures. After each exposure, the camera's shutter was closed while the image was transferred from the electronic detector into the camera's computer memory; this accounts for the many interruptions in the asteroid's trail.

Since the trajectory of the Hubble spacecraft around the Earth is known very accurately, it is possible to triangulate the distance to the asteroid in a manner similar to that used by terrestrial surveyors. It turns out to be a previously unknown asteroid, located 169 million miles from Earth at the time of observation.

The distance places the new object, most likely, in the main asteroid belt, lying between the orbits of Mars and Jupiter. Based on the observed brightness of the asteroid, the astronomers estimate that it has a diameter of about 1.5 miles.

The brightest stars in the picture (easily distinguished by the spikes radiating from their images, produced by optical effects within the telescope), are foreground stars lying within our own Milky Way galaxy. Their distances from Earth are typically a few thousand light-years. The faint, bluish SagDIG stars lie at about 3.5 million light-years (1.1 Megaparsecs) from us. Lastly, background galaxies (reddish/brown extended objects with spiral arms and halos) are located even further beyond SagDIG at several tens of millions parsecs away. There is thus a vast range of distances among the objects visible in this photo, ranging from about 169 million miles for the asteroid, up to many quadrillions of miles for the faint, small galaxies.

The team reported their science findings about the asteroid in the October 2004 issue of New Astronomy.

The Space Telescope Science Institute (STScI) is operated by the Association of Universities for Research in Astronomy, Inc. (AURA), for NASA, under contract with the Goddard Space Flight Center, Greenbelt, MD. The Hubble Space Telescope is a project of international cooperation between NASA and the European Space Agency (ESA).