Spaceflight Now +





Premium video content for our Spaceflight Now Plus subscribers.

ISS talk with students
The International Space Station crew holds an educational event to answers questions live with students at the Maryland Science Center. (24min 01sec file)
Play video

Genesis to Houston
The solar wind samples retrieved by NASA's Genesis spacecraft finally arrive at Johnson Space Center facilities from the Utah landing site. (2min 51sec file)
Play video

SpaceShipOne team chats with ISS
SpaceShipOne pilots and Burt Rutan call the International Space Station for an informal chat with Expedition 9 commander Gennady Padalka and flight engineer Mike Fincke the day after winning the X Prize. (13min 07sec file)
Play video

Gordon Cooper tribute
The flight of Gordon Cooper and Mercury's Faith 7 mission is remembered in this NASA tribute film. (20min 42sec file)
Play video

X Prize launch
SpaceShipOne with pilot Brian Binnie rocket into space on the second of two flights needed to win the $10 million X Prize. (2min 32sec file)
Play video

Monday's flight
This longer length clip of SpaceShipOne's second X Prize launch following the ascent, feathering of the wings and the start of re-entry. (5min 56sec file)
Play video

Safe landing
Brian Binnie, the world's second private astronaut, brings SpaceShipOne to a safe landing at Mojave airport to capture the X Prize. (5min 55sec file)
Play video

Launch of SpaceShipOne
Watch the hair-raising flight of SpaceShipOne during the first of two launches needed to win the $10 million X Prize. The craft experienced a major rolling motion and early engine shutdown. (3min 40sec file)
Play video

X-43A test
NASA's X-43A research craft and its Pegasus rocket booster complete a captive carry test flight aboard a B-52 launch aircraft. (1min 48sec file)
Play video

See the KSC damage
See damage to the Vehicle Assembly Building, the Saturn 5 Center and other facilities at Kennedy Space Center caused by Hurricane Jeanne. (4min 31sec file)
Play video

Cape damage report
Jim Kennedy, director of the Kennedy Space Center, and Col. Mark Owen, 45th Space Wing commander, hold a news conference on Monday, Sept. 27 to provide a preliminary report on damage from Hurricane Jeanne at KSC and Cape Canaveral Air Force Station. (49min 30sec file)
Play audio

Hurricane Jeanne
Cameras aboard the International Space Station captured these views of Hurricane Jeanne on Saturday, Sept. 25 as the storm approached Florida. (3min 59sec file)
Play video

Station news briefing
International Space Station program manager Bill Gerstenmaier holds a news conference Sept. 24 to discuss problems with the oxygen generation system and Expedition 10 launch preparations. (44min 06sec file)
Play audio

Galaxy clusters collide
Scientists describe a cosmic hurricane in this news conference from Sept. 23, explaining how two merging galaxy clusters churn high-pressure shock waves that leave thousands of galaxies strewn in the wake. (53min 24sec file)
Play audio

Station chat with kids
Expedition 9 commander Gennedy Padalka and flight engineer Mike Fincke talk about life aboard the International Space Station during an in-flight educational event with students at the Carnegie Science Center in Pittsburgh. (19min 00sec file)
Play video

ISS educational event
The International Space Station's Expedition 9 crew hold an educational talk with students and members of the National Guard Bureau in Charleston, West Virginia. (19min 53sec file)
Play video

Become a subscriber
More video





NewsAlert





Sign up for our NewsAlert service and have the latest news in astronomy and space e-mailed direct to your desktop.


Privacy note: your e-mail address will not be used for any other purpose.







Unraveling a 400-year-old supernova mystery
NASA NEWS RELEASE
Posted: October 6, 2004


Four hundred years ago, sky watchers, including the famous astronomer Johannes Kepler, best known as the discoverer of the laws of planetary motion, were startled by the sudden appearance of a "new star" in the western sky, rivaling the brilliance of the nearby planets.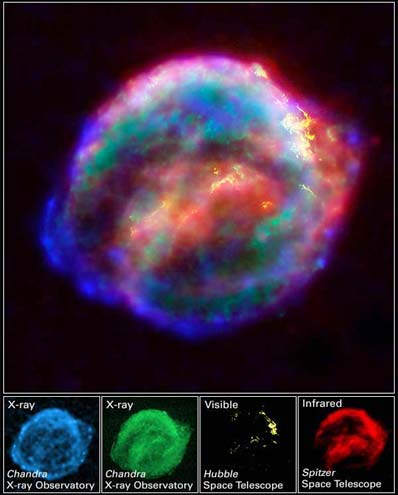 NASA's three Great Observatories ‹ the Hubble Space Telescope, the Spitzer Space Telescope, and the Chandra X-ray Observatory - joined forces to probe the expanding remains of a supernova, called Kepler's supernova remnant, first seen 400 years ago by sky watchers, including famous astronomer Johannes Kepler. Credit: NASA, ESA, R. Sankrit and W. Blair (Johns Hopkins University)
Download larger image version here



Modern astronomers, using NASA's three orbiting Great Observatories, are unraveling the mysteries of the expanding remains of Kepler's supernova, the last such object seen to explode in our Milky Way galaxy.

When a new star appeared Oct. 9, 1604, observers could use only their eyes to study it. The telescope would not be invented for another four years. A team of modern astronomers has the combined abilities of NASA's Great Observatories, the Spitzer Space Telescope, Hubble Space Telescope and Chandra X-ray Observatory, to analyze the remains in infrared radiation, visible light, and X-rays. Ravi Sankrit and William Blair of the Johns Hopkins University in Baltimore lead the team.

The combined image unveils a bubble-shaped shroud of gas and dust, 14 light-years wide and expanding at 6 million kilometers per hour (4 million mph). Observations from each telescope highlight distinct features of the supernova, a fast-moving shell of iron-rich material, surrounded by an expanding shock wave sweeping up interstellar gas and dust.

"Multi-wavelength studies are absolutely essential for putting together a complete picture of how supernova remnants evolve," Sankrit said. Sankrit is an associate research scientist, Center for Astrophysical Sciences at Hopkins and lead for Hubble astronomer observations.

"For instance, the infrared data are dominated by heated interstellar dust, while optical and X- ray observations sample different temperatures of gas," Blair added. Blair is a research professor, Physics and Astronomy Department at Hopkins and lead astronomer for Spitzer observations. "A range of observations is needed to help us understand the complex relationship that exists among the various components," Blair said.

The explosion of a star is a catastrophic event. The blast rips the star apart and unleashes a roughly spherical shock wave that expands outward at more than 35 million kilometers per hour (22 million mph) like an interstellar tsunami. The shock wave spreads out into surrounding space, sweeping up any tenuous interstellar gas and dust into an expanding shell. The stellar ejecta from the explosion initially trail behind the shock wave. It eventually catches up with the inner edge of the shell and is heated to X-ray temperatures.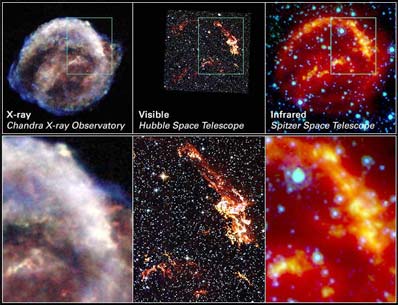 These images represent views of Kepler's supernova remnant taken in X-rays, visible light, and infrared radiation. Each top panel shows the entire remnant. Each color in this image represents a different region of the electromagnetic spectrum, from X-rays to infrared light. The X-ray and infrared data cannot be seen with the human eye. Astronomers have color-coded those data so they can be seen in these images. The bottom panels are close-up views of the remnant. Credit: NASA, ESA, R. Sankrit and W. Blair (Johns Hopkins University)
Download larger image version here



Visible-light images from Hubble's Advanced Camera for Surveys reveal where the supernova shock wave is slamming into the densest regions of surrounding gas. The bright glowing knots are dense clumps that form behind the shock wave. Sankrit and Blair compared their Hubble observations with those taken with ground-based telescopes to obtain a more accurate distance to the supernova remnant of about 13,000 light-years.

The astronomers used Spitzer to probe for material that radiates in infrared light, which shows heated microscopic dust particles that have been swept up by the supernova shock wave. Spitzer is sensitive enough to detect both the densest regions seen by Hubble and the entire expanding shock wave, a spherical cloud of material. Instruments on Spitzer also reveal information about the chemical composition and physical environment of the expanding clouds of gas and dust ejected into space. This dust is similar to dust which was part of the cloud of dust and gas that formed the Sun and planets in our solar system.

The Chandra X-ray data show regions of very hot gas. The hottest gas, higher-energy X-rays, is located primarily in the regions directly behind the shock front. These regions also show up in the Hubble observations and also align with the faint rim of material seen in the Spitzer data. Cooler X-ray gas, lower-energy X-rays, resides in a thick interior shell and marks the location of the material expelled from the exploded star.

There have been six known supernovas in our Milky Way over the past 1,000 years. Kepler's is the only one for which astronomers do not know what type of star exploded. By combining information from all three Great Observatories, astronomers may find the clues they need. "It's really a situation where the total is greater than the sum of the parts," Blair said. "When the analysis is complete, we will be able to answer several questions about this enigmatic object."