Spaceflight Now +





Premium video content for our Spaceflight Now Plus subscribers.

Launch of SpaceShipOne
Watch the hair-raising flight of SpaceShipOne during the first of two launches needed to win the $10 million X Prize. The craft experienced a major rolling motion and early engine shutdown. (3min 40sec file)
Play video

X-43A test
NASA's X-43A research craft and its Pegasus rocket booster complete a captive carry test flight aboard a B-52 launch aircraft. (1min 48sec file)
Play video

See the KSC damage
See damage to the Vehicle Assembly Building, the Saturn 5 Center and other facilities at Kennedy Space Center caused by Hurricane Jeanne. (4min 31sec file)
Play video

Cape damage report
Jim Kennedy, director of the Kennedy Space Center, and Col. Mark Owen, 45th Space Wing commander, hold a news conference on Monday, Sept. 27 to provide a preliminary report on damage from Hurricane Jeanne at KSC and Cape Canaveral Air Force Station. (49min 30sec file)
Play audio

Hurricane Jeanne
Cameras aboard the International Space Station captured these views of Hurricane Jeanne on Saturday, Sept. 25 as the storm approached Florida. (3min 59sec file)
Play video

Station news briefing
International Space Station program manager Bill Gerstenmaier holds a news conference Sept. 24 to discuss problems with the oxygen generation system and Expedition 10 launch preparations. (44min 06sec file)
Play audio

Galaxy clusters collide
Scientists describe a cosmic hurricane in this news conference from Sept. 23, explaining how two merging galaxy clusters churn high-pressure shock waves that leave thousands of galaxies strewn in the wake. (53min 24sec file)
Play audio

Station chat with kids
Expedition 9 commander Gennedy Padalka and flight engineer Mike Fincke talk about life aboard the International Space Station during an in-flight educational event with students at the Carnegie Science Center in Pittsburgh. (19min 00sec file)
Play video

ISS educational event
The International Space Station's Expedition 9 crew hold an educational talk with students and members of the National Guard Bureau in Charleston, West Virginia. (19min 53sec file)
Play video

Become a subscriber
More video





NewsAlert





Sign up for our NewsAlert service and have the latest news in astronomy and space e-mailed direct to your desktop.


Privacy note: your e-mail address will not be used for any other purpose.







Genesis samples 'looking very, very good'
NASA/JPL NEWS RELEASE
Posted: October 2, 2004


The Genesis team is preparing to ship its samples of the Sun from the mission's temporary cleanroom at the U.S. Army Proving Ground, Dugway, Utah, to NASA's Johnson Space Center, Houston.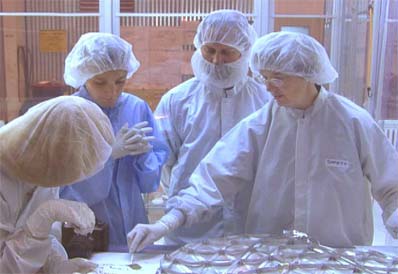 Dr. Eileen Stansbery and other members of the Genesis cleanroom team look at recovered samples. Credit: NASA/JPL



"We have essentially completed the recovery and documentation process and now are in the business of preparing everything for transport," said Eileen Stansbery, Johnson Space Center assistant director of astromaterials research and exploration science. "We still have a way to go before we can quantify our recovery of the solar sample. I can tell you we have come a long way from September 8, and things are looking very, very good."

A major milestone in the process was the recovery of the Genesis mission's four separate segments of the concentrator target. Designed to measure the isotopic ratios of oxygen and nitrogen, the segments contain within their structure the samples that are the mission's most important science goal.

"Retrieving the concentrator target was our number one priority," Stansbery said. "When I first saw three of the four target segments were intact, and the fourth was mostly intact, my heart leapt. Inside those segments are three years of the solar samples, which to the scientific community, means eons worth of history of the birth of our solar system. I saw those, and I knew we had just overcome a major hurdle."

Other milestones in the recovery process included the discovery that the gold foil collector was undamaged and in excellent condition. The gold foil, which is expected to contain almost a million billion atoms of solar wind, was considered the number two priority for science recovery. The polished aluminum collector was misshapen by the impact. However, it is intact and expected to also yield secrets about the Sun. Another occurred when the cleanroom team disassembled the collector arrays. They revealed, among large amounts of useable array material, some almost whole sapphire and coated sapphire collectors and a metallic glass collector.

Packing solar samples for transport is a little different than packing a house-worth of belongings for a cross-country move. After the meticulous process of inspection and documentation, each segment of collector gets its own ID number, photograph and carrying case. The samples and shipping containers fill the space of about two full size refrigerators. The Genesis material will probably move to the Johnson Space Center within the next week.

"If you had told me September 8 that we would be ready to move Genesis samples to Houston within the month I would have replied, 'no way,'" said Genesis Project Manager Don Sweetnam of NASA's Jet Propulsion Laboratory, Pasadena, Calif. "But here we are, with an opportunity to fulfill our major science objectives. It is a great day for Genesis, and I expect many more to come."