Spaceflight Now +





Premium video content for our Spaceflight Now Plus subscribers.

Friday's Genesis update
On Friday, Sept. 10, officials hold a news conference from Utah to update reporters on the recovery operations to salvage the Genesis sample return mission. (44min 47sec file)
Play audio

Genesis recovered
Workers recover the Genesis solar wind samples from the impact crater and take the equipment into a facility for examination. (2min 08sec file)
Play video

Tour of KSC hurricane damage
Martin Wilson, manager of the Thermal Protection System Facility, gives a tour of the highly damaged building at Kennedy Space Center in the wake of Hurricane Frances. (2min 31sec file)
Play video

Inside the VAB
Go inside Kennedy Space Center's hurricane-battered Vehicle Assembly Building and also see the damage to the 52-story tall facility's roof. (2min 51sec file)
Play video

Post-impact news briefing
Officials hold a post-landing news conference in Utah a couple hours after Genesis returned to Earth on Sept. 8. (40min 52sec file)
Play video

Capsule first spotted
Powerful tracking cameras spot the Genesis capsule for the first time a couple hundred thousand feet above Earth, prompting applause in the control centers. But just moments later, that joy turned to heartbreak. (1min 02sec file)
Play video

Genesis crash lands
The Genesis sample return capsule tumbles through the sky and impacts the desert floor in Utah after its speed-slowing chute and parafoil failed to deploy for a mid-air recovery by a helicopter. (2min 29sec file)
Play video

Slow-motion
This slow-motion video shows the Genesis capsule slamming into the ground. (1min 06sec file)
Play video

Aerial views of crater
Aerial views show the Genesis capsule half buried in the Utah desert floor after its landing system suffered a failure. (1min 53sec file)
Play video

Recovery helicopters
The primary and backup recovery helicopters take off with escort from a Blackhawk in preparation for the mid-air retrieval of Genesis. (1min 01sec file)
Play video

The original plan
Animation shows how the Genesis spacecraft was supposed to return. Expert narration provided by JPL entry, descent and landing expert Rob Manning. (5min 29sec file)
Play video

Tuesday's hurricane news briefing
The Kennedy Space Center director and 45th Space Wing commander from Cape Canaveral Air Force Station hold a news conference Tuesday to describe damage from Hurricane Frances. (46min 15sec file)
Play audio

Footage of KSC damage
This movie takes you on a tour of hurricane damage to Kennedy Space Center's Vehicle Assembly Building, shuttle tile manufacturing facility and press site. (3min 11sec file)
Play video

Become a subscriber
More video





NewsAlert





Sign up for our NewsAlert service and have the latest news in astronomy and space e-mailed direct to your desktop.


Privacy note: your e-mail address will not be used for any other purpose.







Airborne observatory sees stars for first time
NASA NEWS RELEASE
Posted: September 12, 2004


For the first time, scientists have peered at the stars using the newly installed telescope aboard NASA's Stratospheric Observatory for Infrared Astronomy (SOFIA), the largest airborne observatory in the world.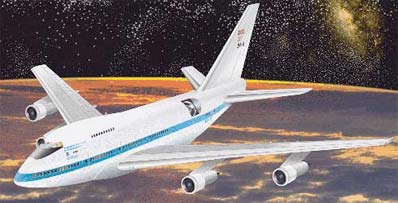 An artist's concept of SOFIA. Credit: NASA



During the night of Aug. 18-19 in its first 'on-sky test,' the telescope was pointed at the star Polaris. A crisp white dot appeared on astronomers' computer screens inside the aircraft, demonstrating that the telescope's basic optical, mechanical and software systems all are functioning properly.

"This is an important milestone from an engineering perspective, because all the telescope subsystems have been integrated on the aircraft for the first time, and it substantiates all the engineering design and interface work performed on both sides of the Atlantic," said Kaiser Adeni of NASA Ames Research Center and NASA's deputy chief engineer for the SOFIA Project.

"Our first look at a star shows that the most basic requirements for observing with SOFIA have been met," said Dr. Ted Dunham, an instrument scientist at the Lowell Observatory, Flagstaff, Ariz., and principal investigator for SOFIA's High-speed Imaging Photometer for Occultations (HIPO) team.

While it was not designed to conduct any airborne science observations, the test did provide a team of SOFIA scientists and engineers on the ground with an opportunity to calibrate the telescope and the newly installed HIPO, the first scientific instrument aboard SOFIA. Scientists plan to conduct ground-based observations of the sky aboard SOFIA for the next three weeks.

"This is more than a fantastic milestone for the observatory," said Dr. Eric Becklin, chief scientist for SOFIA's prime contractor, Universities Space Research Association (USRA), Columbia, Md. "It also demonstrates the ability and teamwork of all the major participants in the project."

Flying at altitudes above 40,000 feet, SOFIA will help astronomers learn more about the birth of stars, the formation of solar systems, the origin of complex molecules in space, the nature and evolution of comets, how galaxies change with time and even the nature of the mysterious black holes lying at the centers of some galaxies, including our own. Prior to the 'first look,' a team composed of scientists and engineers from NASA Ames, USRA; L-3 Communications Integrated Systems, Waco, Texas; and Lowell Observatory completed installation of HIPO on SOFIA's complex telescope assembly.

Scientists use HIPO to provide high-speed, time-resolved imaging photometry at two optical wavelengths. HIPO has a flexible optical system and numerous readout modes, which allow many specialized observations to be made. The primary function of HIPO is to observe stellar occultations. During a stellar occultation, a star serves as a small probe of the atmospheric structure of a solar system object, or the surface density structure of a planetary ring or comet.

During observations over the next few weeks, the integration team hopes to calibrate SOFIA's telescope subsystems using HIPO and see if there are any distortions in the airborne observatory's telescope.

"Installation of HIPO is the final building block in the functional integration process that has taken approximately five months," Adeni said. "Now, over the next few weeks, we need to characterize the behavior and performance of the telescope and make sure everything is working the way it is supposed to."

NASA awarded a $484.2 million contract to USRA in December 1996 to acquire, develop and operate SOFIA. Other team members include L-3 Communications Integrated Systems; Evergreen Airlines; the University of California, Los Angeles, Berkeley and Santa Cruz, Calif.; the Astronomical Society of the Pacific, San Francisco; and the SETI Institute, Mountain View, Calif.

SOFIA's telescope assembly, a 98.4-inch (2.5 meter) aperture-diameter telescope, was developed by DLR, the German Aerospace Center, located in Bonn. MAN Technologies AG, Mainz and Augsburg, Germany, built the telescope. Its optics and tracking system were supplied by Kayser-Threde Corp., Munich, Germany. Several other sub-contractors located in Europe also helped fabricate the complex telescope. The telescope assembly was delivered to L-3 Communications in September 2002. SOFIA will be based at NASA Ames Research Center in California's Silicon Valley. Scientific management of the observatory operations will be conducted for NASA by USRA. Evergreen Airlines will be responsible for maintenance and flight operations.