Spaceflight Now +





Premium video content for our Spaceflight Now Plus subscribers.

Genesis recovered
Workers recover the Genesis solar wind samples from the impact crater and take the equipment into a facility for examination. (2min 08sec file)
Play video

Tour of KSC hurricane damage
Martin Wilson, manager of the Thermal Protection System Facility, gives a tour of the highly damaged building at Kennedy Space Center in the wake of Hurricane Frances. (2min 31sec file)
Play video

Inside the VAB
Go inside Kennedy Space Center's hurricane-battered Vehicle Assembly Building and also see the damage to the 52-story tall facility's roof. (2min 51sec file)
Play video

Post-impact news briefing
Officials hold a post-landing news conference in Utah a couple hours after Genesis returned to Earth on Sept. 8. (40min 52sec file)
Play video

Capsule first spotted
Powerful tracking cameras spot the Genesis capsule for the first time a couple hundred thousand feet above Earth, prompting applause in the control centers. But just moments later, that joy turned to heartbreak. (1min 02sec file)
Play video

Genesis crash lands
The Genesis sample return capsule tumbles through the sky and impacts the desert floor in Utah after its speed-slowing chute and parafoil failed to deploy for a mid-air recovery by a helicopter. (2min 29sec file)
Play video

Slow-motion
This slow-motion video shows the Genesis capsule slamming into the ground. (1min 06sec file)
Play video

Aerial views of crater
Aerial views show the Genesis capsule half buried in the Utah desert floor after its landing system suffered a failure. (1min 53sec file)
Play video

Recovery helicopters
The primary and backup recovery helicopters take off with escort from a Blackhawk in preparation for the mid-air retrieval of Genesis. (1min 01sec file)
Play video

The original plan
Animation shows how the Genesis spacecraft was supposed to return. Expert narration provided by JPL entry, descent and landing expert Rob Manning. (5min 29sec file)
Play video

Tuesday's hurricane news briefing
The Kennedy Space Center director and 45th Space Wing commander from Cape Canaveral Air Force Station hold a news conference Tuesday to describe damage from Hurricane Frances. (46min 15sec file)
Play audio

Footage of KSC damage
This movie takes you on a tour of hurricane damage to Kennedy Space Center's Vehicle Assembly Building, shuttle tile manufacturing facility and press site. (3min 11sec file)
Play video

Become a subscriber
More video





NewsAlert





Sign up for our NewsAlert service and have the latest news in astronomy and space e-mailed direct to your desktop.


Privacy note: your e-mail address will not be used for any other purpose.







Dying star creates fantasy-like sculpture of gas and dust
SPACE TELESCOPE SCIENCE INSTITUTE NEWS RELEASE
Posted: September 11, 2004


In this detailed view from NASA's Hubble Space Telescope, the so-called Cat's Eye Nebula looks like the penetrating eye of the disembodied sorcerer Sauron from the film adaptation of "The Lord of the Rings."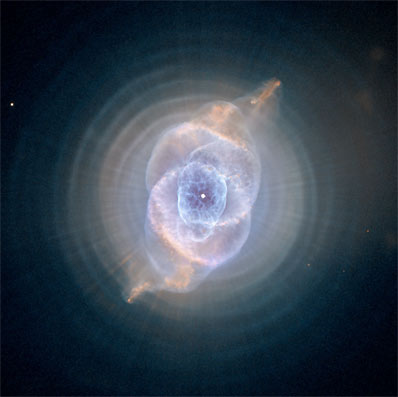 Credit: NASA, ESA, HEIC, and The Hubble Heritage Team (STScI/AURA)
Download larger image version here



The nebula, formally cataloged NGC 6543, is every bit as inscrutable as the J.R.R. Tolkien phantom character. Though the Cat's Eye Nebula was one of the first planetary nebula to be discovered, it is one of the most complex such nebulae seen in space. A planetary nebula forms when Sun-like stars gently eject their outer gaseous layers that form bright nebulae with amazing and confounding shapes.

In 1994, Hubble first revealed NGC 6543's surprisingly intricate structures, including concentric gas shells, jets of high-speed gas, and unusual shock-induced knots of gas.

As if the Cat's Eye itself isn't spectacular enough, this new image taken with Hubble's Advanced Camera for Surveys (ACS) reveals the full beauty of a bull's eye pattern of eleven or even more concentric rings, or shells, around the Cat's Eye. Each 'ring' is actually the edge of a spherical bubble seen projected onto the sky -- that's why it appears bright along its outer edge.

Observations suggest the star ejected its mass in a series of pulses at 1,500-year intervals. These convulsions created dust shells, each of which contain as much mass as all of the planets in our solar system combined (still only one percent of the Sun's mass). These concentric shells make a layered, onion-skin structure around the dying star. The view from Hubble is like seeing an onion cut in half, where each skin layer is discernible.

Until recently, it was thought that such shells around planetary nebulae were a rare phenomenon. However, Romano Corradi (Isaac Newton Group of Telescopes, Spain) and collaborators, in a paper published in the European journal Astronomy and Astrophysics in April 2004, have instead shown that the formation of these rings is likely to be the rule rather than the exception.

The bull's-eye patterns seen around planetary nebulae come as a surprise to astronomers because they had no expectation that episodes of mass loss at the end of stellar lives would repeat every 1,500 years. Several explanations have been proposed, including cycles of magnetic activity somewhat similar to our own Sun's sunspot cycle, the action of companion stars orbiting around the dying star, and stellar pulsations. Another school of thought is that the material is ejected smoothly from the star, and the rings are created later on due to formation of waves in the outflowing material. It will take further observations and more theoretical studies to decide between these and other possible explanations.

Approximately 1,000 years ago the pattern of mass loss suddenly changed, and the Cat's Eye Nebula started forming inside the dusty shells. It has been expanding ever since, as discernible in comparing Hubble images taken in 1994, 1997, 2000, and 2002. The puzzle is what caused this dramatic change? Many aspects of the process that leads a star to lose its gaseous envelope are still poorly known, and the study of planetary nebulae is one of the few ways to recover information about these last few thousand years in the life of a Sun-like star.

The Space Telescope Science Institute (STScI) is operated by the Association of Universities for Research in Astronomy, Inc. (AURA), for NASA, under contract with the Goddard Space Flight Center, Greenbelt, MD. The Hubble Space Telescope is a project of international cooperation between NASA and the European Space Agency (ESA).