Spaceflight Now +





Premium video content for our Spaceflight Now Plus subscribers.

Post-impact news briefing
Officials hold a post-landing news conference in Utah a couple hours after Genesis returned to Earth on Sept. 8. (40min 52sec file)
Play video

Capsule first spotted
Powerful tracking cameras spot the Genesis capsule for the first time a couple hundred thousand feet above Earth, prompting applause in the control centers. But just moments later, that joy turned to heartbreak. (1min 02sec file)
Play video

Genesis crash lands
The Genesis sample return capsule tumbles through the sky and impacts the desert floor in Utah after its speed-slowing chute and parafoil failed to deploy for a mid-air recovery by a helicopter. (2min 29sec file)
Play video

Slow-motion
This slow-motion video shows the Genesis capsule slamming into the ground. (1min 06sec file)
Play video

Aerial views of crater
Aerial views show the Genesis capsule half buried in the Utah desert floor after its landing system suffered a failure. (1min 53sec file)
Play video

Recovery helicopters
The primary and backup recovery helicopters take off with escort from a Blackhawk in preparation for the mid-air retrieval of Genesis. (1min 01sec file)
Play video

The original plan
Animation shows how the Genesis spacecraft was supposed to return. Expert narration provided by JPL entry, descent and landing expert Rob Manning. (5min 29sec file)
Play video

Tuesday's hurricane news briefing
The Kennedy Space Center director and 45th Space Wing commander from Cape Canaveral Air Force Station hold a news conference Tuesday to describe damage from Hurricane Frances. (46min 15sec file)
Play audio

Footage of KSC damage
This movie takes you on a tour of hurricane damage to Kennedy Space Center's Vehicle Assembly Building, shuttle tile manufacturing facility and press site. (3min 11sec file)
Play video

Become a subscriber
More video





NewsAlert





Sign up for our NewsAlert service and have the latest news in astronomy and space e-mailed direct to your desktop.


Privacy note: your e-mail address will not be used for any other purpose.







Galactic collision reveals fate of our Milky Way
HARVARD-SMITHSONIAN CENTER FOR ASTROPHYSICS NEWS RELEASE
Posted: September 8, 2004


NASA's Spitzer Space Telescope has set its infrared sight on a major galactic collision and witnessed the future of our own Milky Way galaxy. Sixty-eight million light-years away, the Antennae galaxies are locked in a dance of death, with stars being ripped from their orbits and spiral arms being shredded into streamers that dangle in space. Several billion years from now, our home might look the same as the Andromeda galaxy smashes into the Milky Way like a bulldozer through a condemned building.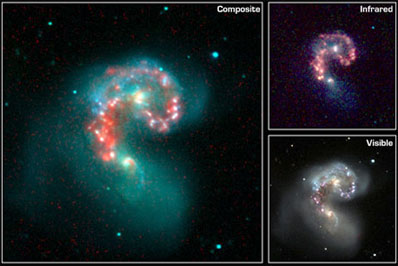 This false-color image from NASA's Spitzer Space Telescope reveals hidden populations of newborn stars at the heart of the colliding "Antennae" galaxies. The main image is a false-color composite of infrared data (red) from Spitzer and visible-light data (blue, green) from Kitt Peak National Observatory, Tucson, Ariz. The upper right panel shows the Spitzer image by itself, using infrared light. The lower right panel shows the true-color, visible-light image by itself. Composite image credit: NASA/JPL-Caltech/Harvard-Smithsonian CfA/NOAO/AURA; Spitzer image credit: NASA/JPL-Caltech/Harvard-Smithsonian CfA; Visible-light image credit: Mary Jo Rushing and Jim Lawler/Adam Block/NOAO/AURA/NSF
Download larger image version here



Yet this distant galactic collision we see today is not yielding death, but creating new life. With its heat-seeking eyes, Spitzer was able to see past the dark storm of dust that blankets the heart of the merging Antennae galaxies to a hidden population of new stars emerging inside.

"This more complete picture of star formation in the Antennae will help us better understand the evolution of colliding galaxies, and the eventual fate of our own," said Dr. Giovanni Fazio, a co-author of the research and an astronomer at the Harvard-Smithsonian Center for Astrophysics (CfA). Fazio is principal investigator for the Infrared Array Camera on Spitzer, which captured the new Antennae image.

In the latest Antennae galaxies study, Spitzer found a new generation of stars at the site where the two galaxies clash.

"We theorized that there were stars forming at that site, but we weren't sure to what degree," said Dr. Zhong Wang, lead author of the new paper and a CfA astronomer. "Now we see that the majority of star-forming activity in both galaxies occurs in the overlap regions where the two meet."

The Antennae galaxies are a classic example of a galactic merger in action. These two spiral galaxies, located 68 million light-years away, began falling into each other around a common center of gravity about 800 million years ago. As they continue to crash together, clouds of gas are shocked and compressed in a process thought to trigger the birth of new stars. Astronomers believe that the two galaxies will ultimately merge into one spheroidal-shaped galaxy, leaving only hints of their varied pasts.

Galactic mergers are common throughout the universe and play a key role in determining how galaxies grow and evolve. Our own Milky Way galaxy, for example, will eventually collide with our closest neighbor, the Andromeda galaxy.

Previous images of the Antennae taken by visible-light telescopes show striking views of the swirling duo, with bright pockets of young stars dotting the spiral arms. At the center of the galaxies, however, where the two overlap, only a dark cloud of dust can be seen. In the new false-color Spitzer image, which has been combined with an image from a ground-based, visible-light telescope to highlight new features, this cloud of buried stars appears bright red. Visible data, on the other hand, is colored blue and indicates regions containing older stars. The nuclei, or centers, of the two galaxies are white.

The new Spitzer image is reported in one of 86 Spitzer papers published in the September issue of The Astrophysical Journal Supplement. This special all-Spitzer issue comes just after the one-year anniversary of the observatory's launch, and testifies to its tremendously successful first year in space.

"This abundance of Spitzer papers just one year after launch shows that the telescope is truly providing a new window on the universe," said Dr. Michael Werner, project scientist for Spitzer at NASA's Jet Propulsion Laboratory, Pasadena, Calif. "These papers report the earliest results, so the best is yet to come."

This release is being issued in conjunction with NASA's Jet Propulsion Laboratory (JPL). JPL manages the Spitzer Space Telescope mission for NASA's Science Mission Directorate, Washington, D.C. Science operations are conducted at the Spitzer Science Center at the California Institute of Technology in Pasadena. JPL is a division of Caltech. Spitzer's Infrared Array Camera was built by NASA Goddard Space Flight Center, Greenbelt, Md.

Headquartered in Cambridge, Mass., the Harvard-Smithsonian Center for Astrophysics (CfA) is a joint collaboration between the Smithsonian Astrophysical Observatory and the Harvard College Observatory. CfA scientists, organized into six research divisions, study the origin, evolution and ultimate fate of the universe.