Spaceflight Now +





Premium video content for our Spaceflight Now Plus subscribers.

Shuttle engine tested
One of the three liquid-fueled main engines that will power Discovery into orbit during the space shuttle return-to-flight mission is test-fired at Stennis Space Center. (2min 57sec file)
Play video

Delta 4-Heavy preview
Preview what a Boeing Delta 4 rocket launch will be like with this animation package of a "Heavy" configuration vehicle. (1min 41sec file)
Play video

Rover's stuck RAT
A problem with the Opportunity rover's Rock Abrasion Tool is explained in detailed by JPL mission manager Chris Salvo. (4min 14sec file)
Play video

New water clues
Spirit's examination of rock outcropping at Gusev Crater has yielded new clues about the history of water there, as explained by Doug Ming, a rover science team member from Johnson Space Center. (5min 59sec file)
Play video

Spirit on a hill
A stunning new picture from the Mars rover Spirit taken from the hillside shows the sweeping plains of Gusev and the crater's rim on the distant horizon. Expert narration is provided by Steve Squyres, the rover lead scientist. (1min 22sec file)
Play video

Update on Opportunity
Steve Squyres, the rover lead scientist, descibes Opportunity's ongoing work inside Endurance Crater and narrates new pictures that includes clouds moving across the Martian sky. (5min 50sec file)
Play video

Latest Mars briefing
Scientists and mission officials explain the latest findings and exploration by the Spirit and Opportunity rovers during this news conference on August 18. (49min 40sec file)
Play video

Ship docks to station
The Russian Progress 15P resupply ship makes a fully automated rendezvous and docking with the International Space Station. An external camera on the craft provides this view of the final approach to the aft port of the Zvezda service module. (3min 49sec file)
Play video

Become a subscriber
More video





NewsAlert





Sign up for our NewsAlert service and have the latest news in astronomy and space e-mailed direct to your desktop.


Privacy note: your e-mail address will not be used for any other purpose.







A galaxy's fatal plunge
CHANDRA PHOTO RELEASE
Posted: August 22, 2004


These images offer a dramatic look at C153, a galaxy being ripped apart as it races at 4.5 million miles per hour through a distant cluster of galaxies. The infalling galaxy's gas is being stripped by the pressure of 20-million-degree Celsius gas that permeates the cluster.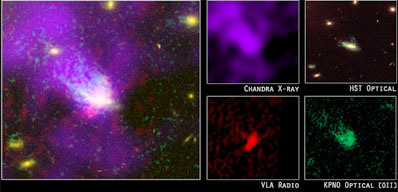 Credit: X-ray: NASA/CXC/SAO/UMass/D. Wang et al. Optical: NASA/STScI/U. Alabama/W. Keel Radio: NRAO/ F. Owen Optical (OII): Gemini Obs./M. Ledlow



At left is a composite image made by combining the four images at right, taken in X-ray, radio, and visible wavelengths as well as the visible, green light emitted by oxygen ions. Long comet-like streamers of gas can be seen flowing from the galaxy as it travels through the cluster called Abell 2125. The images span about one million light years.

The Chandra X-ray image shows a tail of hot gas extending from C153. The temperature of the gas tail is about 10 million degrees Celsius, cooler than the surrounding cluster gas. This temperature difference is further evidence that gas is being stripped from the galaxy. The image taken in visible light from glowing oxygen ions shows a similar tail forming as gas with a temperature of about 10,000 degrees Celsius is pulled from the galaxy.

Hubble's broad band visible-light image reveals intricate detail in the distribution of stars and dust within C153. The galaxy exhibits evidence of a large-scale disturbance that has left its star-forming regions concentrated to one side of its disk and beyond. Dust features are twisted into chaotic patterns, obscuring any spiral pattern the galaxy once had.

Radio observations depict high-energy particles as they spiral through the galaxy's magnetic field, with some escaping in a perpendicular direction to the galaxy's disk. The high-energy particles probably came from a supermassive black hole.