Spaceflight Now +





Premium video content for our Spaceflight Now Plus subscribers.

Hurricane Charley
A camera aboard the International Space Station captured this stunning view of the strengthening Hurricane Charley on the morning of August 12. (1min 32sec file)
Play video

Tropical Storm Bonnie
As Tropical Storm Bonnie comes ashore in the Florida panhandle on the morning of August 12, the International Space Station provides this view as it the orbiting outpost flies overhead. (1min 40sec file)
Play video

Reentry seen from space
An incredibly rare sight was captured by the International Space Station cameras when the discarded Progress 14P supply ship reentered Earth's atmosphere. The craft burned up during the fiery plunge, which is visible as a long streak below the station. (3min 49sec file)
Play video

Earth as backdrop
Spectacular video of the departing Progress 14P cargo ship against the Earth backdrop is captured by the station's crew. (1min 34sec file)
Play video

Progress undocking
The Russian Progress 14P cargo ship undocks from the International Space Station after delivering its load of supplies and fuel to the orbiting outpost. A camera mounted on the craft's nose provides this view of the Progress departing the aft port of the Zvezda service module. (2min 15sec file)
Play video

Proton lofts Amazonas
A Russian Proton M rocket launches from Baikonur Cosmodrome carrying the Amazonas communications satellite that will serve the Americas and Europe. (2min 25sec file)
Play video

Proton preview
This narrated animation profiles the mission of a Proton rocket launching the Amazonas communications satellite. (2min 27sec file)
Play video

Rocket rollout
The fully assembled Proton rocket is rolled to launch pad for its flight to place the Amazonas spacecraft into orbit. (41sec file)
Play video

MESSENGER lifts off
The Boeing Delta 2-Heavy rocket launches at 2:16 a.m. EDT carrying the NASA's MESSENGER space probe from Cape Canaveral, Florida. (5min 23sec file)
Play video

Cocoa Beach view
The Cocoa Beach tracking camera site captured this beautiful view of the launch and separation of the ground-ignited solid rocket boosters. (1min 31sec file)
Play video

Next station crew
Expedition 10 Commander and NASA ISS Science Officer Leroy Chiao and Soyuz Commander and Flight Engineer Salizhan Sharipov discuss their planned six-month mission on the space station. (11min 23sec file)
Play video

Become a subscriber
More video





NewsAlert





Sign up for our NewsAlert service and have the latest news in astronomy and space e-mailed direct to your desktop.


Privacy note: your e-mail address will not be used for any other purpose.







Hubble peers inside a 'celestial geode'
SPACE TELESCOPE SCIENCE INSTITUTE RELEASE
Posted: August 12, 2004


In this unusual image, NASA's Hubble Space Telescope captures a rare view of the celestial equivalent of a geode -- a gas cavity carved by the stellar wind and intense ultraviolet radiation from a hot young star.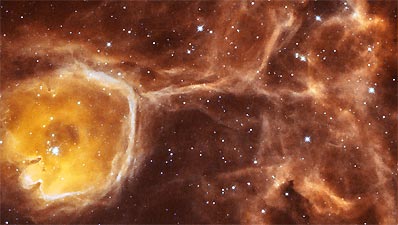 Credit: NASA, ESA, Y. Naze (University of Liege, Belgium) and Y.-H. Chu (University of Illinois, Urbana)
Download a larger version of image here



Real geodes are baseball-sized, hollow rocks that start out as bubbles in volcanic or sedimentary rock. Only when these inconspicuous round rocks are split in half by a geologist, do we get a chance to appreciate the inside of the rock cavity that is lined with crystals. In the case of Hubble's 35 light-year diameter "celestial geode" the transparency of its bubble-like cavity of interstellar gas and dust reveals the treasures of its interior.

The object, called N44F, is being inflated by a torrent of fast-moving particles (called a "stellar wind") from an exceptionally hot star once buried inside a cold dense cloud. Compared with our Sun (which is losing mass through the so-called "solar wind"), the central star in N44F is ejecting more than a 100 million times more mass per second. The hurricane of particles moves much faster at about 4 million miles per hour (7 million kilometers per hour), as opposed to about 0.9 million miles per hour (1.5 million kilometers per hour) for our Sun. Because the bright central star does not exist in empty space but is surrounded by an envelope of gas, the stellar wind collides with this gas, pushing it out, like a snowplow. This forms a bubble, whose striking structure is clearly visible in the crisp Hubble image.

The nebula N44F is one of a handful of known interstellar bubbles. Bubbles like these have been seen around evolved massive stars (so-called Wolf-Rayet stars) and also around clusters of stars (where they are called "super-bubbles"). But they have rarely been viewed around isolated stars, as is the case here.

On closer inspection N44F harbors additional surprises. The interior wall of its gaseous cavity is lined with several four- to eight-light-year-high finger-like columns of cool dust and gas. (The structure of these "columns" is similar to the Eagle Nebula's iconic "pillars of creation" photographed by Hubble a decade ago, and is seen in a few other nebulae as well). The fingers are created by a blistering ultraviolet radiation from the central star. Like windsocks caught in a gale, they point in the direction of the energy flow. These pillars look small in this image only because they are much farther away from us than the Eagle Nebulaís pillars.

N44F is located about 160,000 light-years in our neighboring dwarf galaxy the Large Magellanic Cloud, in the direction of the southern constellation Dorado. N44F is part of the larger N44 complex, which is a large super-bubble, blown out by the combined action of stellar winds and multiple supernova explosions. N44 itself is roughly 1,000 light-years across. Several compact star-forming regions, including N44F, are found along the rim of the central super-bubble.

This image was taken with Hubble's Wide Field Planetary Camera 2 in March 2002, using filters that isolate light emitted by sulfur (shown in blue, a 1,200-second exposure) and hydrogen gas (shown in red, a 1,000-second exposure).

The Space Telescope Science Institute (STScI) is operated by the Association of Universities for Research in Astronomy, Inc. (AURA), for NASA, under contract with the Goddard Space Flight Center, Greenbelt, MD. The Hubble Space Telescope is a project of international cooperation between NASA and the European Space Agency (ESA).