Spaceflight Now +





Premium video content for our Spaceflight Now Plus subscribers.

Proton lofts Amazonas
A Russian Proton M rocket launches from Baikonur Cosmodrome carrying the Amazonas communications satellite that will serve the Americas and Europe. (2min 25sec file)
Play video

Proton preview
This narrated animation profiles the mission of a Proton rocket launching the Amazonas communications satellite. (2min 27sec file)
Play video

Rocket rollout
The fully assembled Proton rocket is rolled to launch pad for its flight to place the Amazonas spacecraft into orbit. (41sec file)
Play video

MESSENGER lifts off
The Boeing Delta 2-Heavy rocket launches at 2:16 a.m. EDT carrying the NASA's MESSENGER space probe from Cape Canaveral, Florida. (5min 23sec file)
Play video

Cocoa Beach view
The Cocoa Beach tracking camera site captured this beautiful view of the launch and separation of the ground-ignited solid rocket boosters. (1min 31sec file)
Play video

Next station crew
Expedition 10 Commander and NASA ISS Science Officer Leroy Chiao and Soyuz Commander and Flight Engineer Salizhan Sharipov discuss their planned six-month mission on the space station. (11min 23sec file)
Play video

Become a subscriber
More video





NewsAlert





Sign up for our NewsAlert service and have the latest news in astronomy and space e-mailed direct to your desktop.


Privacy note: your e-mail address will not be used for any other purpose.







MESSENGER's checkout time
JHU-APL MISSION REPORT
Posted: August 10, 2004


With a successful launch behind them and a long cruise ahead, MESSENGER mission operators are checking out the systems on the Mercury-bound spacecraft.

"MESSENGER is in great shape and well on its way," says Mission Operations Manager Mark Holdridge, of the Johns Hopkins University Applied Physics Laboratory, which built and operates MESSENGER.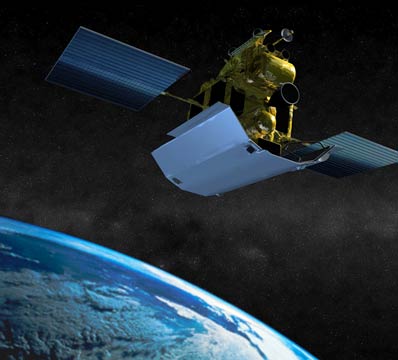 Artist's impression shows MESSENGER departing Earth. Credit: NASA/Johns Hopkins University Applied Physics Laboratory/Carnegie Institution of Washington



Since liftoff on August 3 the operations team has checked out MESSENGER's communications system, getting strong signals from its high-, medium- and low-gain antennas through NASA's Deep Space Network. It will check the guidance and control system this week before moving on to some of the spacecraft's science instruments. The team also continues to monitor power and temperature levels on the spacecraft, now more than 1.5 million miles from Earth.

MESSENGER is tentatively scheduled to carry out its first trajectory correction maneuver on Aug. 24, firing its small thrusters to adjust the course that will bring it back to Earth for a gravity-assist flyby next summer.

"We're going to take as long as we need to make sure every system works the way it's supposed to," Holdridge says. "Now that we've launched, we have time on our side."

MESSENGER (MErcury Surface, Space ENvironment, GEochemistry, and Ranging) is a scientific investigation of the planet Mercury, and the first NASA mission designed to orbit the planet closest to the Sun. Dr. Sean C. Solomon, of the Carnegie Institution of Washington, leads the mission as principal investigator. The Johns Hopkins University Applied Physics Laboratory in Laurel, Maryland, built and will operate the MESSENGER spacecraft and manages the Discovery-class mission for NASA.