Spaceflight Now +





Premium video content for our Spaceflight Now Plus subscribers.

Proton lofts Amazonas
A Russian Proton M rocket launches from Baikonur Cosmodrome carrying the Amazonas communications satellite that will serve the Americas and Europe. (2min 25sec file)
Play video

MESSENGER lifts off
The Boeing Delta 2-Heavy rocket launches at 2:16 a.m. EDT carrying the NASA's MESSENGER space probe from Cape Canaveral, Florida. (5min 23sec file)
Play video

Cocoa Beach view
The Cocoa Beach tracking camera site captured this beautiful view of the launch and separation of the ground-ignited solid rocket boosters. (1min 31sec file)
Play video

Become a subscriber
More video





NewsAlert





Sign up for our NewsAlert service and have the latest news in astronomy and space e-mailed direct to your desktop.


Privacy note: your e-mail address will not be used for any other purpose.







Colliding high-speed winds light up cluster
CHANDRA PHOTO RELEASE
Posted: August 7, 2004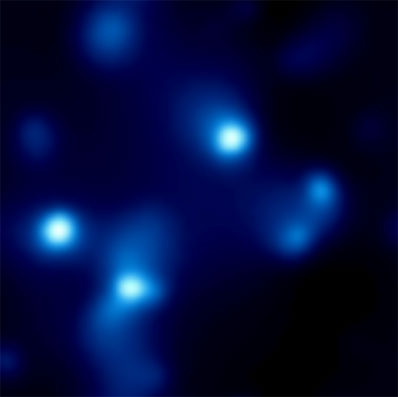 Credit: NASA/CXC/Northwestern U./C.Law & F.Yusef-Zadeh



This Chandra image presents the first detection of X-rays from stars in the Quintuplet Cluster, an extremely dense young star cluster near the Galactic Center. Because dust blocks visible light from the Galactic Center, the cluster was not discovered until 1990 when it was detected with an infrared telescope.

Named for its five brightest stars at infrared wavelengths, the Quintuplet is known to be home to hundreds of stars. Several of these are very massive stars that are rapidly losing gas from their surfaces in high-speed stellar winds.

The bright point-like concentrations of 50 million degree Celsius gas in Chandra's image are thought to be caused by collisions between the high-speed winds in massive stars that have closely orbiting partners. Colliding stellar winds could also explain the diffuse X-radiation seen between the stars in the Quintuplet. The detection of radio waves from hot gas in this region provides further evidence for vigorous heating of gas by winds from massive stars.