Spaceflight Now +





Premium video content for our Spaceflight Now Plus subscribers.

Apollo 11 returns
Apollo 11 safely returns to Earth, making a parachute-assisted splashdown in the ocean. (3min 57sec file)
Play video

MESSENGER preview
Mission officials and scientists preview the flight of NASA's MESSENGER space probe to orbit the planet Mercury during this news conference. (41min 36sec file)
Play video

Apollo 11 moonwalk
Armstrong and Aldrin gather lunar samples and conduct experiments during their moonwalk. (2min 27sec file)
Play video

Moon landing explained
The Apollo 11 astronauts narrate footage of their historic landing on the moon and describe the technical details of the descent. (22min 02sec file)
Play video

Leaving the moon
The Eagle lunar module returns to the orbiting command module and the Apollo 11 astronauts head back to Earth. (5min 33sec file)
Play video

Anniversary celebration
The Apollo 11 astronauts and other dignitaries hold a special 35th anniversary celebration in Washington on July 20. Hear from Armstrong, Aldrin, Collins, Walter Cronkite, NASA Administrator O'Keefe and others. (76min 12sec file)
Play video

Heading for landing
The "Eagle" lunar lander undocks from the "Columbia" command module in preparation for landing. (1min 21sec file)
Play video

The Eagle has landed!
The Apollo 11 spacecraft "Eagle" lands on the Moon 35 years ago, delivering Armstrong and Aldrin. (2min 04sec file)
Play video

Walking on the moon
Neil Armstrong and Buzz Aldrin step foot on the surface of the moon on July 20 1969, forever changing history. (11min 17sec file)
Play video

Shuttle engine test
One of the liquid-fueled main engines that will power space shuttle Discovery on the return-to-flight mission next spring is test-fired at NASA's Stennis Space Center. (1min 56sec file)
Play video

Cronkite interview
Famed CBS News anchorman Walter Cronkite recalls the Apollo 11 mission in this interview on NASA Television. (3min 15sec file)
Play video

Apollo 11 crew interview
An interview with astronauts Neil Armstrong, Michael Collins and Buzz Aldrin takes viewers in a retrospective through the Apollo 11 mission. (30min 39sec file)
Play video

Become a subscriber
More video





NewsAlert





Sign up for our NewsAlert service and have the latest news in astronomy and space e-mailed direct to your desktop.


Privacy note: your e-mail address will not be used for any other purpose.







China launches second Double Star satellite
EUROPEAN SPACE AGENCY NEWS RELEASE
Posted: July 25, 2004


At 07:05 UT (15:05 local time) today, the Chinese National Space Administration (CNSA) successfully launched TC-2, the second of two scientific satellites known as Double Star. This marks the next important milestone in this joint scientific collaboration between China and the European Space Agency (ESA).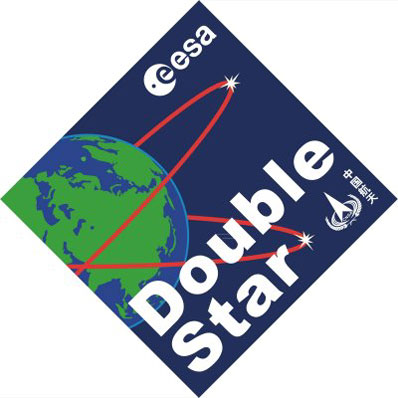 The Double Star mission emblem. Credit: ESA



The spacecraft, called Tan Ce 2 (which in Chinese means Explorer 2), took off from the Chinese launch base in Taiyuan spaceport, west of Beijing (Shanxi Province), on board a Long March 2C launcher. It will join Tan Ce 1, the first satellite launched on 29 December 2003 to complete the Double Star mission.

Double Star will operate alongside ESA's Cluster mission and will study closely the interaction between the solar wind and Earth's magnetic field. Together with Cluster, Double Star will provide the most detailed view of Earth's magnetosphere ever obtained. Tan Ce 1 is already returning a wealth of scientific data. In January 2004 it tracked together with Cluster a coronal mass ejection from the Sun and gathered interesting data about the Earth bow shock.

The positions and orbit of the two Double Star satellites have been carefully defined to allow the study of the magnetosphere on a larger scale than that possible with Cluster alone. An example of this co-ordinated activity is the study of the substorms producing the bright aurorae. The exact region where they form is still unclear but the simultaneous high-resolution measurements to be made by Double Star and Cluster are expected to give an answer.

ESA's contribution to the mission includes eight scientific instruments, of which seven are copies from ESA's Cluster mission. They are the first ever European instruments to be flown on a Chinese spacecraft. ESA will also provide support to the ground segment for four hours each day via ESA's satellite tracking station in Villafranca, Spain.

The history of scientific collaboration between the People's Republic of China and ESA goes back a long way. The first co-operation agreement was signed in 1980, to facilitate the exchange of scientific information. Thirteen years later, the collaboration focused on a specific mission, ESA's Cluster, to study Earth's magnetosphere.

Then, in 1997, came a big step. The CNSA invited ESA to participate in Double Star, a two-satellite mission to study Earth's magnetic field, but from a perspective which is different from that of Cluster and complementary to it. An agreement to develop this joint mission was signed on 9 July 2001 by ESA's Director General, Antonio Rodota, and Luan Enjie, Administrator of the CNSA.

Professor David Southwood, the Director of ESA's Scientific Programme, said: "Today's successful launch sees the culmination of these joint efforts and marks another important step in this historic collaboration between China and Europe."

About 8 hours after launch the two solid booms holding the magnetometers were successfully deployed. In the next few weeks the spacecraft sub-systems will be checked out followed by the instruments commissioning.