Spaceflight Now +





Premium video content for our Spaceflight Now Plus subscribers.

Apollo 11 returns
Apollo 11 safely returns to Earth, making a parachute-assisted splashdown in the ocean. (3min 57sec file)
Play video

MESSENGER preview
Mission officials and scientists preview the flight of NASA's MESSENGER space probe to orbit the planet Mercury during this news conference. (41min 36sec file)
Play video

Apollo 11 moonwalk
Armstrong and Aldrin gather lunar samples and conduct experiments during their moonwalk. (2min 27sec file)
Play video

Moon landing explained
The Apollo 11 astronauts narrate footage of their historic landing on the moon and describe the technical details of the descent. (22min 02sec file)
Play video

Leaving the moon
The Eagle lunar module returns to the orbiting command module and the Apollo 11 astronauts head back to Earth. (5min 33sec file)
Play video

Anniversary celebration
The Apollo 11 astronauts and other dignitaries hold a special 35th anniversary celebration in Washington on July 20. Hear from Armstrong, Aldrin, Collins, Walter Cronkite, NASA Administrator O'Keefe and others. (76min 12sec file)
Play video

Heading for landing
The "Eagle" lunar lander undocks from the "Columbia" command module in preparation for landing. (1min 21sec file)
Play video

The Eagle has landed!
The Apollo 11 spacecraft "Eagle" lands on the Moon 35 years ago, delivering Armstrong and Aldrin. (2min 04sec file)
Play video

Walking on the moon
Neil Armstrong and Buzz Aldrin step foot on the surface of the moon on July 20 1969, forever changing history. (11min 17sec file)
Play video

Shuttle engine test
One of the liquid-fueled main engines that will power space shuttle Discovery on the return-to-flight mission next spring is test-fired at NASA's Stennis Space Center. (1min 56sec file)
Play video

Cronkite interview
Famed CBS News anchorman Walter Cronkite recalls the Apollo 11 mission in this interview on NASA Television. (3min 15sec file)
Play video

Apollo 11 crew interview
An interview with astronauts Neil Armstrong, Michael Collins and Buzz Aldrin takes viewers in a retrospective through the Apollo 11 mission. (30min 39sec file)
Play video

Become a subscriber
More video





NewsAlert





Sign up for our NewsAlert service and have the latest news in astronomy and space e-mailed direct to your desktop.


Privacy note: your e-mail address will not be used for any other purpose.







Landing technology tested for future spacecraft
LOCKHEED MARTIN NEWS RELEASE
Posted: July 24, 2004


Lockheed Martin has successfully performed a series of drop tests at the U.S. Army Yuma Proving Ground in Yuma, Ariz., to validate soft landing technology that can be used for astronaut crew capsules upon return to Earth. The technology makes use of an array of dual airbags that, upon ground impact, releases air from the outer bags of the system, allowing the capsule to settle softly to the ground on its inner airbags.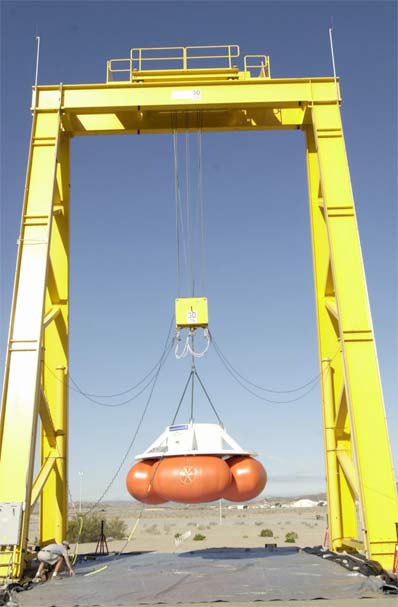 Credit: Lockheed Martin



"This technology could be used in a number of ways, one of which would help ensure a safe landing for our astronauts in new crew exploration vehicles that are being considered for the future," said Michael Coats, vice president and deputy of Space Exploration at Lockheed Martin Space Systems. "These successful drop tests provide us and NASA with solid data on airbag and landing technology that could be very instrumental in future crew capsule systems. Whatever the requirements will be for a new crew vehicle, the safety of our astronauts continues to be the number one priority in every design we are considering."

The drop tests were conducted June 24-25 under Lockheed Martin funding to demonstrate technology and risk reduction for space exploration. The 5,216 kg/11,500 lb capsule mass simulator was designed using the mass and center of gravity properties of astronaut crew capsules that are being considered for the future. 

During a series of tests, the capsule simulator was dropped from various heights and inclinations. The airbag system performed as expected with each impact, demonstrating that the modeling techniques were right on target. Instead of bouncing upon impact, the crew capsule mass simulator gently settled to Earth after each drop on a "pillow" of airbags. Instrumentation indicated that the short-duration deceleration forces would be very benign for both spacecraft and crewmembers.

"Unlike the Apollo program that limited the capsules to water landings, the technology that we are testing today could allow a future crew exploration vehicle to safely return the crew to land, providing more flexibility in landing the crew and making it more affordable, as well," added Coats.

Lockheed Martin will continue to test the airbag and landing technology, including future airborne drop tests, to demonstrate nominal and abort reentry capability. The tests utilize an airbag system provided by Irvin Aerospace of Anaheim, California.

Lockheed Martin Space Systems Company, headquartered near Denver, Colo., is one of the major operating units of Lockheed Martin Corporation. Space Systems Company designs, develops, tests and manufactures a variety of advanced technology systems for space and defense. Chief products include space launch systems, defense systems, interplanetary and science spacecraft, spacecraft for commercial and government customers, fleet ballistic missiles and missile defense systems.

Headquartered in Bethesda, Md., Lockheed Martin employs about 130,000 people worldwide and is principally engaged in the research, design, development, manufacture and integration of advanced technology systems, products and services. The corporation reported 2003 sales of $31.8 billion.