Spaceflight Now +





Premium video content for our Spaceflight Now Plus subscribers.

Phoebe science briefing
Scientists report scientific results from the Cassini spacecraft's close-up examination of Saturn's moon Phoebe. (31min 53sec file)
Play video

Space station briefing
International Space Station officials preview the upcoming Expedition 9 spacewalk to replace a faulty power control box that supports one of the U.S. control moment gyros. (66min 08sec file)
Play video

Stardust briefing
Scientist present new findings from the Stardust spacecraft's encounter with Comet Wild 2 in this news conference from NASA Headquarters on June 17. (26min 12sec file)
Play video

New pictures explained
New pictures of Comet Wild 2 from NASA's Stardust spacecraft are shown here with narration by lead mission scientist Donald Brownlee. (3min 06sec file)
Play video

Stardust's comet flyby
Animation depicting Stardust's flyby of Comet Wild 2 and the powerful jets of dust streaming from the comet's surface is presented with narration by scientist Benton Clark. (1min 59sec file)
Play video

Moon-Mars commission
After releasing its report, the President's Commission on Moon, Mars and Beyond holds a news conference in Washington. (60min 18sec file)
Play video

NASA workers respond
NASA Administrator Sean O'Keefe and commission chairman Pete Aldridge address the NASA workforce and answer questions after the Moon, Mars and Beyond report is released. (75min 24sec file)
Play video

Become a subscriber
More video





NewsAlert





Sign up for our NewsAlert service and have the latest news in astronomy and space e-mailed direct to your desktop.


Privacy note: your e-mail address will not be used for any other purpose.







Hubble studies generations of star formation
HUBBLE NEWS RELEASE
Posted: July 1, 2004


The NASA/ESA Hubble Space Telescope captures the iridescent tapestry of star birth in a neighbouring galaxy in this panoramic view of glowing gas, dark dust clouds, and young, hot stars. The star-forming region, catalogued as N11B lies in the Large Magellanic Cloud (LMC), located only 160,000 light-years from Earth. With its high resolution, the Hubble Space Telescope is able to view details of star formation in the LMC as easily as ground-based telescopes are able to observe stellar formation within our own Milky Way galaxy.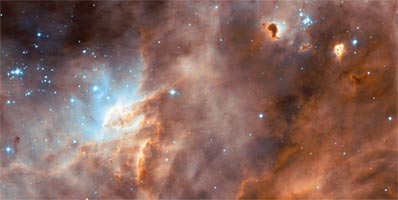 Image Credit: NASA/ESA and the Hubble Heritage Team (AURA/STScI)/HEIC
Download larger image version here



Our neighbourhood galaxy the Large Magellanic Cloud (LMC) lies in the Constellation of Dorado and is sprinkled with a number of regions harbouring recent and ongoing star formation. One of these star- forming regions, N11B, is shown in this Hubble image. It is a subregion within a larger area of star formation called N11. N11 is the second largest star-forming region in LMC. It is only surpassed in the size and activity by 'the king of stellar nurseries,' the Tarantula nebula (or 30 Doradus), located at the opposite side of LMC.

The image illustrates a perfect case of so-called sequential star formation in a nearby galaxy - new starbirth triggered by old massive stars. The sequence begins with a cluster of stars outside the top of the Hubble image which led to the birth of the collection of blue- and white-coloured stars near the left of this new Hubble image. These stars are among the most massive stars known anywhere in the Universe. The region around the hot stars is relatively clear of gas, because the stellar winds and radiation from the stars have pushed the gas away. When this gas collides with and compresses surrounding dense clouds, the clouds can collapse under their own gravity and start to form new stars. This chain of consecutive star birth episodes has been seen in more distant galaxies, but it is shown very clearly in this Hubble image.

Farther to the right of the image, along the top edge, are several smaller dark clouds, or globules, of interstellar dust with odd and intriguing shapes. They are seen silhouetted against the glowing interstellar gas. Several of these dark globules are bright-rimmed because they are illuminated and are being evaporated by radiation from neighbouring hot stars. A generation of new stars is now being born inside these globules.

In N11 altogether three generations of stars can be found. 'Grandmother' stars (outside the top of the Hubble image) that have carved a large superbubble, leading to the birth of the cluster of massive blue-white 'mother' stars seen near the top of this image. These in turn gives birth to new star 'babies' inside the dark globules.

This image was taken with Hubble's Wide Field Planetary Camera 2 using filters that isolate light emitted by oxygen (a 1200 seconds exposure) and hydrogen gas (a 1000 seconds exposure). The science team, led by astronomers You-Hua Chu (University of Illinois) and Yšel Nazť (Universite de LiŤge, Belgium) are comparing these images of N11B, taken in 1999, with similar regions elsewhere in the LMC. This colour rendition was co-produced and is being co-released by the Hubble European Space Agency Information Centre and the Hubble Heritage Team (STScI).

The Hubble Space Telescope is a project of international cooperation between ESA and NASA.