Spaceflight Now +





Premium video content for our Spaceflight Now Plus subscribers.

Progress undocking
The Progress 13P cargo ship departs the International Space Station on May 24 carrying trash and unneeded items to burn up in the atmosphere. (2min 56sec file)
Play video

AP interviews the crew
The Associated Press interviews the two-man Expedition 9 crew living aboard the International Space Station on May 24. (9min 36sec file)
Play video
More clips

Atlas launches AMC-11
The Lockheed Martin Atlas 2AS rocket launches from Cape Canaveral carryin the AMC-11 communications satellite. (4min 30sec file)
Play video
More clips!

Become a subscriber
More video





NewsAlert





Sign up for our NewsAlert service and have the latest news in astronomy and space e-mailed direct to your desktop.


Privacy note: your e-mail address will not be used for any other purpose.







Cassini sees Pandora and Prometheus moons of Saturn
CICLOPS/SPACE SCIENCE NEWS RELEASE
Posted: May 24, 2004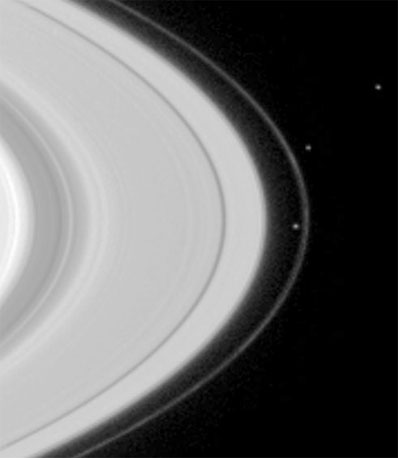 Credit: NASA/JPL/Space Science Institute
Download larger image version here



Two of Saturn's moons Prometheus (102 kilometers, or 63 miles across) and Pandora (84 kilometers, or 52 miles across), are seen here shepherding the planet's narrow F-ring. Prometheus overtakes Pandora in orbit around Saturn about every 25 days. Slightly above the pair and to the right is another moon, Epimetheus (116 kilometers, or 72 miles across). The image was taken with the narrow angle camera on the Cassini spacecraft on May 1, 2004, at a distance of 31.4 million kilometers (19.5 million miles) from Saturn. Image scale is 187 kilometers (116 miles) per pixel. The image has been magnified and greatly contrast-enhanced to aid visibility.

The Cassini-Huygens mission is a cooperative project of NASA, the European Space Agency and the Italian Space Agency. The Jet Propulsion Laboratory, a division of the California Institute of Technology in Pasadena, manages the Cassini-Huygens mission for NASA's Office of Space Science, Washington, D.C. The Cassini orbiter and its two onboard cameras were designed, developed and assembled at JPL. The imaging team is based at the Space Science Institute, Boulder, Colo.