Spaceflight Now +





Premium video content for our Spaceflight Now Plus subscribers.

Gravity Probe-B flies
The Boeing Delta 2 rocket launches with NASA's Gravity Probe-B spacecraft from Vandenberg Air Force Base, California. (4min 16sec file)
Play video
More clips

Atlas launches Superbird
The Lockheed Martin Atlas 2AS rocket launches the Japanese Superbird 6 communications spacecraft from Cape Canaveral, Florida. (3min 09sec file)
Play video
More clips

Lion King panorama
The stunning "Lion King" high-resolution color panorama from the Opportunity rover shows the vast landing site. Expert narration by Jason Soderblom, science team collaborator. (2min 12sec file)
Play video

Become a subscriber
More video





NewsAlert





Sign up for our NewsAlert service and have the latest news in astronomy and space e-mailed direct to your desktop.


Privacy note: your e-mail address will not be used for any other purpose.







Japanese-Korean venture accepts advanced satellite
LORAL NEWS RELEASE
Posted: April 27, 2004


The MBSAT broadcast communications satellite, built by Space Systems/Loral (SS/L) for Mobile Broadcasting Corporation (MBCO) of Japan and SK Telecom of Korea, has successfully completed its in-orbit testing and was officially delivered on-orbit Tuesday. The satellite was formally accepted during a signing ceremony at MBCO's Tokyo headquarters.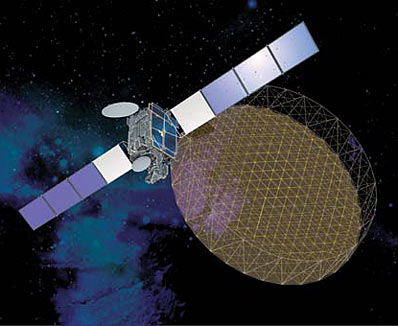 An artist's concept of the MBSAT spacecraft in orbit. Credit: MBSAT



After its successful launch on March 13, 2004, SS/L engineers put the MBSAT satellite through a rigorous test and check out program and maneuvered the spacecraft to its final orbital location at 144 degrees East longitude. Engineers also successfully demonstrated the transmission of broadcast signals through the satellite to small handheld user terminals.

The MBSAT platform incorporates a number of innovative technology applications with SS/L's highly reliable and space-proven 1300 bus:
A state-of-the-art electric propulsion system has been incorporated for orbital stationkeeping maneuvers. This system, using flight-proven Stationary Plasma Thrusters (SPT), significantly extends the satellite's useful lifetime.


A 12-meter unfurlable reflector provides exceptional coverage and quality of service. The reflector, built by Northrop Grumman Astro Aerospace, is a key component of SS/L's proprietary S-band antenna system. Signal verification tests confirmed accurate deployment of the reflector with excellent correlation between measured antenna performance and pre-launch predictions.


Satellite pointing accuracy and overall performance has been enhanced by an improved attitude control system based on four active reaction wheels and Ring Laser Gyros for three-axis body-stabilization.


Next generation triple junction gallium arsenide solar cells provide an efficiency improvement of 50 percent over previous generation silicon solar cells.
"The successful delivery of MBSAT has again demonstrated SS/L's ability to combine innovation with flight-proven heritage to satisfy our customer's unique requirements," said C. Patrick DeWitt, president, Space Systems/Loral. "The MBSAT satellite will serve as a model platform for similar direct-to-user services around the world."

The MBSAT payload consists of four high power transponders for direct broadcast services and terrestrial repeater networks covering Japan and Korea. The satellite will deliver high-quality music, video and data to mobile users in Japan and Korea through a variety of mobile terminals, including those in cars, ships, trains as well as handheld terminals, personal digital assistants, cellular phones and home portables.

A very small antenna will be sufficient to receive these broadcast signals even inside buildings and in vehicles moving at high speeds.

Mobile Broadcasting Corporation was established to provide cars and mobile terminals with digital satellite broadcasting for audio, video and data services throughout Japan. MBCO's new broadcasting system was authorized by the Japanese Government and registered with the ITU. MBCO's major shareholders are Toshiba, SK Telecom, Sharp, Toyota, Yokogawa, Matsushita, NTT Data, Yusen, Nippon TV, Mitsui Sumitomo Insurance, Fujitsu, and Panasonic. So far 77 Japanese companies are MBCO partners. Several foreign companies own significant interests in the MBCO business venture, while many others are currently considering investment.

SK Telecom Co., Ltd. is Korea's leading wireless telecommunications services provider and a pioneer in the commercial development and provision of high-speed wireless data and Internet services. The company serves nearly 18 million subscribers throughout Korea, the majority of whom own data-capable handsets. SK Telecom has established a new company, TU Media Corp. with more than 150 investor companies. TU Media Corp. will provide mobile digital multimedia broadcasting services throughout the Korean Peninsula.

Space Systems/Loral, a subsidiary of Loral Space & Communications (OTCBB: LRLSQ), is a premier designer, manufacturer, and integrator of powerful satellites and satellite systems. SS/L also provides a range of related services that include mission control operations and procurement of launch services. Based in Palo Alto, Calif., the company has an international base of commercial and governmental customers whose applications include broadband digital communications, direct-to-home broadcast, defense communications, environmental monitoring, and air traffic control. SS/L satellites have amassed more than 1000 years of reliable on-orbit service. SS/L is ISO 9001:2000 certified.

Loral Space & Communications is a satellite communications company. In addition to Space Systems/Loral, Loral, through its Skynet subsidiary, owns and operates a fleet of telecommunications satellites used to broadcast video entertainment programming, and for broadband data transmission, Internet services and other value-added communications services.