Spaceflight Now +





Premium video content for our Spaceflight Now Plus subscribers.

Changing NASA's culture
Administrator Sean O'Keefe holds a discussion with agency workers around the country about organizational culture change at NASA. (56min 12sec file)
Play video

Yuri Gagarin
Historical footage documents the flight of cosmonaut Yuri Gagarin, the first human in space. (2min 25sec file)
Play video

Cosmonautics Day
Expedition 8 crewmembers Michael Foale and Alexander Kaleri celebrate Cosmonautics Day aboard the International Space Station. (3min 07sec file)
Play video

Mars rover briefing
Officials discuss the extended missions for the Mars rovers and present the latest pictures at this briefing from Thursday, April 8. (34min 10sec file)
Play video

Gravity Probe-B preview
Scientists and mission officials preview the Gravity Probe-B project in this pre-flight news briefing from Friday, April 2. (62min 25sec file)
Play video

NEW! X-43A in infrared
This newly-released infrared video, captured by a U.S. Army aircraft tracking the launch, shows the X-43A research vehicle flying away from its Pegasus rocket booster.
Play video

NEW! Aboard Pegasus
A camera mounted on the Pegasus rocket booster shows the X-43A research vehicle separating to perform its scramjet experiment over the Pacific Ocean.
Play video
More clips

This date in history
On April 5, 1991, space shuttle Atlantis lifted off from Kennedy Space Center carrying the Compton Gamma Ray Observatory -- NASA's second Great Observatory. (3min 15sec file)
Play video

Become a subscriber
More video





NewsAlert





Sign up for our NewsAlert service and have the latest news in astronomy and space e-mailed direct to your desktop.


Privacy note: your e-mail address will not be used for any other purpose.







Cosmic magnifying glass reveals distant planet
NASA/JPL NEWS RELEASE
Posted: April 15, 2004


Like Sherlock Holmes holding a magnifying glass to unveil hidden clues, modern day astronomers used cosmic magnifying effects to reveal a planet orbiting a distant star.

This marks the first discovery of a planet around a star beyond Earth's solar system using gravitational microlensing. A star or planet can act as a cosmic lens to magnify and brighten a more distant star lined up behind it. The gravitational field of the foreground star bends and focuses light, like a glass lens bending and focusing starlight in a telescope. Albert Einstein predicted this effect in his theory of general relativity and confirmed it with our Sun.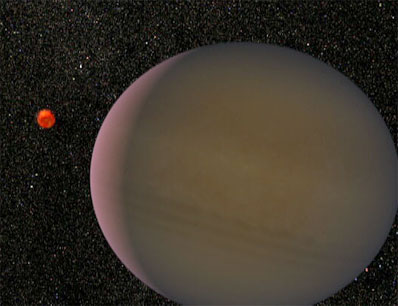 An artist's rendering of the planet, believed to be one-and-a- half times larger than Jupiter, orbiting a red dwarf, its parent star. Credit: NASA/JPL



"The real strength of microlensing is its ability to detect low-mass planets," said Dr. Ian Bond of the Institute for Astronomy in Edinburgh, Scotland, lead author of a paper appearing in the May 10 Astrophysical Journal Letters. The discovery was made possible through cooperation between two international research teams: Microlensing Observations in Astrophysics (Moa) and Optical Gravitational Lensing Experiment (Ogle). Well-equipped amateur astronomers might use this technique to follow up future discoveries and help confirm planets around other stars.

The newly discovered star-planet system is 17,000 light years away, in the constellation Sagittarius. The planet, orbiting a red dwarf parent star, is most likely one-and-a-half times bigger than Jupiter. The planet and star are three times farther apart than Earth and the Sun. Together, they magnify a farther, background star some 24,000 light years away, near the Milky Way center.

In most prior microlensing observations, scientists saw a typical brightening pattern, or light curve, indicating a star's gravitational pull was affecting light from an object behind it. The latest observations revealed extra spikes of brightness, indicating the existence of two massive objects. By analyzing the precise shape of the light curve, Bond and his team determined one smaller object is only 0.4 percent the mass of a second, larger object. They concluded the smaller object must be a planet orbiting its parent star.

Dr. Bohdan Paczynski of Princeton University, Princeton, N.J., an OGLE team member, first proposed using gravitational microlensing to detect dark matter in 1986. In 1991, Paczynski and his student, Shude Mao, proposed using microlensing to detect extrasolar planets. Two years later, three groups reported the first detection of gravitational microlensing by stars. Earlier claims of planet discoveries with microlensing are not regarded as definitive, since they had too few observations of the apparent planetary brightness variations.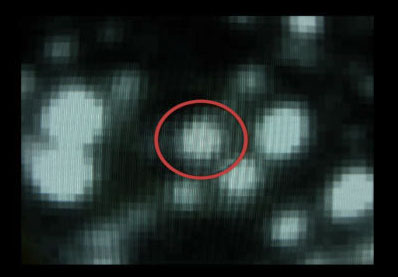 The following image is part of the data used to make the discovery of a planet around another star. The picture comes from the 1.3-meter (4.3-foot) Warsaw telescope at Las Campanas Observatory, Chile. Credit: NASA/JPL



"I'm thrilled to see the prediction come true with this first definite planet detection through gravitational microlensing," Paczynski said. He and his colleagues believe observations over the next few years may lead to the discovery of Neptune-sized, and even Earth-sized planets around distant stars.

Microlensing can easily detect extrasolar planets, because a planet dramatically affects the brightness of a background star. Because the effect works only in rare instances, when two stars are perfectly aligned, millions of stars must be monitored. Recent advances in cameras and image analysis have made this task manageable. Such developments include the new large field-of-view Ogle-III camera, the Moa-II 1.8 meter (70.8 inch) telescope, being built, and cooperation between microlensing teams.

"It's time-critical to catch stars while they are aligned, so we must share our data as quickly as possible," said Ogle team-leader Dr. Andrzej Udalski of Poland's Warsaw University Observatory. Udalski in Poland and Paczynski in the U.S lead the Polish/American project. It operates at Las Campanas Observatory in Chile, run by the Carnegie Institution of Washington, and includes the world's largest microlensing survey on the 1.3 meter (51-inch) Warsaw Telescope.

NASA and the National Science Foundation fund the Optical Gravitational Lensing Experiment in the U.S. The Polish State Committee for Scientific Research and Foundation for Polish Science funds it in Poland. Microlensing Observations in Astrophysics is primarily a New Zealand/Japanese group, with collaborators in the United Kingdom and U.S. New Zealand's Marsden Fund, NASA and National Science Foundation, Japan's Ministry of Education, Culture, Sports, Science, and Technology, and the Japan Society support it for the Promotion of Science.