Spaceflight Now +





Premium video content for our Spaceflight Now Plus subscribers.

This date in history
On April 4, 1983, space shuttle Challenger launched on its maiden voyage. The ship carried a crew of four astronauts and NASA's first Tracking and Data Relay Satellite. (2min 08sec file)
Play video

Thursday's Mars rover update
New pictures and science results from the Spirit and Opportunity rovers on Mars are presented at this briefing from Thursday, April 1. (52min 57sec file)
Play video
More clips

X-43A launched
NASA's experimental X-43A hypersonic research aircraft is successfully launched by a Pegasus rocket off the coast of California on March 27. (2min 40sec file)
Play video
More clips

Mars water discovery
Scientists present evidence from the Mars rover Opportunity during this Tuesday news conference that shows the landing site was once the bottom of a salty sea. (76min 48sec file)
Play video
MP3 audio download

Armstrong speech
Neil Armstrong accepts the Rotary National Space Trophy for career contributions in aerospace. He says President Bush's plan to return to the Moon is economically feasible and has "substantial merit and promise." (12min 10sec)
Play video

Become a subscriber
More video





NewsAlert





Sign up for our NewsAlert service and have the latest news in astronomy and space e-mailed direct to your desktop.


Privacy note: your e-mail address will not be used for any other purpose.







Genesis locks the vault on solar wind collection
NASA NEWS RELEASE
Posted: April 5, 2004


Since October 2001 NASA's Genesis spacecraft has exposed specially designed, collector arrays of sapphire, silicon, gold and diamond to the sun's solar wind.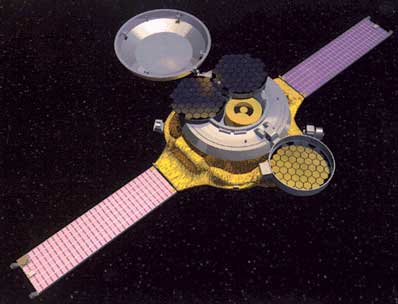 An artist's concept of Genesis spacecraft deployed in space. Photo: NASA/JPL



That collection of pristine particles of the sun came to an end last week, when NASA's Genesis team at the Jet Propulsion Laboratory in Pasadena, Calif., ordered the spacecraft's collectors deactivated and stowed. The closeout process was completed when Genesis closed and sealed the spacecraft's sample-return capsule.

"This is a momentous step," said Genesis project manager Don Sweetnam. "We have concluded the solar-wind collection phase of the mission. Now we are focusing on returning to Earth, this September, NASA's first samples from space since Apollo 17 back in December 1972," he said.

NASA's Genesis mission was launched in August 2001 from the Cape Canaveral Air Force Station, Fla. Three months and about one million miles later, the spacecraft began to amass solar wind particles on hexagonal wafer-shaped collectors made of pure silicon, gold, sapphire and diamond.

"The material our collector arrays are made of may sound exotic, but what is really unique about Genesis is what we collected on them," said mission principal investigator Don Burnett. "With Genesis we have almost 27 months far beyond the moon's orbit collecting atoms from the sun. With data from this mission, we should be able to say what the sun is composed of at a level of precision for planetary science purposes that has never been seen before."

To get Genesis' precious cargo into the sterilized-gloved hands of Burnett and solar scientists around the world is an exotic endeavor in itself.

Later this month, Genesis will execute the first in a series of trajectory maneuvers that will place the spacecraft on a route toward Earth. On Sept. 8, 2004, the spacecraft will dispatch a sample-return capsule containing its solar booty. The capsule will re-enter Earth's atmosphere for a planned landing at the U.S. Air Force Utah Test and Training Range at about 9:15 a.m. EDT.

To preserve the delicate particles of the sun in their prisons of gold, sapphire and diamond, specially trained helicopter pilots will snag the return capsule from mid-air using giant hooks. The flight crews for the two helicopters assigned for the capture and return of Genesis are former military aviators, Hollywood stunt pilots and an active-duty Air Force test pilot.