Spaceflight Now +





Premium video content for our Spaceflight Now Plus subscribers.

X-43A launched
NASA's experimental X-43A hypersonic research aircraft is successfully launched by a Pegasus rocket off the coast of California on March 27. (2min 40sec file)
Play video
More clips

Latest Mars rover news
The latest pictures and science results from the twin Mars Exploration Rovers Spirit and Opportunity are presented at this briefing on Friday. (50min 02sec file)
Play video
More clips

Armstrong speech
Neil Armstrong accepts the Rotary National Space Trophy for career contributions in aerospace. He says President Bush's plan to return to the Moon is economically feasible and has "substantial merit and promise." (12min 10sec)
Play video

Become a subscriber
More video





NewsAlert





Sign up for our NewsAlert service and have the latest news in astronomy and space e-mailed direct to your desktop.


Privacy note: your e-mail address will not be used for any other purpose.







Supernova remnant reveals magnesium in abundance
CHANDRA X-RAY CENTER NEWS RELEASE
Posted: March 28, 2004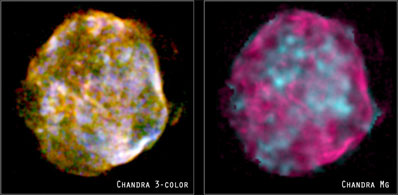 Credit: NASA/CXC/PSU/S.Park et al.



The Chandra image of N49B (left), the remains of an exploded star, shows a cloud of multimillion degree gas that has been expanding for about 10,000 years. A specially processed version of this image (right) reveals unexpectedly large concentrations of the element magnesium (blue-green).

Magnesium, created deep inside the star and ejected in the supernova explosion, is usually associated with correspondingly high concentrations of oxygen. However, the Chandra data indicate that the amount of oxygen in N49B is not exceptional. This poses a puzzle as to how the excess magnesium was created, or, alternatively, how the excess oxygen has escaped detection.

The amount of magnesium in N49B is estimated to be about equal to the total mass of the Sun. Since the Sun contains only about 0.1% of magnesium by mass, the total mass of magnesium N49B is about a thousand times that in the Sun and its planets.

Magnesium, the eighth most abundant material in the Earth's crust, is a mineral needed by every cell of our bodies. It helps maintain normal muscle and nerve function, keeps heart rhythm steady, and bones strong. It is also involved in energy metabolism and protein synthesis. Fortunately for us, and thanks to stars such as the one that produced N49B, there is an abundant supply of magnesium in the Universe.