10-week launch delay adds two years to Mercury journey
BY SPACEFLIGHT NOW
Posted: March 25, 2004


The already-long voyage from Earth to Mercury for the MESSENGER spacecraft got even longer this week when NASA delayed the probe's launch to a time that will require a more circuitous route.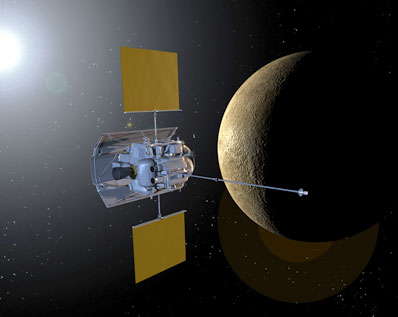 Artist's impression of the MESSENGER spacecraft in orbit at Mercury. Credit: NASA/Johns Hopkins University Applied Physics Laboratory/Carnegie Institution of Washington



The Mercury Surface, Space Environment, Geochemistry and Ranging satellite, or MESSENGER for short, aims to become the first craft to orbit our solar system's innermost planet. But its planned launch opportunity will be missed while technicians wrestle with a handful of software and technical issues, delaying the liftoff more than two months.

Launch from Cape Canaveral atop a Boeing Delta 2 rocket had been slated for a 12-day window opening May 11. Unable to meet that schedule, the mission will use its backup window that begins July 30 and extends 15 days.

"Several factors led to NASA's decision to move the launch from its original May 11 date, including a desire to include more testing of MESSENGER's fault-protection system software. This allows the spacecraft to check its own health and, when necessary, switch between alternative backup systems," the space agency said in a statement announcing the postponement.

"This (delay) will also create some additional time for the test team to complete final assembly and checkout affording a more comfortable spacecraft processing schedule."

MESSENGER was shipped to Florida earlier this month to begin its launch campaign at the Astrotech satellite processing facilities in Titusville. The probe was built for NASA by the Johns Hopkins University Applied Physics Laboratory in Laurel, Maryland.

On-pad assembly of the Boeing Delta 2 rocket that will launch the spacecraft, originally set to begin March 31, has been pushed back to mid-June.

Launch on July 30 will occur during a 12-second window opening at 2:17:44 a.m. EDT (0617:44 GMT) from pad 17B at Cape Canaveral Air Force Station.

MESSENGER's trek to Mercury beginning in May would have included three flybys of Venus in November 2004, August 2005 and October 2006 to use the planet's gravity to sling the spacecraft toward Mercury's orbit. Two flybys of Mercury in October 2007 and July 2008 would "fine-tune" the flight path before the craft settled into a year-long orbital study of Mercury starting in July 2009.

But this week's decision to delay the launch to late-July will significantly impact the trajectory and postpone by two years MESSENGER's arrival in its science orbit around Mercury.

The new plan calls for MESSENGER to make an Earth flyby a year after launch to receive a gravity-assisted boost, two swings past Venus in October 2006 and June 2007, then three flybys of Mercury in January and October 2008 and September 2009 before starting a year-long orbit in March 2011.

"MESSENGER's science plans -- to provide the first images of the entire planet and collect detailed information on the composition and structure of Mercury's crust, its geologic history, the nature of its thin atmosphere and active magnetosphere, and the makeup of its core and polar materials -- remain intact," officials said.