Russians launch resupply ship to space station
BY SPACEFLIGHT NOW
Posted: January 29, 2004


A load of vital supplies and parts for the International Space Station was successfully dispatched from Earth today, blasting off aboard an unmanned Russian Soyuz rocket.

The Progress cargo freighter reached orbit about 9 minutes after its 6:58 a.m. (1158 GMT) launch from the Baikonur Cosmodrome in Kazakhstan.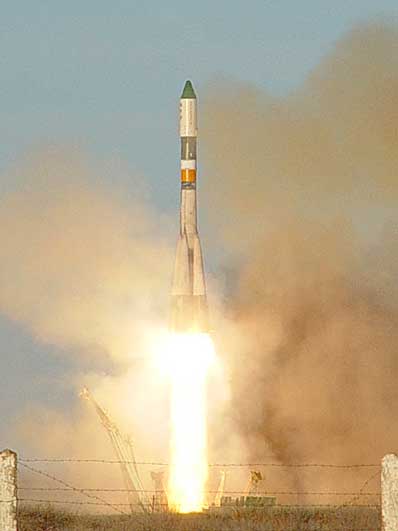 Soyuz rocket lifts off today carrying the Progress freighter. Credit: Energia



Known in the station's assembly sequence as Progress 13P, the Russian-made craft is also called Progress M1-11 and No. 260.

Mission Control reported the ship had settled into an elliptical perch of 163 miles at apogee, 119 miles at perigee, an inclination of 51.65 and a period of 88.73 minutes.

Its solar arrays were unfurled and communications antennas deployed for the two-day trip to reach the station. A fully automated docking to the aft port of the Russian Zvezda service module planned for Saturday at 8:15 a.m. EST (1315 GMT).

The craft will use the docking port freed up Wednesday when the Progress 12P (M-48 or No. 248) departed the station at 3:36 a.m. EST (0836 GMT) with garbage and unneeded equipment. After firing its engines to brake from orbit, the craft reentered the atmosphere at 8:46 a.m. EST (1346 GMT) to burn up harmlessly.

This latest Progress is ferrying 5,171 pounds of gear to the station, according to NASA, including a new flex hose for the Destiny laboratory's window that was causing the recent pressure leak, replacement parts for the oxygen-generating Elektron unit, an entire spare Elektron, new Solid Fuel Oxygen Generator candles, batteries for the Zarya and Zvezda modules, gas analyzer equipment, updated fire suppression and detection equipment, a new Russian Orlan spacesuit to replace one currently on the station that has exceeded its lifetime, the Matryoshka experiment package set for installation on Zvezda's exterior during an upcoming spacewalk, film, cameras and cassettes.

For the station's two-man crew, Expedition 8 commander Mike Foale and flight engineer Alexander Kaleri, Russian and American food, utensils, medical kit equipment and personal hygiene items are aboard the Progress.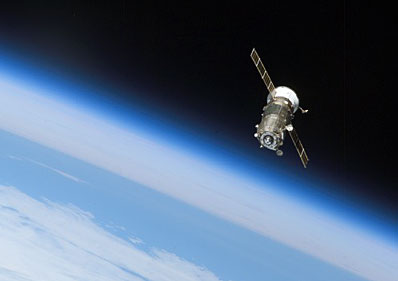 File image of Russian Progress cargo freighter in space. Credit: NASA



In preparation for the Expedition 9 crew's arrival three months from now, this Progress is carrying the future resident's clothes, retro-reflectors to be mounted to the Zvezda module during a later spacewalk to guide approaching European cargo transporters and educational props for filming during the mission.

The Expedition 9 crew will be joined during launch April 19 by European Space Agency astronaut Andre Kuipers who will spend about a week on the station before returning to Earth with Expedition 8. The scientific experiments Kuipers will operate went up on this resupply mission.

Today's launch was the first of several Progress missions expected this year. It also marked Russia's first space launch in 2004.

The following timeline shows the key events scheduled from launch until docking for this Progress freighter.

Thursday events

Event
Mission Time
Eastern Time
GMT
LAUNCH
0/00:00:00
06:58:06 a.m.
1158:06
Orbit Insertion
0/00:08:40
07:06:46 a.m.
1206:46
Maneuver DV1
(12.16 m/s)
0/03:35:07
10:33:13 a.m.
1533:13
Maneuver DV2
(6.76 m/s)
0/04:11:57
11:10:03 a.m.
1610:03
Friday events

Event
Mission Time
Eastern Time
GMT
Maneuver DV3
(2.00 m/s)
1/00:50:46
07:48:52 a.m.
1248:52
Saturday events

Event
Mission Time
Eastern Time
GMT
Start Automated
Rendezvous
1/22:50:01
05:48:07 a.m.
1048:07
DV4 / Impulse 1
(26.737 m/s)
1/23:10:34
06:08:40 a.m.
1108:40
Impulse 2
(1.272 m/s)
1/23:33:08
06:31:14 a.m.
1131:14
Progress Kurs-A
activation
1/23:33:50
06:31:56 a.m.
1131:56
Zvezda Kurs-P
activation
1/23:33:54
06:32:00 a.m.
1132:00
DV5 / Impulse 3
(38.310 m/s)
1/23:56:29
06:54:35 a.m.
1154:35
TORU command
link activation
Range 9 km
2/00:29:54
07:28:00 a.m.
1228:00
Progress TV
activation
Range 8 km
2/00:31:54
07:30:00 a.m.
1230:00
Impulse 4
(6.735 m/s)
2/00:39:46
07:37:52 a.m.
1237:52
Ballistic Targeting
Point
2/00:40:01
07:38:07 a.m.
1238:07
Impulse 5
(4.723 m/s)
2/00:46:00
07:44:06 a.m.
1244:06
Impulse 6
(2.272 m/s)
2/00:47:49
07:45:55 a.m.
1245:55
Start flyaround
mode
2/00:49:57
07:48:03 a.m.
1248:03
Start stationkeeping
2/00:58:57
07:57:03 a.m.
1257:03
Start final approach
2/01:07:24
08:05:30 a.m.
1305:30
DOCKING
2/01:17:24
08:15:30 a.m.
1315:30


Data source: NASA.