NASA cancels final Hubble telescope servicing mission
BY WILLIAM HARWOOD
STORY WRITTEN FOR CBS NEWS "SPACE PLACE" & USED WITH PERMISSION
Posted: January 16, 2004 at 5:15 p.m. EST; Updated at 7 p.m. with news conference details


A final planned shuttle mission to service and upgrade the Hubble Space Telescope, one of the most scientifically productive spacecraft ever launched, has been cancelled, primarily because of post-Columbia safety concerns and a new directive to retire the shuttle by 2010, NASA officials said today.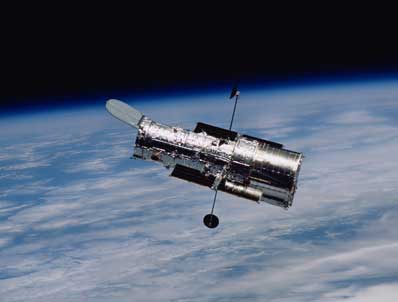 Credit: NASA



"This is sort of a sad day that we have to announce this," said NASA Chief Scientist John Grunsfeld, an astronaut who helped upgrade Hubble in 2002. "But I have to tell you, as somebody very close to the project, I can tell you they made the right decision. It's one that's in the best interest of NASA."

The decision means an advanced camera and light-splitting spectrograph - both already built - will not be installed. It also leaves Hubble's continued operation at the mercy of its aging gyroscopes, batteries and other equipment.

Based on the past performance of the gyros and other gear, engineers believe the observatory has a 50-50 chance of remaining in operation until mid 2007, three years shy of when NASA had earlier planned to retire the observatory.

Hubble's replacement, the James Webb Space Telescope, will not be launched until around 2011 at the earliest. Foregoing the final servicing mission means the gap between Hubble and Webb will stretch years longer than scientists had hoped.

"We're going to try to get as much life as we can out of the Hubble Space Telecope," Grunsfeld said. "We have a commitment from the office of space science that we will continue to support the research and analysis work even beyond (Hubble's demise)."

NASA Administrator O'Keefe told engineers and scientists at NASA's Goddard Spaceflight Center that his decision was based on a variety of factors, including a recommendation by the Columbia Accident Investigation Board that would require an autonomous tile repair capability for flights not bound for the international space station.

Hubble Servicing Mission 4, or SM-4, was the final flight on NASA's launch manifest that wasn't bound for the space station, where the crew of a crippled shuttle could attempt repairs or await rescue. The CAIB recommendation would have required NASA to develop stand-alone repair techniques for a single flight.

Grunsfeld said the cost of that effort, coupled with the Bush administration's recent directive to complete space station assembly and retire the shuttle fleet by 2010, left little choice.

"The president laid out for us a plan for space exploration," Grunsfeld said. "As part of that, he directed us to use this precious resource, the space shuttle, with a priority of completing the international space station and then retiring the shuttle.

"And so as part of that, when you look at what it would take to support this one single-use unique mission ... in light of retiring the shuttle, kind of pushed the decision over the edge and allowed the administrator to make that decision. As a result, this decision is reflected in the president's budget, which will come out on Feb. 2."

Hubble supporters were devastated.

"People here are brushing off their resumes," said one official at the Space Telescope Science Institute at Johns Hopkins University in Baltimore. "Hubble has been such a crown jewel for NASA, I would have hoped it would have tilted the balance the other way. ... It's been a sad day. It was like walking around a funeral home."

Before the Columbia disaster, NASA had planned to launch a final servicing mission to install the Cosmic Origins Spectrograph and a new, third-generation Wide Field Camera. Spacewalking astronauts also planned to replace stabilizing gyroscopes, aging batteries and other equipment in a bid to keep Hubble healthy until 2010 or so.

Only four of the telescope's six gyroscopes are operational and at least three are needed to continue scientific operations. Engineers hope to develop software that will allow the observatory to function with two gyros, but that work is not yet complete.

How long Hubble might continue to operate without another servicing mission is anybody's guess.

"The answer to how long it can last is completely probabilistic," said a project scientist who asked not to be named. "Who knows what will fail first? The two things we have always been most concerned with are the gyros and the batteries, both of which SM-4 would have addressed."

Based on the past performance of the gyroscopes, "it's our guess we have two years to go with 50 percent probability before we're down to two gyros," he said. "But it could be tomorrow and it could be eight years (from now).

"We need three gyros to do business as usual. We believe we can develop software to operate with two gyros and do 70 percent of the science the community would like to do. And indeed, headquarters had committed itself to asking Goddard and the institute to develop two-gyro mode several months ago. So clearly, we will do that."

That effort probably would keep Hubble operational into the mid 2007 time frame, but there are no guarantees. Batteries are another potential issue.

"The batteries are the original batteries, they are way past their experience baseline now," the astronomer said. "They are showing teeny little idiosyncratic signs of aging that no one really knows how to interpret. That's another wild card. And then, of course, you can name other things that could interrupt operations."

Up in the air is the fate of the Space Telescope Science Institute and the costly instruments already built for SM-4.

"The Cosmic Origins Spectrograph and the Wide Field 3 are almost complete and they are both fantastic instruments. We're really going to scratch our heads and find a good way to get the science out of those," Grunsfeld said.

"The various options that we are looking at, nothing definitive, but one possibility is that we find a way to incorporate the opportunity for those instruments to fly in ... our medium-class Explorer missions," he said.

"For instance the Origins Spectrograph could be combined with a relatively small mirror -- a one- or a one-and-a-half-meter mirror -- and still do the high-priority science."