Renowned rocket engine celebrates 40 years of flight
PRATT & WHITNEY NEWS RELEASE
Posted: November 30, 2003


The world's first liquid-hydrogen-fueled rocket engine is marking 40 years of flight. Since the Pratt & Whitney (P&W) RL10 engine first flew Nov. 27, 1963, it has earned the reputation of being the most reliable, safe and high-performing cryogenic upper-stage engine ever developed.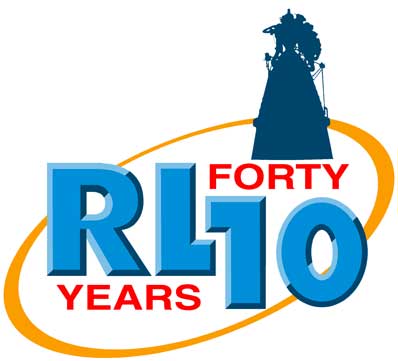 Credit: Pratt & Whitney



During its acclaimed heritage, the RL10 has placed more than 150 government, military and commercial payloads into their proper orbits. Its 350-plus engines that have flown in space have accumulated unrivaled numbers, such as more than 625 in-space firings and 555 hours of total engine operating time. The RL10 has provided propulsion for a variety of rocket configurations, including those in the Atlas, Delta, Saturn and Titan families. Its variants are also the upper-stage power plants for both vehicles in the Air Force's Evolved Expendable Launch Vehicle (EELV) program.

"We are very proud that the RL10 engine has helped shape this nation's space program since its beginning," P&W Space Propulsion and Russian Operations President Walter Bylciw said. "We have worked closely with the Air Force, NASA, Lockheed Martin and Boeing through the years to help meet their needs of accurately placing payloads into orbit and exploring nearly all of the planets in our solar system."

The RL10 has powered earth-orbital and interplanetary missions to Mercury, Venus, Mars, Saturn, Jupiter, Uranus and Neptune. Some of its notable missions include Pioneer, Mariner, Surveyor, Viking and Cassini. It has also supported placing astronomical observatories and two solar probes.

"The importance of the role the RL10 has played in space exploration was recognized in 1979 when the P&W West Palm Beach site, which has housed the program since its inception, was designated as a National Engineering Landmark," P&W Space Propulsion Director of Engineering Rich Pugh added. "The RL10 engine has provided unprecedented success during its 40 years of supporting space vehicle launches. Innovative designs, coupled with the most versatile rocket engine core ever produced, have made P&W a leader in providing rocket propulsion to fit every customer's need. We will continue to pursue technology enhancements to ensure each customer expectation is met and to ensure continual growth of our demonstrated safety and mission success record."

P&W has developed nine different RL10 models that went to flight through the years. When the first pair of production RL10 engines (RL10A-3) flew on Lockheed Martin's Atlas-Centaur II, each engine provided 16,000 pounds of thrust to achieve orbit. Today, P&W offers the RL10A-4 family of engines that produce 22,300 pounds of thrust and the RL10B-2 engine that produces 24,750 pounds of thrust and features the world's largest carbon-carbon extendable nozzle.

While the RL10 continues to write its legacy, P&W is developing an RL60 engine. This next generation cryogenic upper-stage engine is designed to produce 60,000 pounds of thrust, with a specific impulse of 465 seconds, to meet the evolving needs of expendable launch requirements or human-rated missions.

P&W Space Propulsion, a leader in liquid, solid, electric and hypersonic propulsion, has sites located at West Palm Beach, Fla. and San Jose, Calif. P&W, a United Technologies company, is a world leader in the design, manufacture and service of aircraft engines, space propulsion systems and industrial gas turbines.