Space science joins battle against cancer
EUROPEAN SPACE AGENCY NEWS RELEASE
Posted: November 21, 2003


Ground-breaking techniques which will be used to find tiny planets orbiting stars outside our Solar System are already being developed to help scientists detect cells in the early stages of cancer.

The enormous amount of light emitted by a star makes it extremely difficult to spot a planet in orbit around it. By using a technique that combines signals from two or more telescopes, ESA astronomers are able to create an artificial solar eclipse, 'neutralising' the effects of the bright starlight so that the fainter light from a planet can be detected.  

European space scientists have now developed the technique even further so that they can even study the atmospheres of such planets.

ESA's Darwin mission, which will study up to 1000 nearby stars, will be one of the first to use this technique to take us a step further towards answering the question 'Are we alone in the Universe?'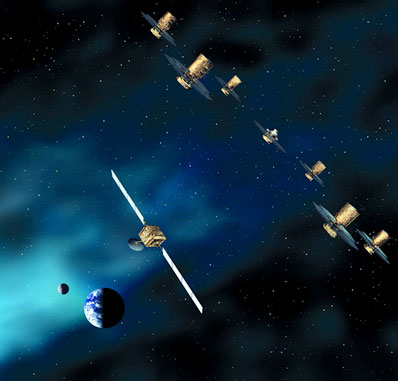 An artist's concept of Darwin's six telescopes and a communication satellite above Earth. Credit: ESA



But scientists in the Netherlands are excited about another application for this revolutionary technique. The national research organisation TNO/TPD has developed this imaging technology for medical use.

Using this technique, scientists can now obtain images of skin or tissue that are of much higher resolution than currently available. The technique is already being used to study changes in blood vessels and the retina, but it could be used as an early detection method for cancerous growths.

This will not be the first time that space technology has been used in the fight against cancer. A computer program originally developed by European scientists to find the sources of X-rays in deep space has been modified to produce a computer-aided early recognition system for skin melanomas.

The original software was used to block out background 'noise' in signals coming from space in order to detect weaker signals emitted from the remnants of supernova explosions.

Here on Earth, a sample of the surface of skin can be scanned and then magnified 10 times. The computer program then picks out the tiniest variations in colour, allowing doctors to see much more clearly whether there are any irregularities in cell growth, associated with malignant melanomas.