Shuttle Enterprise arrives at new Smithsonian museum
BY JUSTIN RAY
SPACEFLIGHT NOW
Posted: November 20, 2003


The space shuttle Enterprise, NASA's prototype orbiter that performed landing tests in the 1970s, on Thursday was moved to the National Air and Space Museum's new Steven F. Udvar-Hazy Center where it joins other famous aircraft for the facility's opening next month.

The Smithsonian Institution's new museum, located at the Washington Dulles International Airport in Virginia, will be opened December 15 in conjunction with the 100th anniversary celebrations commemorating the first powered flight by the Wright brothers.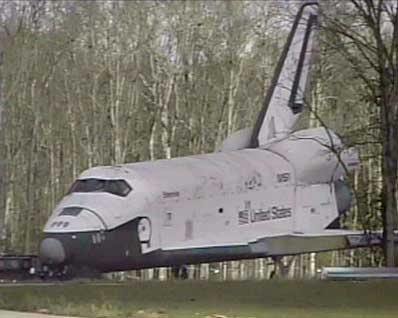 Enterprise is towed to the Steven F. Udvar-Hazy Center on Thursday. Credit: NASA TV/Spaceflight Now



Enterprise was used in 1977 for approach and landing test flights at Edwards Air Force Base in California, making five free-flights with two alternating crews to demonstrate a shuttle's ability to perform a powerless touchdown on a runway.

The craft was later used for vibration tests at Marshall Space Flight Center in Alabama and for launch complex fit checks at Kennedy Space Center in Florida and Vandenberg Air Force Base in California.

In 1985, NASA transferred Enterprise to the Smithsonian Institution's National Air and Space Museum. Since then, Enterprise has been in temporary storage at Washington's Dulles International Airport pending completion of the Museum's new center there.

Earlier this year, several of Enterprise's wing-leading edge panels were removed while engineers conducted foam impact testing during the Columbia accident investigation.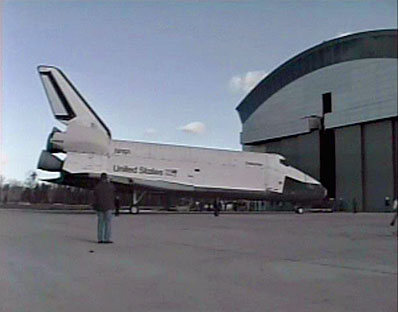 Enterprise arrives at the museum. Credit: NASA TV/Spaceflight Now



Enterprise, the first shuttle built, was designed only to be a test vehicle. It was never outfitted to fly in space.

The Steven F. Udvar-Hazy Center will include an aviation hangar, observation tower, IMAX theater, classrooms and food court. The James S. McDonnell Space Hangar will be completed by opening day with Enterprise installed and visible. However, the space hangar will not be accessible to the public for several months as Enterprise undergoes refurbishment and other artifacts are installed, officials said.

Some 200 aircraft and 135 large space artifacts will ultimately be on display at the center, including the B-29 Superfortress Enola Gay, an SR-71 Blackbird reconnaissance plane, Dash 80 prototype of the Boeing 707 and F-4 Phantom.


Video coverage for subscribers only:


VIDEO: WATCH ENTERPRISE ARRIVE AT THE MUSEUM QT


SUBSCRIBE NOW