European, Russian space agencies sign up for flights
EUROPEAN SPACE AGENCY NEWS RELEASE
Posted: November 10, 2003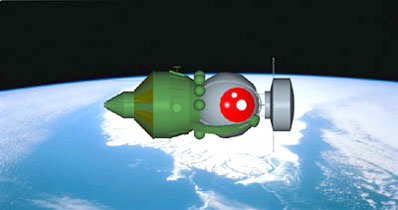 An artist's concept of Foton spacecraft. Photo: ESA



A procurement order for two unmanned Foton capsule flights was recently signed at the European Space Agency's Moscow Office by ESA's Director of Human Spaceflight, Mr Jorg Feustel-Buechl, and Mr V.I. Kozlov, Head of the Automatic Vehicle and Ground Control Department at Rosaviakosmos. The outcome of a year of extensive negotiations, this order will cover the Foton-M2 and -M3 missions, which will have 660 kg of ESA-supplied scientific payloads onboard.

The order binds ESA, Rosaviakosmos and two Russian partner companies (KBOM in Moscow, TsSKB-Progress in Samara) for at least the next three years, with a first launch scheduled for May 2005 and the second for autumn 2006.

This will provide reflight opportunities for almost the entire experiment programme originally assigned to Foton-M1 but lost when that launch failed on October 15, 2002. It will also reinstate a substantial part of ESA's scientific objectives for the STS-107 mission unfulfilled following the Columbia Shuttle accident in February with the tragic loss of its crew, experiment samples and science/technology experiments.

Foton capsules, which first flew in 1985, are based on the design of the Russian Vostok capsule, in which Yuri Gagarin was put into orbit in 1961. But whereas the original Vostok design has been developed for manned missions into the Soyuz spacecraft, it has been very largely maintained for the unmanned Foton, which is primarily used for physics and materials science experimentation. The typical length of a Foton mission is 15 days. The recoverable capsule is launched on a Soyuz-U and returned to Earth at the end of their mission, landing with the aid of a parachute system.

The Foton-M2 payload will include experiments in fluid physics (FluidPac, SCCO), exobiology (Biopan), five material science experiments to be processed in Russia's Polizon automatic furnace and further such experiments in the DLR's Agat furnace, a technology experiment (Favorite) and the Autonomous experiments (Photo-Ii, Biofilter). Two further experiments will be embedded in the spacecraft's heat shield, one concerning re-entry technology (Keramik), the other meteoritic science (Stone).

ESA's Education Office will be coordinating the operational aspects of a number of additional experiments on Foton-M2, which have come about through cooperation involving the Samara State Aerospace University and many West European academic institutes. The University will also be offering to provide all the scientific and technical teams with near-real time data on the spacecraft's orbital attitude and residual accelerations.

The preliminary Foton-M3 payload definition is planned to include various experiments in biology (Biobox, Kubik, Eristo/Osteo), exobiology (Biopan), fluid physics (SCCO, Gradflex), protein crystallisation, material science (Polizon), new re-entry technology (YES-2), plus other Autonomous experiments.

Following the signing of this procurement order, these Foton missions will undergo various review phases involving ESA prior to launch. These have been made more extensive, in order to provide improved safeguards against setbacks such as the Foton-M1 accident. The reviews will cover issues such as operations and safety and will also extend to the three-stage Soyuz-U launcher.