Sun spews spectacular solar storm
NOAA NEWS RELEASE
Posted: November 4, 2003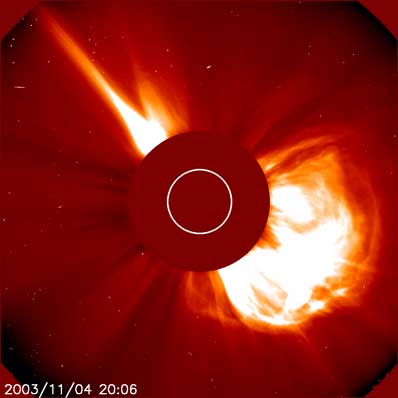 Credit: NASA/ESA/SOHO



The NOAA Space Environment Center in Boulder, Colo., reports that an intense explosion occurred on the sun Tuesday at 2:29 p.m. EST. The violent eruption saturated X-ray detectors on NOAA's GOES satellite, which monitors the sun and produces a new image every minute. NOAA space weather forecasters are still analyzing the event to see if this solar explosion will trigger another bout of radiation and geomagnetic storms.

The explosion occurred in NOAA Region 486, an area that was about to rotate out of view of the Earth. This storm may only deal a glancing blow at the Earth given the position of the solar eruption. This region of the sun will be squarely aimed at Earth once again during Thanksgiving week.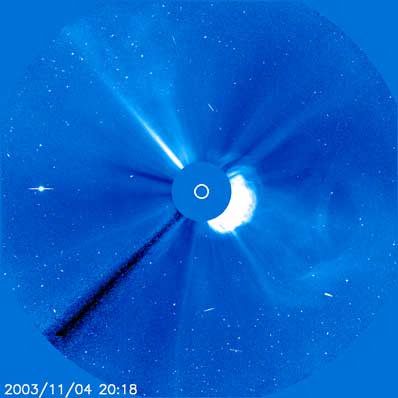 Credit: NASA/ESA/SOHO



NOAA scientists are amazed at the amount of solar activity during the last two weeks. During this cycle of the sun, almost four years past solar maximum, explosions of this magnitude are a rarity.

NOAA forecaster Bill Murtagh said that a radio blackout is in progress. "This is an R-5 extreme event. They don't get much bigger than this." An R-5 event is at the top of the NOAA space weather scales, which run 1 to 5.

NOAA is dedicated to enhancing economic security and national safety through the prediction and research of weather and climate-related events and providing environmental stewardship of the nation's coastal and marine resources. NOAA is part of the U.S. Department of Commerce.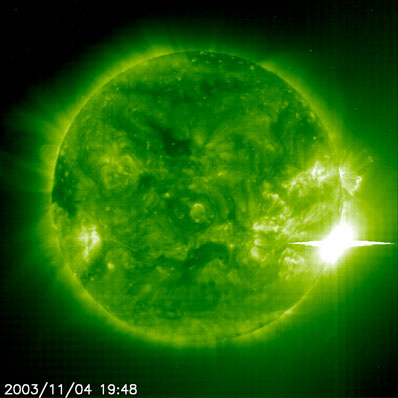 Credit: NASA/ESA/SOHO