Dramatic view from space of Brazilian launch pad disaster
BY SPACEFLIGHT NOW
Posted: August 27, 2003


Space Imaging's commercial Earth observing satellite, Ikonos, has captured extraordinary "before" and "after" photos of the Brazilian launch pad where 21 workers were killed in a rocket explosion last week.

Brazil's third VLS launcher exploded last Friday at the Alcantara base on the country's northeastern Atlantic coastline. The rocket was sitting on the pad while technicians were performing tests in advance of liftoff scheduled a few days later.

Initial reports suggest that one of the vehicle's four boosters may have ignited prematurely, triggering the launch pad disaster.

Orbiting high above Earth, Ikonos snapped views of the launch pad in September 2001 and again on Saturday, one day after the tragedy. The "after" scene shows evidence of the blast, the collapsed launch pad and burned vegetation.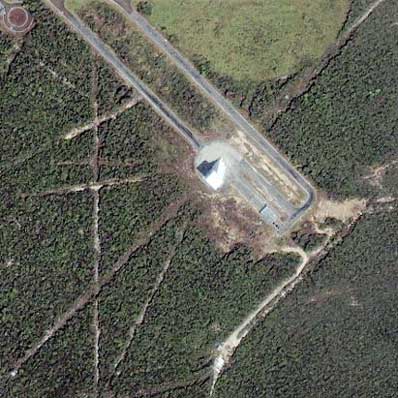 Ikonos image taken on September 5, 2001 shows the "before" scene. Credit: Space Imaging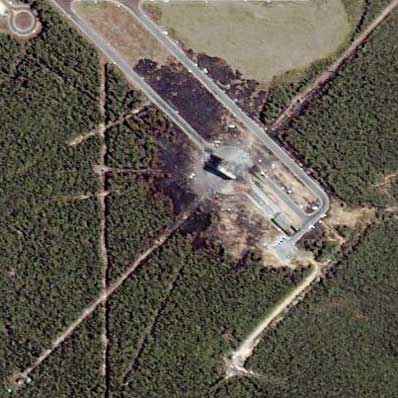 Ikonos image taken on August 23, 2003 shows the "after" scene. Credit: Space Imaging






Mars DVD
Explore the Red Planet from the comfort of your home with this interactive DVD. Includes 3D glasses for viewing three-dimensional images of Mars.


U.S. STORE

U.K. & WORLDWIDE STORE

Apollo 17 DVD now shipping
Relive the last manned mission to the moon with this six-disc DVD featuring more than 25 hours of footage. Now shipping from the Astronomy Now Store.


U.S. STORE

U.K. & WORLDWIDE STORE



Inside Apollo

See inside the Apollo Command and Service Modules in detail like never before through color computer generated drawings.


U.S. STORE

U.K. & WORLDWIDE STORE

Story on stage
SIGNED COPIES! "A Space Story" DVD is a galactic journey with astronaut Story Musgrave visiting the Hubble Space Telescope, viewing Earth from Space, and reaching for the heavens. Get a signed copy while stocks last!


U.S. STORE

U.K. & WORLDWIDE STORE