Russian freighter discarded from space station
BY JUSTIN RAY
SPACEFLIGHT NOW
Posted: August 27, 2003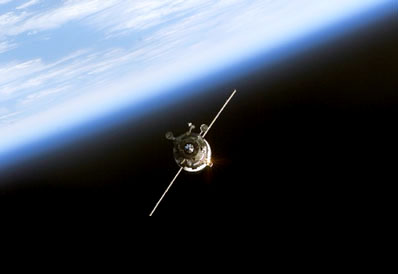 This file image a Russian Progress cargo ship. Credit: NASA



A trash-filled supply ship departed the International Space Station Wednesday, making way for the next Russian-made cargo vessel due to arrive this weekend.

The 10th Progress freighter had been docked to station's Zvezda module since early February. It was launched February 2, one day after the Columbia tragedy grounded all space shuttle missions.

Wednesday's 6:48 p.m. EDT (2248 GMT) undocking from Zvezda's aft port occurred while flying 240 statute miles over eastern China. Later in the evening, Progress M-47 was scheduled to fire its engines to brake from orbit and reenter the atmosphere over the Pacific Ocean.

The station's resident crew -- Expedition 7 commander Yuri Malenchenko and NASA science officer Ed Lu -- packed the Progress with garbage and worn-out equipment. They had also exhausted the supply of oxygen from the freighter to repressurize the station.

Lu was asleep at the time of undocking, but Malenchenko was allowed by flight controllers to remain awake to monitor the autonomous operation.

The next Progress -- the 12th destined for the International Space Station -- was rolled to the launch pad Wednesday morning at the Baikonur Cosmodrome in Kazakhstan. A Soyuz rocket will propel the ship into Earth orbit following liftoff at 9:48 p.m. EDT (0148 GMT) Thursday night.

The Progress M-48 is carrying fresh supplies, food and equipment. Docking to Zvezda is scheduled for 11:45 p.m. EDT (0345 GMT) Saturday night.

The 11th Progress resupply craft remains docked to the station's Pirs module where it has been since June. It is scheduled to depart September 4 to yield that docking port for the next manned Soyuz capsule when it arrives October 20 with the Expedition 8 crew.

The Soyuz TMA-3 spacecraft that will ferry Expedition 8 commander Michael Foale and Russian cosmonaut Alexander Kaleri to relieve Expedition 7 and European Space Agency astronaut Pedro Duque. Expedition 7 and Duque will then ride the Soyuz TMA-2 capsule back to Earth on October 28.