Space entrepreneurs seek regulatory relief
BY JEFF FOUST
SPACEFLIGHT NOW
Posted: July 26, 2003


Entrepreneurs creating new commercial space companies as well as those interested in investing in those companies said this past week that Congress needs to take several steps to improve regulations to allow those companies to flourish.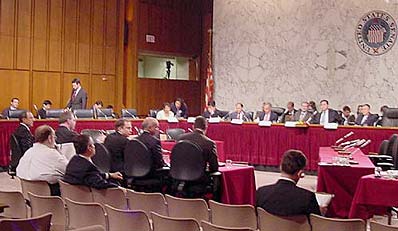 A Congressional hearing Thursday focused on commercial human spaceflight regulatory issues. Photo: Jeff Foust



Speaking before a joint House-Senate hearing on commercial human spaceflight on Thursday, several witnesses, including the heads of two companies as well as Dennis Tito, the first commercial space tourist, warned the legislators that the current uncertain regulatory environment could stifle their efforts to develop vehicles that could carry satellites and people far less expensively than possible today.

"A hundred years ago, when the Wright Brothers were figuring out how to get into the air, the only question they had to ask was, 'can we?'" said Jon Kutler, founder and CEO of Quarterdeck Investment Partners, an aerospace and defense investment bank. "Today, all these people here with me are really asking, 'will we be allowed?'"

The federal government already has a system for licensing expendable launch vehicles used for commercial missions, and several years ago the Federal Aviation Administration (FAA) gained the authority to license commercial reusable launch vehicles (RLVs) as well. The concerns raised by those in the Congressional hearing, though, regard RLVs that fly suborbital trajectories that take them briefly into space, but not into orbit. These vehicles fall into a gray area where there are no explicit definitions regarding what a suborbital RLV is, and as such raises uncertainty whether such vehicles should be licensed as aircraft or launch vehicles.

The RLV industry prefers to have suborbital vehicles be licensed as launch vehicles. Otherwise, the vehicles would have to go through an onerous and expensive certification process to be approved for commercial use, an outcome that many believe would kill the industry before it even got started. "In suborbital spaceflight, we don't know who will regulate us," said Tito. He called the possibility that the FAA's aviation branch regulating suborbital RLVs "very, very, scary." "For example, it cost $600 million to certify a Lear 45," he noted. "With that kind of certification cost, I see that it would be impossible for this industry to begin."

The FAA's Office of the Associate Administrator for Commercial Space Transportation (AST) has already developed definitions for suborbital vehicles and suborbital trajectories, and published them earlier this year. "This is a distinction [between RLVs and aircraft] that makes sense, and we can work with," said Jeff Greason, president of XCOR Aerospace, a company developing a suborbital RLV. However, Greason and others on the panel believed that those definitions need to be codified into law by Congress to prevent AST from being overruled by others within the FAA or elsewhere in government.
| | |
| --- | --- |
| | An artist's concept of XCOR Aerospace vehicle. Credit: XCOR |
This debate over definitions would largely be an academic one if it were not for a growing interest in suborbital RLVs. Such vehicles were largely ignored by the market until a few years ago, as both entrepreneurial and established aerospace companies sought to develop full-fledged orbital RLVs to serve a launch market thought to be growing rapidly. However, a combination of technical problems, an inability to raise sufficient funding, and a collapse of the commercial launch market has largely driven attention towards suborbital vehicles, which would be cheaper and easier to develop.

Suborbital RLVs are also in a leading position to create a new market for public space travel, also known as space tourism. A market study published last year by the Futron Corporation showed that demand for suborbital space tourism could grow to 15,000 passengers a year by 2021, generating $700 million a year in revenues. "Suborbital space travel is a promising market," said Phil McAlister, director of the space and telecommunications division at Futron. "The demand for public space travel is real, robust, will eventually make someone very wealthy, and is one of the few areas where growth can be predicted for the launch industry."

The potential for suborbital space tourism has won over Tito, who had dismissed suborbital spaceflight as a "joyride" as recently as 18 months ago. "It began to dawn on me that a suborbital experience was of real value, even though it gave someone possibly only a three-minute slice of being in space," he said. "I know a business opportunity when I see one, and this is indeed a huge business opportunity."

Tito mentioned he was willing to invest in a suborbital RLV company; sources later said that he has already selected a company to invest in, and is waiting for improvements in the regulatory environment before taking the plunge. "I think the technological hurdles can be dealt with. I think the market is there. I'm not afraid of the competition," he said. "The only big problem that stands before myself and others who want to do this is the regulatory risk."

In addition to concerns about how suborbital RLVs would be regulated, panelists also expressed concerns about liability issues. Noting that the general aviation industry in the US almost went out of business in the 1980s because of huge liability judgements, saved only by new laws that put limits on the liability of aircraft manufacturers, the industry wants the ability to have passengers on RLVs waive any liability claims before flying, and also make sure the flights of passengers on RLVs are not strictly regulated by the government.

"I and my engineers will fly aboard our vehicles long before we consider them safe enough for paying customers," said Greason. "Nor would we ever consider flying someone who was not fully informed of the risk involved. If Americans are willing to risk their lives and wealth to open a new frontier, why should we stop them?"

Companies are also looking for relief from environmental regulations, which often require filling out large volumes of forms and reports even for vehicles that pose no risk to the environment. Elon Musk, a former Internet entrepreneur who sold PayPal to eBay for over $1 billion last year, is currently dealing with such regulations while developing the Falcon unmanned launch vehicle for his new company, Space Exploration Technologies. He noted that his company has to spent $10,000 per launch to prove that the launches do not harm the seals that live in the waters off the coast from Vandenberg Air Force Base in California, even though the population of seals grew by 12.7 percent last year. "With that population growth rate," he noted, "it seems clear that, if anything, the Vandenberg launch activity serves as an aphrodisiac."

Senators and Congressmen attending the hearing seemed inclined to support the needs of the industry, although they did not offer any specific promises to introduce legislation to address those concerns. "We must increase the sources and numbers of entities entering space," said Senator Sam Brownback (R-Kan.), chairman of the space subcommittee of the Senate Commerce Committee.

"The federal government has the power to promote investor confidence by providing a clear regulatory guideline for commercial space transportation operators," said Rep. Dana Rohrabacher (R-Calif.), chairman of the space subcommittee of the House Science Committee, who co-chaired the hearing with Brownback. "They can do that, or they can strangle this baby in the cradle."




Gemini DVD now shipping
This three-disc DVD contains rare footage from the pioneering Gemini space missions of the 1960s. Now shipping from the Astronomy Now Store.


U.S. STORE

U.K. & WORLDWIDE STORE

Earth from space DVD
80 minutes of spectacular digital video of planet Earth beamed down from the shuttle accompanied by instrumental music, plus a 4-minute shuttle liftoff guaranteed to rock your living room.


U.S. STORE

U.K. & WORLDWIDE STORE





Hubble Posters

Stunning posters featuring images from the Hubble Space Telescope and world-renowned astrophotographer David Malin are now available from the Astronomy Now Store.


U.S. STORE

U.K. & WORLDWIDE STORE



Clearance sale



Price cuts on spectacular calendars featuring the Hubble Space Telescope, Space Station and Earth from space.


U.S. STORE

U.K. & WORLDWIDE STORE