China could begin manned spaceflight soon
BY STEPHEN CLARK
SPACEFLIGHT NOW
Posted: July 24, 2003


China's clandestine manned space program could be just a few months away from its first human journey into orbit, a feat the nation has been striving toward for over a decade.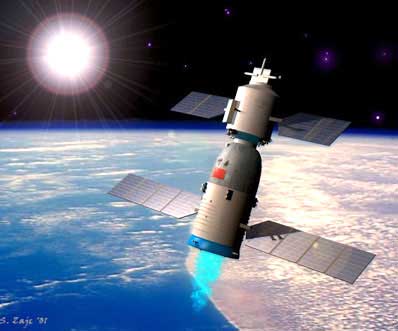 An artist's concept of Shenzhou in orbit. Credit: Simon Zajc



Officials quoted by the pro-government Wen Wei Po Chinese newspaper earlier this week have said the launch of Shenzhou 5 is expected within the next 100 days, although the source declined to give an exact date.

The top secret program to put Chinese astronauts -- dubbed yuhangyuans -- into space was kicked off 10 years ago. Recently, however, the program's high aspirations have been no secret with announcements of plans to not only put humans into Earth orbit, but also to possibly build a space station and to use unmanned spacecraft to explore the Moon.

Other officials have also come forward this week saying the long-awaited mission would take place some time in October, the AFP news agency reported Wednesday.

The number of crewmen for the historical spaceflight remains unknown. The Shenzhou spacecraft has the capability to support a crew of up to three, but officials could elect to fly just one or two astronauts on the inaugural manned mission.

The Wen Wei Po newspaper also reported the launch likely would take place during daylight hours to avoid extremely cold temperatures that have troubled launch team members while making preparations prior to liftoff at the Jiuquan satellite launching center, situated in northwestern China near the Gobi Desert.

It has been widely reported that over a dozen potential "yuhangyuans" have been in training for possible space missions for several years now.

A Chinese manned spaceflight would likely significantly bolster national prestige. Such a mission would make China only the third nation after Russia and the United States to ever put humans into space.

China has mounted a total of four unmanned test flights of the Shenzhou spacecraft since 1999, with each one becoming a more realistic dress rehearsal for the conditions to be faced on an actual crewed flight.

The most recent mission -- Shenzhou 4 -- launched December 29 of last year and embarked on a week-long flight that served as an end-to-end test of the systems and processes involved on a manned spaceflight. The Chinese People's Daily reported that supplies such as food and other personal effects were even included aboard the craft.

Other test flights occurred in November 1999, January 2001 and March 2002.