Pluto explorer to launch atop Atlas 5 rocket
BY SPACEFLIGHT NOW
Posted: July 23, 2003; Updated July 24 with Mars orbiter on Atlas 5


NASA has tapped Lockheed Martin's Atlas 5 rocket to launch the world's first robotic expedition to the planet Pluto. The New Horizons mission is scheduled for launch in January 2006.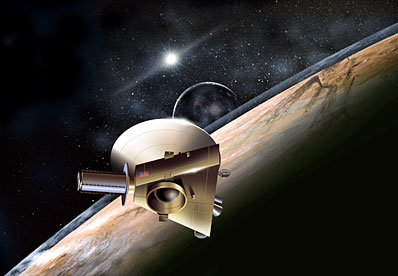 An artist's concept of the New Horizons spacecraft. Credit: Johns Hopkins University Applied Physics Laboratory/Southwest Research Institute (JHUAPL/SwRI)



New Horizons would seek to answer key scientific questions regarding the surfaces, atmospheres, interiors, and space environments of Pluto and its moon Charon using imaging, visible and infrared spectral mapping, ultraviolet spectroscopy, radio science, and in-situ plasma sensors.

The Principal Investigator is Dr. Alan Stern of the Southwest Research Institute, Boulder, Colo. The implementing institution is the Applied Physics Laboratory of The Johns Hopkins University, Laurel, Md.

Atlas 5 was developed as part of the Air Force's Evolved Expendable Launch Vehicle program. The rocket has flown three times in the past 11 months, all successfully.

New Horizons plans to use an Atlas 5-551 version rocket with a five-meter nose cone and five strap-on solid rocket boosters.

"We are thrilled that NASA chose the Atlas 5 vehicle to launch the Pluto New Horizons mission," said Mark Albrecht, president of Atlas marketing firm International Launch Services. "Such high-value scientific missions require the time-critical and reliable access to space that Atlas has proven it can deliver."

This will be the second NASA mission to use the Atlas 5. Officials recently announced that the Mars Reconnaissance Orbiter shall fly atop the next-generation rocket in 2005, using the Atlas 5-401 configuration with a four-meter fairing and no solid boosters.

NASA intended to launch the Mars craft aboard an Atlas 3 but had the option to switch to Atlas 5.




Gemini DVD now shipping
This three-disc DVD contains rare footage from the pioneering Gemini space missions of the 1960s. Now shipping from the Astronomy Now Store.


U.S. STORE

U.K. & WORLDWIDE STORE

Earth from space DVD
80 minutes of spectacular digital video of planet Earth beamed down from the shuttle accompanied by instrumental music, plus a 4-minute shuttle liftoff guaranteed to rock your living room.


U.S. STORE

U.K. & WORLDWIDE STORE