Russia launches resupply ship to space station
BY SPACEFLIGHT NOW
Posted: June 8, 2003


A cargo freighter packed with vital supplies to keep the international space station manned while NASA's space shuttle fleet remains grounded roared away its launch pad in Central Asia today.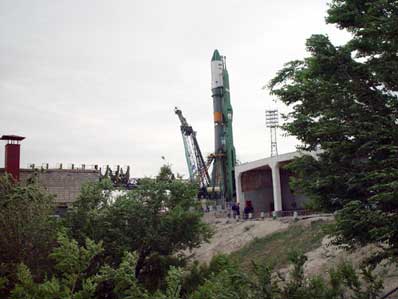 The Soyuz rocket with Progress M1-10 on the launch pad for today's liftoff. Photo: Energia



The Russian Progress M1-10 craft lifted off at 1034 GMT (6:34 a.m. EDT) from Baikonur Cosmodrome atop a unmanned Soyuz rocket. Orbit was achieved about 10 minutes later, setting up for a three-day pursuit to rendezvous with the station.

The Progress is carrying about 5,300 pounds of supplies for the station and crew -- Expedition 7 commander Yuri Malenchenko and NASA science officer Ed Lu. The two men have completed their sixth week living aboard the orbiting lab complex.

Docking is scheduled for 1117 GMT (7:17 a.m. EDT) Wednesday. This is the 11th Progress supply ship destined for the international space station.
| | |
| --- | --- |
| | The Progress M1-10 spacecraft during pre-launch processing activities. Photo: Energia |
Last week, Malenchenko and Lu reconfigured stowed items in the station's Russian docking module, called Pirs, to which the new Progress ship will link up. Malenchenko also completed a successful test of a backup docking system that would allow him to manually control the Progress' docking from inside the station in the unlikely event the primary automated docking system was not available.

The 10th Progress craft launched to the station is currently docked to the aft port of the Zvezda service module. It has been parked at the complex since early February. Plans call for the craft to will remain in place for the next several months to provide roll-control steering for the station by periodically firing its thrusters.

Another Russian spacecraft, the crew's Soyuz TMA-2 return craft, is docked to the nadir port of the Zarya module.

After the new Progress arrives in a few days, the crew will open the hatchway and enter the spacecraft to unload the goods and equipment housed inside. The freighter is slated to depart the station at the end of August after being filled with trash and unneeded material to burn up in the atmosphere. The Pirs docking module will be used by the next Progress expected arrive soon thereafter.