SIRTF observatory launch rescheduled for August 27
BY JUSTIN RAY
SPACEFLIGHT NOW
Posted: May 5, 2003

| | |
| --- | --- |
| | Enclosed in a barrel-like transportation canister, SIRTF sits at the base of pad 17B. Photo: NASA |
With its launch stalled four months, NASA's Space Infrared Telescope Facility has been removed from atop its rocket at Cape Canaveral's pad 17B and returned to a processing clean room for the unplanned wait to fly.

The observatory was supposed to be in space by now, but concerns with the Boeing Delta 2 rocket to launch SIRTF prompted officials to postpone the $1.2 billion mission. Technicians found areas of delamination in the layers of carbon that make up the nozzles of solid-fueled boosters on the Delta 2.

Faced with an early May deadline to launch SIRTF so the same Cape Canaveral pad could be readied for the time-critical June 25 flight of a Mars rover, engineers didn't have the time to swap solid boosters. That ultimately bumped the telescope to the end of the launch line-up.

NASA has targeted August 27 as the new launch date for SIRTF.

With SIRTF removed from atop the Delta 2 last Friday at launch pad 17B, work was underway Monday to detach the rocket's second stage.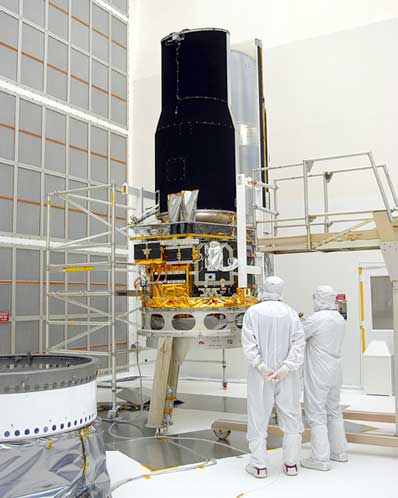 SIRTF in the clean room. Photo: NASA



Of the Delta 2's nine strap-on solid rocket boosters, officials decided that two would be replaced due to delamination worries. NASA announced on Monday that three more would be removed "because of the amount of time remaining in their shelf life."

The four remaining motors and the Delta first stage will remain in place at pad 17B for use in launching the Mars Exploration Rover-B on June 25. The new solids and a different second stage will be delivered to the pad later this month.

SIRTF will remain in the clean room at the Cape's Hangar AE until it returns to the pad in early August.