SIRTF launch delayed
BY SPACEFLIGHT NOW
Posted: April 10, 2003


The launch of NASA's final "Great Observatory" -- the Space Infrared Telescope Facility -- is being delayed due to concerns associated with the Boeing Delta 2 rocket that will send $1.2 billion mission into space, sources said on Thursday.

SIRTF had been scheduled for launch on April 18, but that will be pushed back until around April 26 because of questions raised about the strap-on solid rocket motors that will help boost the Delta 2 off its Cape Canaveral launch pad, the sources said. Boeing and NASA officials reached late Thursday were unable to confirm the reason for the delay.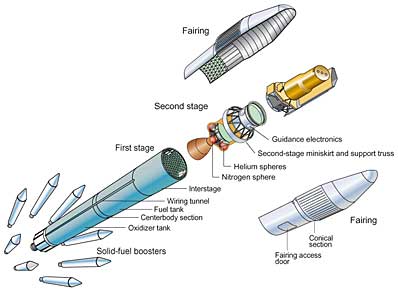 Illustration of Delta 2 rocket with SIRTF. Credit: Boeing/NASA



The launch is the debut of the Delta 2 Heavy rocket, which is capable of lifting 13-percent more payload than earlier models of the Delta 2. The extra lift comes from nine larger strap-on solid rocket motors, which first flew on Boeing's Delta 3 rocket. Six of the motors ignite at liftoff, with the remaining three firing 79 seconds into flight.

The beefed up motors are 46 inches in diameter and 442.4 inches in length, compared with the standard Delta 2 motors that are 40-inches in diameter and 394.8 in length. Boeing also had to make structural and acoustic blanket adjustments in the rocket's first stage to accommodate the higher aerodynamic loads induced by the larger boosters.

Officials at the space agency's Washington, D.C., headquarters apparently called for further reviews before clearing the new rocket for flight. The Delta 2 Heavy is also slated to launch the second of NASA's twin Mars Rovers this summer.

SIRTF itself was recently placed atop the Delta 2 Heavy at Cape Canaveral's launch complex 17B and was enclosed in the payload fairing on Thursday. Project officials gave the observatory a clean bill of health. It just awaits its ride into space.

The observatory has to be off the ground by May 7 or it will be further delayed to make way for the second Mars missions, which need to take advantage of a narrow interplanetary launch window that only occurs only every 26 months. The second Mars rover will be launched from pad 17B where SIRTF currently resides.

The cryogenic-chilled infrared telescope will be stationed in a heliocentric orbit that trails Earth as it orbits the Sun. During it's five-year mission, the SIRTF will seek out infrared light from objects shrouded by cosmic dust. In particular, astronomers hope it will help detect discs around other stars, where planets may be forming.

SIRTF is the last of NASA's Great Observatories, following the Hubble Space Telescope, The Compton Gamma Ray Observatory and the Chandra X-ray Observatory in orbit.