First images from disaster monitoring microsat released
BY STEPHEN CLARK
SPACEFLIGHT NOW
Posted: April 6, 2003


An armada of small satellites will soon be circling Earth ready for use as an on-demand imaging system to monitor natural and man-made disasters affecting nations worldwide. Officials released the first images from the disaster monitoring constellation's flagship spacecraft -- AlSat-1 -- last week.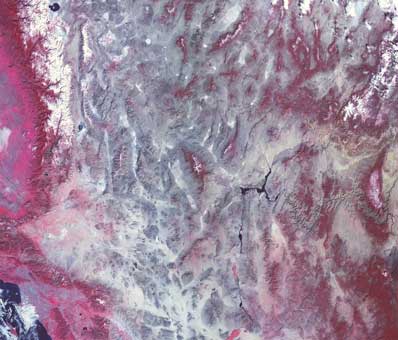 Illustrating the unique wide-swath imaging capability of this new satellite, the area shows a 600x600 km area stretching from Los Angeles up to the south-eastern region of San Francisco and across Nevada and New Mexico to Utah and the Grand Canyon. Courtesy: SSTL
SEE FULL IMAGE



Launched last November from Russia, the microsatellite underwent checkout and testing by Algerian and British ground engineers located at Surrey Satellite Technology Limited, based in the United Kingdom.

Operations then began to snap the first pictures of selected locations from AlSat-1, which features a trio of imagers in the near infrared, red, and green spectral bands. A resolution in color imagery of up to 32 meters can be achieved by AlSat-1's remote sensing payload. An approximately 600-kilometer wide imaging swath also allows for a wide variety of targets per pass.

AlSat-1 took its first picture about two weeks after launch last year, SSTL spokeswoman Audrey Nice said. Surveys of North Africa have also been conducted by the SSTL-built, Algerian-owned craft.

Images included in last week's photo release show the American Southwest from California to New Mexico. Surrey also retrieved full resolution tiles from the large image that focused on Las Vegas and the Colorado River valley.

The tiny 200-pound craft orbits about 700 kilometers high in a Sun-synchronous orbit inclined 98 degrees. Such an orbit allows the satellite to view regions with frequency at approximately the same time each day.

When coupled, officials say the orbit selection and the capabilities of the satellite itself make the disaster monitoring constellation, or DMC, unique in the civil remote sensing community by being able to act almost on-demand to take pictures of any global hotspot in less than 24 hours with a resolution of 32 meters.

"The constellation of SSTL-built satellites, when fully operational later this year, will allow DMC consortium members to retrieve 32-meter images of any point on the Earth in less than 24 hours, a service not presently available from any civil remote sensing system," SSTL told Spaceflight Now.

A Surrey representative said other civilian Earth-watching spacecraft with similar resolution offer a much smaller land area in their imagery, which lowers the value of such information to emergency management personnel, agriculture planners, and climatologists, and many others that will use the DMC as a source of data.

Applications for the system also include the use of the data to aid urban and city planners, geologists, and humanitarian missions. Commercial uses are also being explored by the DMC partners.

"AlSat-1 has met and exceeded our very high expectations, paving the way for the second DMC launch with three further satellites in July 2003," said SSTL CEO Sir Martin Sweeting. "We are particularly pleased for our customer and DMC partner, CNTS (Centre National des Techniques Spatiales), who have taken their first step into space with a truly innovative and important mission."

"For more than 20 years Surrey has shown that microsatellites are increasingly able to perform useful and important missions. AlSat-1 is further proof that services which once required satellites costing hundreds of millions of pounds can now be provided at an order of magnitude less cost. This is certain to change the economics of the remote sensing industry," Sweeting went on to say.

A Kosmos-3M booster is being scheduled to loft three more DMC satellites some time in late July from its Russian launch pad. SSTL-built spacecraft for the United Kingdom and Nigeria will feature nearly identical technical specifications as AlSat-1, while a Turkish satellite will provide images with slightly higher resolution but with smaller land coverage per photo.

Officials say there are plans for a follow-on fleet of disaster monitoring satellites that could generate high resolution imagery in the future, but no timeframe was given.