NASA formally announces Expedition 7 station crew
NASA NEWS RELEASE
Posted: April 1, 2003


Veteran Russian cosmonaut Yuri Malenchenko (Col., Russian Air Force) and veteran NASA astronaut Ed Lu have been named as the primary crew for the planned April 26, 2003, launch of a Russian Soyuz TMA-2 spacecraft to the International Space Station.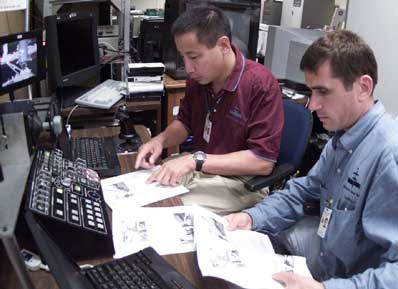 Cosmonaut Yuri Malenchenko (foreground) and astronaut Ed Lu train at Johnson Space Center's virtual reality lab. Photo: NASA



Malenchenko and Lu will be called the Expedition 7 crew. Russian cosmonaut Alexander Kaleri and NASA astronaut Michael Foale are the backup crewmembers to Malenchenko and Lu.

Expedition 6 Commander Ken Bowersox, Flight Engineer Nikolai Budarin and NASA Space Station Science Officer Don Pettit will return to Earth aboard the Soyuz TMA-1 craft in May 2003. The three Expedition 6 crewmembers were launched on November 23, 2002. They have been aboard the Station since November 25. They were originally scheduled to return in March aboard the Space Shuttle Atlantis during the STS-114 mission.

Malenchenko commanded a four-month mission aboard the Mir Space Station in 1994. He participated in the STS-106 mission aboard Atlantis in 2000 to prepare the International Space Station for permanent human occupancy.

Lu is a veteran of two Shuttle flights. In 1997, he flew aboard Atlantis to the Mir Space Station on the STS-84 mission to exchange U.S. residents on the Russian complex, and he joined Malenchenko on STS-106. Malenchenko and Lu were originally scheduled to fly with Kaleri on Expedition 7 to the Station, which had been scheduled to launch on the STS-114/ULF-1 (Utilization and Logistics Flight-1) mission in March. Malenchenko and Lu will continue to operate the science payloads already on board, as well as maintaining the Station.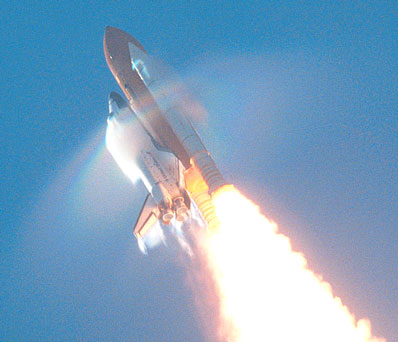 Malenchenko and Lu flew aboard Atlantis in 2000. This is a dramatic image of that launch showing the shock wave condensation collars backlit by the sun during ascent. Photo: NASA








Hubble Calendar
NEW! This remarkable calendar features stunning images of planets, stars, gaseous nebulae, and galaxies captured by NASA's orbiting Hubble Space Telescope.


U.S. STORE

U.K. & WORLDWIDE STORE

Hubble Posters

Stunning posters featuring images from the Hubble Space Telescope and world-renowned astrophotographer David Malin are now available from the Astronomy Now Store.


U.S. STORE

U.K. & WORLDWIDE STORE