NASA's Odyssey marks one year in orbit around Mars
NASA/JPL NEWS RELEASE
Posted: March 15, 2003


NASA's Mars Odyssey spacecraft has transformed the way scientists are looking at the red planet.

"In just one year, Mars Odyssey has fundamentally changed our understanding of the nature of the materials on and below the surface of Mars," said Dr. Jeffrey Plaut, Odyssey's project scientist at NASA's Jet Propulsion Laboratory, Pasadena, Calif.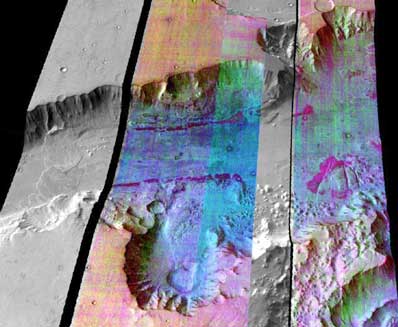 This false-color infrared image was taken by the camera system on the Mars Odyssey spacecraft over part of Ganges Chasma in Valles Marineris. Photo: NASA/JPL/Arizona State University



During its first year of surveying the martian surface, Odyssey's camera system provided detailed maps of minerals in rocks and soils. "A wonderful surprise has been the discovery of a layer of olivine-rich rock exposed in the walls of Ganges Chasm. Olivine is easily destroyed by liquid water, so its presence in these ancient rocks suggests that this region of Mars has been very dry for a very long time," said Dr. Philip Christensen, principal investigator for Odyssey's thermal emission imaging system at Arizona State University, Tempe.

"Infrared images have provided a remarkable new tool for mapping the martian surface. The temperature differences we see in the day and night images have revealed complex patterns of rocks and soils that show the effects of lava flows, impact craters, wind and possibly water throughout the history of Mars," Christensen said.

Odyssey has measured radiation levels at Mars that are substantially higher than in low-Earth orbit. "The martian radiation environment experiment has confirmed expectations that future human explorers of Mars will face significant long-term health risks from space radiation," said Dr. Cary Zeitlin, principal investigator for the martian radiation environment experiment, National Space Biomedical Research Institute, Houston. "We've also observed solar particle events not seen by near-Earth radiation detectors."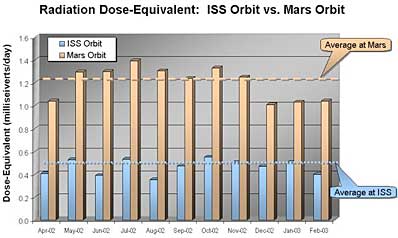 This graphic shows the radiation dose equivalent as measured by Odyssey's Martian radiation environment experiment at Mars and by instruments aboard the International Space Station, for the 11-month period from April 2002 through February 2003. Credit: NASA/JPL/JSC



The gamma ray spectrometer suite, which early in the mission discovered vast amounts of hydrogen in the form of water ice trapped beneath the martian surface, has also begun to map the elemental composition of the surface.

"We are just now getting our first look at global elemental composition maps, and we are seeing Mars in a whole new light, gamma ray 'light,' and that's showing us aspects of the surface composition never seen before," said Dr. William Boynton, team leader for the gamma ray spectrometer suite at the University of Arizona, Tucson.

JPL, a division of the California Institute of Technology in Pasadena, Calif., manages the 2001 Mars Odyssey mission for NASA's Office of Space Science in Washington, D.C. Investigators at Arizona State University, the University of Arizona, and NASA's Johnson Space Center, Houston, built and operate the science instruments.

Additional science partners are located at the Russian Aviation and Space Agency and at Los Alamos National Laboratories, New Mexico. Lockheed Martin Astronautics, Denver, the prime contractor for the project, developed and built the orbiter. Mission operations are conducted jointly from Lockheed Martin and from JPL.


Video coverage for subscribers only:


VIDEO: MARS ODYSSEY MISSION UPDATE BRIEFING QT


SUBSCRIBE NOW








Hubble Calendar
NEW! This remarkable calendar features stunning images of planets, stars, gaseous nebulae, and galaxies captured by NASA's orbiting Hubble Space Telescope.


U.S. STORE

U.K. & WORLDWIDE STORE

Hubble Posters

Stunning posters featuring images from the Hubble Space Telescope and world-renowned astrophotographer David Malin are now available from the Astronomy Now Store.


U.S. STORE

U.K. & WORLDWIDE STORE