Atlas 5 approved to launch military satellite
BY JUSTIN RAY
SPACEFLIGHT NOW
Posted: February 24, 2003

| | |
| --- | --- |
| | An Atlas 5-521 rocket, similar in configuration as seen here, will launch the Wideband Gapfiller Satellite-2. Photo: Patrick H. Corkery/Lockheed Martin |
The U.S. Air Force has given authorization to begin preparations for launching the Wideband Gapfiller Satellite-2 aboard an Atlas 5 rocket, marking the first of seven military missions awarded to Lockheed Martin's next-generation vehicle.

Launch is scheduled for no earlier than December 2004 from Cape Canaveral Air Force Station, Florida.

"I'm pleased to entrust this important national security spacecraft to the Atlas 5," said Col. Sue Mashiko, head of the EELV program office at the Air Force Space & Missile Systems Center in Los Angeles. "The perfect initial flight of Atlas 5 last summer, coupled with the Atlas family's incredible record of 63 consecutive successful launches, give us confidence that this satellite will be launched on time."

"The Air Force was at our side during Atlas 5 development and was side-by-side with our commercial customer at the first launch. We look forward to launching WGS-2 as the first dedicated Air Force mission on Atlas 5," said Mark Albrecht, president of International Launch Services, which markets the Atlas family.

The Air Force's Evolved Expendable Launch Vehicle program -- EELV for short -- uses the Atlas 5 and Boeing's Delta 4 rockets to deliver government payloads into orbit. The rival rockets, which successfully completed their inaugural missions last year, were developed with financial assistance from the Pentagon.

The first military EELV launch is slated for March using the Delta 4.

For the launch of WGS-2, the Atlas 5 rocket will fly in the 521 configuration. That version uses the large 5-meter nose cone and two strap-on solid rocket motors. The 521 is scheduled to fly for the first time this May.

Wideband Gapfiller Satellites are being built by Boeing. They will provide two-way X-band and Ka-band communications as well as Ka-band broadcast services to the U.S. military forces and other agencies worldwide.

Boeing has been funded to build three WGS spacecraft for launches in 2004 and 2005. The WGS contract includes options for as many as six satellites, which are based on the Boeing 702 model.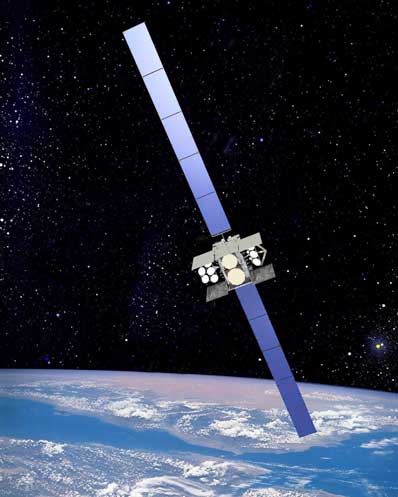 An artist's concept of Wideband Gapfiller Satellite. Photo: Boeing








Hubble Calendar
NEW! This remarkable calendar features stunning images of planets, stars, gaseous nebulae, and galaxies captured by NASA's orbiting Hubble Space Telescope.


U.S. STORE

U.K. & WORLDWIDE STORE

Hubble Posters

Stunning posters featuring images from the Hubble Space Telescope and world-renowned astrophotographer David Malin are now available from the Astronomy Now Store.


U.S. STORE

U.K. & WORLDWIDE STORE